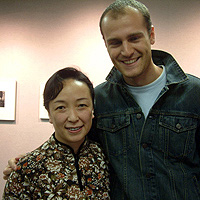 The international alumni clubs help keep alumni connected by organizing events in their area and help promote Duke Law to prospective students.
Global Virtual Community
Suzana Albano '05
ssmalbano@earthlink.net
Belgium and Benelux countries
Axel Clerens '05
axel.clerens@alumni.duke.edu
Chile
Sebastian Guerrero V '99
sguerrero@guerrerolivos.cl
China
Xiaoming Li '90
xli@whitecase.com
Denmark
Marianne Philip '83
mp@kromannreumert.com
Israel
Eran Sarig '03 and Yair Zorea '03
eransarig@alumni.duke.edu and yair.zorea@il.pwc.com
Italy
Francesca Grifi '06
francescagrifi@hotmail.com
Japan (Tokyo)
Hideyuki Sakai '82
hideyuki.sakai@bingham.com
Luxembourg
Greet Wilkenhuysen '96
Greet.Wilkenhuysen@nautadutilh.com
Mexico
Luis Estrella '06
lestrellac@gmail.com

Panama
Domingo Diaz domingoadjr@icazalaw.com

Spain
Ignacio Molinario Nicolas '06
ignacio.molinario@alumni.duke.edu
Taiwan
Wen-Yueh (Amy) Chin '91
lcsamy@ms26.hinet.net

Other International Alumni Associations
In addition to Duke Law International Alumni Clubs, the Duke University Alumni Association sponsors many Duke Clubs abroad, which all Duke graduates are invited to join. Visit the Duke Alumni Association website for more information. Several of these University-affiliated clubs have a strong Law alumni presence among their leadership, including:
Argentina
Javier Francisco Firpo L'91
jfirpoduke@yahoo.com
Austria
Manfred Ketzer L'99
manfred.ketzer@hhw.at
Benelux (Belgium, the Netherlands & Luxembourg)
Axel Clerens L'05
axel.clerens@alumni.duke.edu
Chile
Sebastian Guerrero V L'99
sgv@gone.cl

Ecuador
Pedro Perez L'02
pedro.perez@alumni.duke.edu
Germany
Markus Nauheim L'96
mnauheim@gibsondunn.com
Japan
Hideyuki Sakai L'82
hideyuki.sakai@bingham.com
Korea
Chulho Chang L'91
chchang@platformkorea.com
Panama
Domingo Diaz L'85
domingoadjr@icazalaw.com
Portugal
Goncalo Godinho L'03
gcg03@alumni.duke.edu
Switzerland
Eric Buis L'99
e.buis@decapitani.ch
Starting a new Duke Law Alumni Club in Your Country
If you are interested in starting a new Duke Law Alumni Club in your country, please contact the Alumni and Development Office.