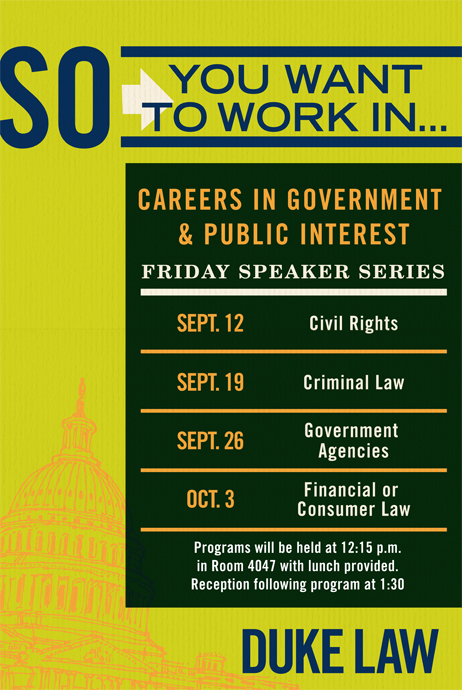 Join us for the Careers in Government and Public Interest, Friday Speaker Series. This speaker panel series discusses the career paths taken by government attorneys, as well as attorneys in veteran's law and policy, criminal law, immigration law and policy, and environmental law and policy.
Co-sponsored by the Office of Public Interest Advising, the Office of Public Interest and Pro Bono, and the Government and Public Service Society, and various student groups.
Dates: September 12, 19, 26; October 3
Civil Rights Law
September 12
Lisa Grafstein
Supervising Attorney, Disability Rights, NC
Caitlin Swain (L'10)
Skadden Fellow, Staff Attorney, Advancement Project
Elizabeth Haddix
Senior Staff Attorney, UNC School of Law Center for Civil Rights
Time: 12:30 pm - 1:30 pm
Location: Room 4047
An informal Q&A session will follow from 1:30 p.m. to 2:30 p.m. in Burdman Lounge (Room 3000).
Criminal Law
September 19
Jason St. Aubin
Assistant Public Defender
Mecklenburg County Public Defender's Office
Leslie Cooley ('05)
Assistant United States Attorney
Deputy Criminal Chief, OCDETF/Narcotics Section
Eastern District of North Carolina
Terry Eaton ('02)
Partner, Price Benowitz
Meredith Nicholson
Founder, NicholsonPham
Time: 12:30 pm - 1:30 pm
Location: Room 4047
An informal Q&A session is scheduled from 1:30 p.m. to 2:30 p.m. in Room 4046