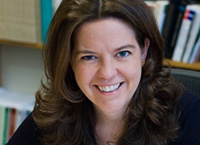 Brewster's scholarly research and teaching focus on the areas of international economic law and international relations theory. She came to Duke Law in July 2012 from Harvard University where she was an assistant professor of law and affiliate faculty member of The Weatherhead Center for International Affairs. Before beginning her academic career, she served as a Bigelow Fellow at the University of Chicago Law School and clerked for Judge Phyllis A. Kravitch of the U.S. Court of Appeals for the Eleventh Circuit.
Laurence R. Helfer
Harry R. Chadwick, Sr. Professor of Law, Co-director
Helfer is an expert in the areas of international law and institutions, international adjudication, human rights (including LGBT rights), and international intellectual property law and policy. He joined the faculty after serving as a professor of law and director of the International Legal Studies Program at Vanderbilt University Law School. He has also taught at Harvard Law School, Loyola Law School in Los Angeles, Princeton University, the University of Chicago Law School, and the University of Toronto Faculty of Law.
International & Comparative Law Faculty
William Van Alstyne Professor of Law, Professor of Public Policy Studies

Professor of the Practice of Law, Executive Director, Center on Law, Ethics and National Security

Harry R. Chadwick, Sr. Professor of Law

Associate Clinical Professor of Law

Arthur Larson Professor of Law

Bunyan S. Womble Professor of Law

William R. and Thomas L. Perkins Professor of Law, Professor of Environmental Policy, Professor of Public Policy