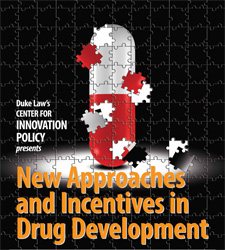 When: November 22, 2013

Please check back in December to view the recorded broadcast of this conference.
Escalating drug development costs, and a dearth of high-impact innovation, are highly visible problems for the biopharmaceutical industry. Recent legal developments, most notably the U.S. Supreme Court's June 2013 decision in Federal Trade Commission (FTC) v. Actavis, further alter the incentive landscape. Actavis suggests decreased judicial tolerance for patent litigation settlements in which brand-name drug manufacturers pay generic firms arguing patent invalidity or non-infringement to drop the lawsuit. One possible consequence is a decrease in effective patent term for small molecule drugs.
As the incentive landscape is changing, new R&D strategies are also emerging. For example, efforts are underway to find, and validate clinically, entirely new uses for existing molecules – either molecules that have been abandoned in clinical trials for lack of efficacy or generic molecules. Firms, government funders, and patient groups are also involved in a variety of different precompetitive research collaborations.
Both existing and new innovation models raise the question of how well the current incentive system works for biopharmaceutical development, particularly in the context of small molecules. Should additional or alternative economic incentives, such as targeted public funding or exclusivity terms based on research risk or disease, be considered?
This inaugural conference brings together leading figures from the private sector, government, and academia to address these questions. Morning sessions will discuss the existing incentive regime and the impact of FTC v. Actavis. They will also address how new research models, such as drug "rescue and repurposing" and precompetitive collaborations to validate drug targets, could best invoke the existing array of incentives. The afternoon session will discuss how innovation incentives in drug development already differ substantially from innovation incentives in other industries. It will also discuss whether additional or alternative incentives are needed.
If you were unable to attend, please check this site in December to view the recorded broadcast.
Agenda
Panel 1: 9:00 am -10:00 am
The Current Incentive Landscape
Moderator: Stuart Benjamin, Duke Law School
Panel 2: 10:00 am - 12:30 pm
Working within the Current Regime: Rescue, Repurposing, and Precompetitive Collaborations
Moderator: Arti Rai, Duke Law School
Christine Colvis, National Center for Advancing Translational Sciences, NIH
Charles Niebylski, National Center for Advancing Translational Sciences, NIH
Dominique Pahud, Director in Innovation and Networks, Ewing Marion Kauffman Foundation
Craig Wegner, Executive Director, Translational Sciences, AstraZeneca
Aled Edwards, University of Toronto, Structural Genomics Consortium
Pearl Huang, Vice President, Global Head for Discovery Partnerships with Academia, GlaxoSmithKline
Bernard Munos, Founder, Innothink Center for Research in Biomedical Innovation; Senior Fellow, FasterCures
LUNCH (12:30 pm - 1:15 pm) NAS West Court
Panel 3: 1:15 pm – 1:45 pm
A Comparison of Drug Development with Innovation in Other Industries
Moderator: Stephen Johnson, Chief Intellectual Property and Policy Officer, One Mind for Research
Philip Johnson, Senior Vice President and Chief Intellectual Property Counsel, Johnson & Johnson
Gail Levine, Vice President and Associate General Counsel, Intellectual Property, Verizon Communications, Inc.
Panel 3, continued: 1:45pm -3:15 pm
Alternative or Additional Incentives for Drug Development
David Ridley, Duke Fuqua School of Business
Aaron Kesselheim, Assistant Professor of Medicine, Harvard Medical School/Brigham and Women's Hospital
Ben Roin, Harvard Law School
Brian Caveney, Vice President and Medical Director of Healthcare Consulting, Blue Cross and Blue Shield of North Carolina
Amy Comstock Rick, Chief Executive Officer, Parkinson's Action Network
Commentator: Jerome Reichman, Duke Law School