Duke Law School is an ambitious, forward-thinking, and innovative institution whose mission is to prepare students for responsible and productive lives in the legal profession. As a community of scholars, the Law School also provides leadership at the national and international levels in efforts to improve the law and legal institutions through teaching, research, and other forms of public service.
At Duke Law School, students and faculty experience academic rigor in an interdisciplinary environment where creativity and innovation rule. Bold, strategic expansions in faculty, clinics, interdisciplinary centers, law journals, public interest opportunities, and high-tech facilities ensure that the Law School stays on the cutting edge of legal scholarship. The Duke Blueprint to LEAD is a powerful set of principles for leadership growth that informs the development of committed, ethical lawyers who are well-equipped for the 21st century.
Message from the Dean
"At Duke Law School, we like to follow a set of values that we believe set us apart from other law schools, values that we have come to call 'The Duke Way.' The Duke Way is a combination of intellectual engagement at the highest level, extraordinary collaboration and collegiality, and a commitment to serving the common good. We take scholarship, service, professionalism, and teaching seriously, but we try not to take ourselves too seriously."
Duke University
Duke University has approximately 13,000 students and a world-class faculty helping to expand the frontiers of knowledge. Our students love being a part of this broad, vibrant community, and take advantage of all that it entails, from the pursuit of a dual degree, to joining the Graduate and Professional Student Council to cheering on Coach K and the Blue Devils basketball team.
Facilities
Located beside the Fuqua School of Business and across the street from the Sanford School of Public Policy, Duke Law School's central location facilitates interdisciplinary research and teaching across the campus.
Durham, N.C. — The Bull City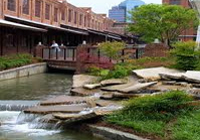 The secret is out: Durham is a great place to live. It's easy to see why — natural beauty, low cost of living, big city amenities, accessibility to the coast and mountains, and great weather for most of the year.