Banner
Extending the Classroom with Technology
Main Content
The software programs listed below were identified by a combined Academic Technologies-Library working group as applications that can help you find new ways to extend your interaction with students, both outside and within the classroom. We have classified their use, and provided a very brief overview of each. If you find yourself intrigued, or don't see an interest of yours addressed here, please feel free to follow up with Casandra Laskowski or Miguel Bordo. We will continue each semester to review software and evaluate opportunities for engaging students in new ways.
Classroom Basics
Panopto

Required Skill Level: Beginner
Access: Duke-supported software, installed in all classrooms, desktop installation and camera available by contacting the helpdesk at helpdesk@law.duke.edu
Benefits: Records instructor and desktop simultaneously. Can record video or audio only. Available on all Duke operated computers (classrooms, offices, laptops).
Challenges: Limited editing capabilities
Tutorials: • http://youtu.be/1Q_2ZRiJMvs • Instructions
Sakai


Required Skill Level: Beginner to Advanced
Access: Duke supported program, Sakai sites are automatically created for each class. Individual test site can be set up for planning and experimental purposes. Contact the Help Desk at helpdesk@law.duke.edu
Benefits: Online class management system offers a variety of tools, including discussion boards, resource sharing, polls, tests, and electronic assignment submission. NetID authenticated.
Challenges: Some tools are more complicated to set up than others. Functionality of some tools is not as good as other commercial options.
Video tutorials
Panopto

Required Skill Level: Intermediate
Access: Already installed in all classrooms, desktop installation and camera available by contacting the helpdesk at helpdesk@law.duke.edu
Benefits: Duke-supported software
Challenges: Limited editing capabilities
Tutorials: http://youtu.be/1Q_2ZRiJMvs
Narrated PowerPoint

Required Skill Level: Intermediate
Access: Duke supported software, freely available on all Duke computers as part of Microsoft Office Suite.
Benefits: Enhances existing PowerPoint presentation with built-in audio narration. Narrated PowerPoint slides can be set to run automatically or advanced manually by viewer; can also be converted to video format.
Challenges: Limited editing of narration recorded directly into PowerPoint; with additional effort, a separate audio track may be recorded on a different program and inserted for more editing capability. Finished file format may be too large for emailing or uploading to Sakai; may need to convert finished .ppt into a video file format by using external program.
Tutorials: • Record and Add Narration & Timings to a Slide Show (Microsoft Office) • Powerpoint with Voiceover self-guided tutorial (University of Tennessee)
Camtasia Studio

Required Skill Level: Intermediate/ Advanced
Access: Individual license must be purchased. Contact the helpdesk at helpdesk@law.duke.edu for installation help.
Benefits: Screen-capture software for Windows and Mac computers that records computer screen and audio activity to create instructional videos and tutorials. Add quizzes to assess students' comprehension or survey viewers. Can include effects, like zooming and call-outs, and import video, music, and photos. Extensive audio and video editing options.
Challenges: Multiple steps to finished product. Not Duke-supported although some library staff have experience. Allows real-time recording, but users must allow sufficient time for final video to render.
Tutorials: • Short tutorials on many aspects of Camtasia • Detailed "Camtasia Studio 8 Essential Training" (6 hours total, broken down into short, task-based demonstrations of how to set up, record, edit, and share screencasts) • Get written help • Add a quiz
Polling
Qualtrics



Required Skill Level: Beginner-Intermediate
Access: Readily available at Duke, accessible with NetId authentication
Benefits: Survey software licensed and supported by Duke and Duke Law with additional support from Qualtrics. Easy to use interface to create, edit, add new surveys, and collaborate with others.
Challenges: Getting a simple output of survey results can be confusing, but results can be emailed to a user as they are submitted.
Tutorials: • Qualtrics University support with video and text • Learn Qualtrics in 5 Steps 
Poll Everywhere

Required Skill Level: Beginner-Intermediate
Access: Free for up to 40 participants, licensing charge for larger groups. Contact the helpdesk at helpdesk@law.duke.edu for installation help. Note: Free "PollEv Presenter" App must now be installed to run poll from Powerpoint slides. For classrooms, you can (1) run your poll from the website, (2) install the app and run poll from slides on your own computer, or (3) ensure app is installed on your classroom computer before your presentation (app has been installed in all classroom computers).
Benefits: On-screen display of live, anonymous audience polling responses, widely used, free for up to 40 participants
Challenges: Participants must have web access or cell phones; student response requires typing in numerical codes; not Duke-supported although library staff has some experience.
Tutorials: • Introduction • How to Create Polls • Poll Everywhere Tutorial
Classroom Clickers

Required Skill Level: Intermediate
Access: 19 clickers are available for classroom use; larger classes will need to purchase their own. Software download required; please contact the helpdesk at helpdesk@law.duke.edu.
Benefits: Can conduct classroom polling and quizzes without using student cell phones or computers.
Challenges: All students need a clicker to participate. Requires extensive preparation ahead of time by instructor. Not recently used at the law school, although popular in other departments at Duke.
Tutorials: • Training tutorials from Turning Technologies • Training Document (PDF)
Socrative


Required Skill Level: Intermediate
Access: Free account available for up to 50 participants, licensing charge for larger groups. Contact the helpdesk at helpdesk@law.duke.edu for installation help.
Benefits: On-screen display of instant responses to live quizzes or polling, free for up to 50 participants. Racing game tool allows team competition, and responses can be recorded and graded.
Challenges: Requires web access or smart phone; software can be glitchy so need good internet access; not Duke-supported although some library staff have experience.
Tutorials: • Introduction • How to create a quiz or activity • Socrative Walkthrough
Forums
Sakai Forums

Required Skill Level: Intermediate
Access: Duke supported program, Sakai sites are automatically set up for each class.
Benefits: Forums allows faculty members to extend conversation outside the classroom and encourage more student participation.
Challenges: Maintaining discussion boards is time consuming and requires significant out-of-class attention.
Tutorials: • Setting up and Using Sakai Forums • General Forums FAQ
Piazza

Required Skill Level: Intermediate
Access: Duke supported program, Piazza is freely available option through class Sakai sites.
Benefits: Similar to Sakai Forums, but allows for better visual design and customization (including anonymous posting and instructor approved posts). Easy for students to use.
Challenges: Significant time commitment needed for set up and maintenance. Piazza company is aggressive in contacting users.
Tutorials: • Piazza Help Videos • How to Set up Piazza in Sakai
Video Conferencing
Cisco Webex

Required Skill Level: Intermediate
Access: Request an account through Duke OIT; Media Services can assist with initial set up and testing.
Benefits: Allows Web-based conferencing in a collaborative session sharing audio, video, and the desktop or individual applications. Up to 1000 participants may attend meetings by telephone, on their computer, or via iPhone, iPad, and other mobile devices. Telephone participation requires an account with an associated fund code.
Challenges: Many users on at once can be distracting (muting audio works in these cases).
Tutorials: • Cisco Quick Start Guide • WebEx Meeting Knowledge Base • Duke-Specific Web-Ex Instructions
Google Hangouts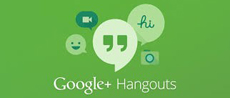 Required Skill Level: Intermediate
Access: Click on the Hangouts icon
in the bottom-left corner of the Gmail window or click on the Hangouts icon
in the top-right corner of the Google+ window.
Benefits: This is a free resource used by some Coursera instructors to allow student interaction in online courses. It is an instant messaging and video chat platform. Video calls allow face to face conversations with up to 10 people. The service can be accessed online through the Gmail or Google+ websites, or through mobile apps available for Android and iOS.
Challenges: Requires setting up a Google+ account.
Tutorials: • Google Hangouts Help Center • Starting a Hangout
Skype


Required Skill Level: Beginner-Intermediate
Access: Skype can be downloaded for free at Skype.com.
Benefits: Video calls allow face to face conversations with up to 10 people. Can be used across many devices, including computer, tablets, and mobile phones.
Challenges: If your device has no internal camera, requires a USB connected webcam; or a classroom equipped with the proper video input.
Tutorials: • Making a Group Video Call (Windows) • Making a Group Video Call (Mac)
Cisco Jabber Video (Movi)


Required Skill Level: Beginner-Intermediate
Access: Study Rooms and most classrooms. All Law School staff and students have an account using their Net ID and password as login. You can also get the software for your computer (see https://software.oit.duke.edu/comp-print/software/license/detail.php?id=118).
Benefits: Video calls allow standards-based face to face conversation and allows for sharing of desktop content. Can call another IP address (typically, a videoconferencing-equipped conference room or class room) or anyone with a valid SIP videoconferencing address.
Challenges: Generally requires a USB connected camera or classroom equipped with the proper video input. Individuals will likely not be equipped for standards-based videoconferencing.
Tutorials: • Cisco Jabber Video FAQs from Duke OIT