Banner
2021 Alumni Award Winners
Main Content
Charles S. Murphy Award for Achievement in Civic Service
The Honorable Richard Gergel '79
Established in 1985, the Charles S. Murphy Award honors a graduate's commitment to the common good through his or her service  to the community or dedication to education.
Richard Gergel is a native of Columbia, South Carolina and is the grandson of Jewish immigrants who immigrated to South Carolina from Eastern Europe and the Ukraine at the turn of the Twentieth Century. He graduated from Duke University, B.A., summa cum laude, and the Duke University School of Law. Judge Gergel practiced law in Columbia for over 30 years, specializing in complex civil litigation. He was nominated to the United States District Court bench in December 2009 by President Barak Obama and was confirmed by unanimous consent by the United States Senate in August 2010. Judge Gergel presides in Charleston, South Carolina.
Judge Gergel is the author of two books and numerous articles on legal and civil rights history. His most recent book, Unexampled Courage: The Blinding of Sgt. Isaac Woodard and the Awakening of President Harry Truman and Judge Waties Waring (Farrar Straus and Giroux 2019), has received wide critical acclaim and was the basis of a recently nationally broadcast documentary on PBS.  He is married to Dr. Belinda Gergel (Duke PhD. 1981) and they have two sons, Robert Richard Gergel and Joseph Gergel.
 

A. Kenneth Pye Award for Excellence in Education
Liz A. Gustafson '86
The A. Kenneth Pye award honors a graduate or other member of the Duke Law community whose work in education  reflects former Dean A. Kenneth Pye's life and ideals.
Liz Gustafson serves as Associate Dean for Academic Affairs and Counsel to the Dean, an advisory role she's held in working with former dean David Levi and current dean, Kerry Abrams.  Before joining the Academic Affairs office, during Kate Bartlett's deanship, Liz served as Associate Dean for Student Affairs, and prior to that as Assistant Dean for Admissions and Financial Aid.  Liz joined the Law School in 1992, from law practice in Washington, D.C. with Dow, Lohnes and Albertson (which merged with Cooley, LLP in 2014) , where she practiced in communications law, and a clerkship with Judge John McAuliffe of the Maryland Court of Appeals.  Liz and her husband, Mark Gustafson, also a 1986 graduate of the Law School and Duke's Deputy General Counsel for Health Affairs, have two children, both of whom are lawyers or soon-to-be lawyers.
 

Charles S. Rhyne Award for Professional Achievement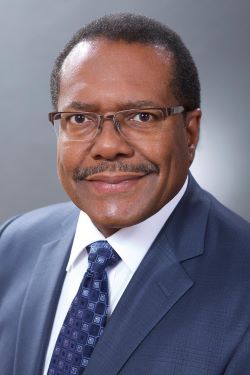 Ralph B. Everett '76
The Charles S. Rhyne award was established in 1994 to recognize graduates whose careers exemplify the highest standards of professionalism, personal integrity, and commitment to education or community service.
Ralph B. Everett has four decades of leadership experience in politics and public policy in the nation's capital having served in key leadership positions in the public, private and non-profit sectors. 
Named by Ebony magazine as one of the country's "150 Most Influential African Americans," Mr. Everett has worked on a daily basis with America's leading policymakers, business enterprises, advocacy organizations and the civil rights community on a broad range of economic, regulatory and corporate social responsibility issues. He began his Washington career in 1977 by serving as Legislative Assistant to United States Senator Ernest Hollings of South Carolina. In 1982, he became the first African American to head a U.S. Senate committee staff when he was appointed to serve as Democratic Staff Director and Minority Chief Counsel for the Committee on Commerce, Science and Transportation. When Senate Democrats won majority control four years later, he became Staff Director and Chief Counsel of the full committee, where he played a pivotal role in cable, broadcast and common carrier legislative reforms, as well as regulatory reform of the airline, truck, railway, and bus industries.
In 1989, Mr. Everett became the first African American partner at Paul Hastings LLP, a leading international law firm with offices worldwide, where for 17 years he specialized in telecommunications and transportation policy. He served as the managing partner of the Washington office, as co-chair of the firm's federal legislative practice group and as a member of its policy committee.
Mr. Everett served for seven years as the president and CEO of the Joint Center for Political and Economic Studies, widely acknowledged as the nation's leading think tank for policy analysis and research on issues of concern to African Americans and other people of color.  While there he expanded the organization's research and influence into key policy areas – including telecommunications, broadband and energy and environmental – while strengthening the organization's leadership on health policy issues. He has also served as Senior Industry and Innovation Fellow at Georgetown University's Center for Business and Public Policy.
Mr. Everett has received several key presidential appointments. In 2008, he served the incoming Obama Administration as co-chair of the Commerce Department Transition Team.  He was appointed by President Clinton to his Board of Advisors for the White House Initiative on Historically Black Colleges and Universities. President Clinton also appointed him as U.S. Ambassador to the International Telecommunication Union's Plenipotentiary Conference, following which he was chosen by the President to lead the U.S. Delegation to the Second World Telecommunication Development Conference in Malta, where representatives from 190 nations elected him vice chairman of the proceedings. In 2020, he served as co-chair of the Biden/Harris Policy Subcommittee on Broadband, Telecom and Digital Equity. He has also been appointed by Virginia's governor to serve as vice chair of the Commonwealth's Waste Management Board and to its Science Museum Board.
Mr. Everett is a member of the Economic Club of Washington, Alpha Phi Alpha Fraternity and Sigma Pi Phi Fraternity. He also served on the Duke University Law School's Board of Visitors, and as vice chair of the board for Independent Sector, and as a board member of the National Coalition on Black Civic Participation, Shenandoah Life Insurance Company, Star Scientific, the National Urban League, the Center for National Policy and Cumulus Media, Inc. He also chaired the Board of Trustees of the historic Alfred Street Church, one of the nation's oldest African American Baptist Churches.
A native of Orangeburg, South Carolina, Mr. Everett is a Phi Beta Kappa graduate of Morehouse College and earned a J.D. from Duke University Law School. He is also the recipient of an Honorary Doctor of Laws from Virginia State University.
 

International Alumni Award
Gitanjali Workman '02
The International Alumni Award recognizes and honors an international graduate of the Duke University School of Law who has exemplified the highest standards of professional excellence, personal integrity, and concern for the common welfare in his or her own profession and home country.
Gitanjali Workman is General Counsel and Chief Operating Officer of Soros Capital Management LLC.  

Until early 2018, Gitanjali was Counsel at Paul, Weiss, Rifkind, Wharton and Garrison LLP where she practiced for over a decade focusing on all aspects of the alternative asset management industry. Prior to her time at Paul, Weiss, Gitanjali worked as an advocate in the Supreme Court of India, handling constitutional law and complex commercial and civil litigations. 

Gitanjali holds a BA. LL.B (Hons.) degree from The National Law School, India and a LL.M from Duke University School of Law. 
 

Young Alumni Award
Venroy July '07
The Law Alumni Association established the Young Alumni Award in 2000 to honor an individual who has graduated within the past 15 years and has made significant leadership and service contributions to Duke Law School and the legal profession.
Venroy July is a partner in the corporate practice group of Dickinson Wright PLLC Based in the Washington, D.C. office, Mr. July's practice includes a wide range of corporate and finance matters, with a particular focus on mergers and acquisitions. In his practice he represents clients on a wide range of transactions from seed investments in technology startups to acquisitions and sales of multi-hundred million dollar businesses. A resident of Baltimore, Maryland, based on his reputation within the legal community, Mr. July has received the Daily Record's Leadership in the Law Generation JD award, has been recognized as a Rising Star by the Super Lawyers magazine, has been named to the Best Lawyer list, and as a Who's Who in Law by the Baltimore Business Journal. In addition to his legal career, Mr. July is a member of Alpha Phi Alpha Fraternity, Inc. and is a co-founder of the Baltimore Young Professionals (BYP), an organization focused on curating social, philanthropic and financial opportunities and experiences for young black professionals in Baltimore. For his efforts in supporting the entrepreneurial ecosystem in Baltimore, Mr. July was awarded the 40 under 40 award by the Baltimore Business Journal, the 40 Under 40 award by the Black Business Review, and the Clayton McNeill Leadership award by Philanthropik. He currently serves on the Board of Directors of Lifebridge Health, Grace Medical Center, the East Baltimore Development, Inc., the Green Street Academy and the Baltimore African American Homebuilders Cooperative. Mr. July received his Bachelor of Arts degrees in Political Science and Economics from the University of North Carolina-Chapel Hill, where he was a Morehead Scholar, and his J.D. from the Duke University School of Law. 
 

Outstanding Volunteer Service Award
Kodwo Ghartey-Tagoe '88
Awarded for the first time in 2021. This award honors individuals for their excellent volunteer service to Duke Law School. In their roles as volunteers, these individuals have distinguished themselves through their exceptional dedication and sustained commitment to the Duke Law community.
Kodwo Ghartey-Tagoe serves as executive vice president, chief legal officer and corporate secretary for Duke Energy. He is the primary legal advisor to Duke Energy's board of directors and senior management, and he leads the Office of the General Counsel, which includes the company's legal, corporate governance, internal audit, and ethics and compliance functions.

Joining the company in 2002, Kodwo has held numerous positions in the legal department covering several areas of legal services to Duke Energy.  Prior to being named chief legal officer in October 2019 and corporate secretary in May 2020, Kodwo served as president of Duke Energy's utility operations in South Carolina. 

Kodwo serves on the boards of several charitable organizations, including the Duke Law School Board of Visitors and TreesCharlotte. In 2021, Business North Carolina Magazine named Kodwo to its first list of power brokers from historically underserved communities. He has been recognized as a Diversity Champion by the Charlotte Business Journal, and by the Thurgood Marshall College Fund with an Award of Excellence for his outstanding achievements in the legal profession and his dedication to diversity in the workplace. 

A native of Ghana, Kodwo earned a Juris Doctor degree from Duke University and a Bachelor of Arts degree, with joint honors in economics and finance, from McGill University in Montreal, Quebec. He also completed the Advanced Management Program at the Wharton School of Business. In 2017, he was conferred an honorary Doctor of Humanities degree by Francis Marion University. 

Kodwo and his wife, Phyllis, have three daughters – Effe, Aseda and Gracie.