Banner
Main Content
Heading
Alumni from all reunion classes are invited to participate in these events. Please note that all times listed are ET and all virtual reunion events will be held on Zoom.  Advanced registration is required to receive Zoom access information.  Register today at the link below.
Content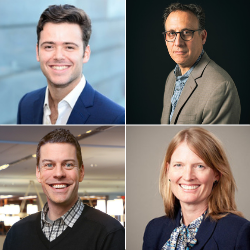 12:30 - 1:30 P.M. Coffee and Conversation: The New Frontiers of Speech, Platforms, and Content Moderation
In a world we hardly could have imagined at the turn of the Century, platforms such as Twitter, Parler, Facebook, Reddit, and others play substantial roles in our discourse. Join us for an open discussion of some of the key issues and challenges facing us today with Daniel Berrick L'21, David Greene L'91, Senior Staff Attorney at Electronic Frontier Foundation, Sarah Ludington L'92, Clinical Professor of Law and Director of the First Amendment Clinic, and Jeff Ward L'09, Associate Dean for Technology and Innovation, Clinical Professor of Law, and Director of the Duke Center on Law & Technology.
This program has a limited capacity to provide attendees with the opportunity to engage in interactive discussion with faculty and fellow alumni.
Content
2:00 - 3:00 P.M. Coffee and Conversation with Professor Nita Farahany on Bioethics in the Era of a Global Pandemic 
Join Professor Farahany for a conversation about vaccine distribution policies, vaccine "passports" and the real-world bioethical dilemmas that have arisen during the global pandemic. 
This program has a limited capacity to provide attendees with the opportunity to engage in interactive discussion with Professor Farahany and fellow alumni. 
Heading
Wednesday, March 3
Content
9:30 – 10:30 A.M. International LLM Virtual Social Hour with special guests Associate Dean Emerita Jennifer Maher & Associate Dean Oleg Kobelev. 
Join fellow International LL.M. alumni celebrating reunion for a virtual social hour with special guests Associate Dean Emerita Jennifer Maher & Associate Dean Oleg Kobelev.
Content
1:30 - 2:30 P.M. Representing the Government in the U.S. Supreme Court 
Join Michael Dreeben J.D.'81, former U.S. Deputy Solicitor General, and Marin Levy, Professor of Law, as they discuss the Supreme Court and its role in our legal system.  Michael is a partner at O'Melveny & Meyers LLP and  a distinguished lecturer at Georgetown University Law Center.  He served in the US Department of Justice's Office of the Solicitor General for more than 30 years, including 24 years as the Deputy Solicitor General in charge of the government's criminal docket in the Supreme Court. He has argued 105 cases in the Supreme Court on behalf of the United States.  Professor Levy joined the Duke Law faculty in 2009, and currently serves as the Director of Duke's Program in Public Law, and is a faculty advisor to the Bolch Judicial Institute. Her scholarship focuses on judicial administration, civil procedure, remedies and federal courts.  Before coming to Duke, she served as a law clerk to Judge José A. Cabranes of the United States Court of Appeals for the Second Circuit and was an associate at Jenner & Block LLP in Washington, D.C.
Content
3:00 - 4:00 P.M. The Ripple Effect: Inciting Change and Inspiring Others
Like the proverbial pebble making ripples in the water, an individual can inspire change that makes a profound difference in the world around them. This event brings together champions of change to discuss how they started their journey, the obstacles they have overcome, and the successes that they have found along the way – all while recruiting new voices to their missions. James Coleman, John S. Bradway Professor of the Practice of Law and Co-Director, Wrongful Convictions Clinic will be joining the panel that includes Barker French A.B.'63, Chair of the Board of Directors, Durham Children's Initiative, Shandiin Herrera A.B.'19, Policy Fellow at Lead for America and Champion for Change with Center for Native American Youth, and Charles Welch, Conservation Coordinator, Duke Lemur Center. The program will be moderated by Judith Kelley, Dean of the Sanford School of Public Policy. This program is presented by the Duke Alumni Association's Forever Learning Institute.
Heading
Thursday, March 4
Content
1:00 – 2:00 P.M. Town Hall with Dean Kerry Abrams  
Join us for this special program with Dean Kerry Abrams and learn about current priorities and life at Duke Law School today.  Brandon Neal '08, Law Alumni Association Board President, will moderate.  Alumni are invited to submit questions for Dean Abrams in advance through this form or by emailing alumni_office@law.duke.edu. 
Content
3:30 – 4:30 P.M. Civil Justice Clinic — What Are We Doing In Our Communities? 
Professors Charles Holton and Jesse McCoy will discuss the work of the Civil Justice Clinic, including a description of the landmark Eviction Diversion Program which they developed for Durham and how that program has been functioning in the COVID environment. They will note the advocacy efforts by the Clinic for changes in eviction laws and enforcement at federal, state, and local levels. They will also discuss broader housing cases taken on by the Clinic involving such matters as unsafe or unsanitary housing conditions, discrimination, and improper fees/charges. Because the Clinic is a general litigation clinic, they will also discuss other types of cases being handled such as unfair debt collection/trade practices, employment rights, and fraudulent financial transactions; and they will show how these cases are being used to develop and hone litigation skills for their students.