Banner
Main Content
Heading
Duke Law Women is an initiative designed to provide an integrated experience that recognizes both women's essential role in the profession and their still-salient challenges.
Managed by committed faculty and administrators, Duke Law Women provides a forum for professional and social programming for students and graduates. The initiative begins as admitted applicants transition into the Duke Law community. It engages students throughout their years on campus as they prepare to become leaders in the profession. And it continues as graduates at all stages of their careers benefit from and contribute to Duke events. Ultimately, Duke Law Women is about building a multi-generational, supportive community of mentors and colleagues.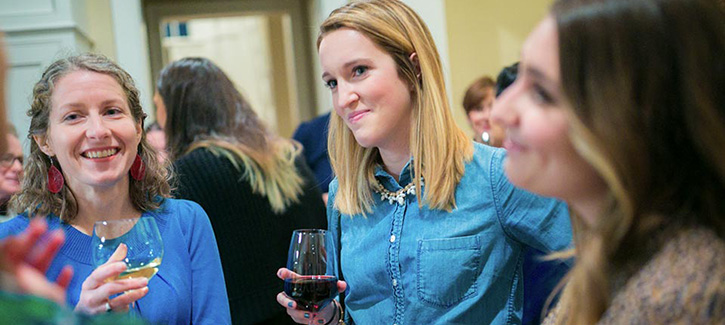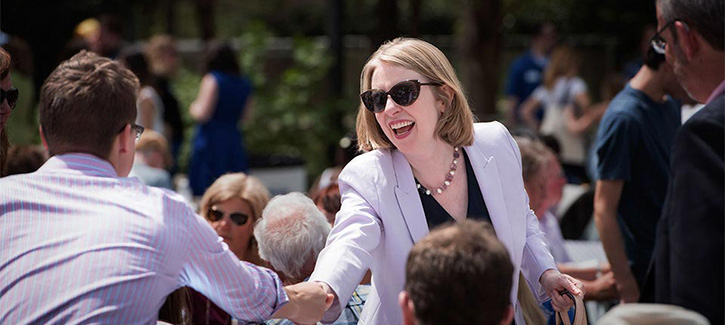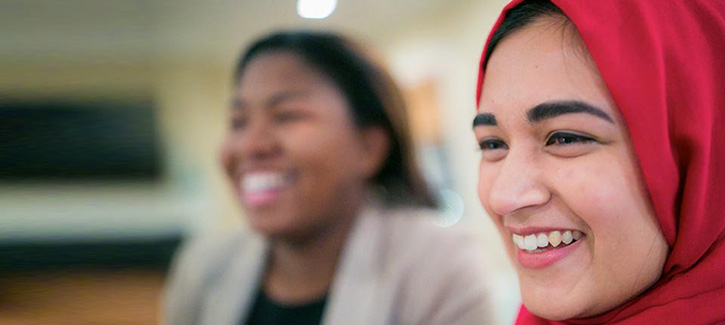 Heading
Meet Kerry Abrams: Duke Law's 15th dean
Content
Kerry Abrams became the James B. Duke and Benjamin N. Duke Dean of the School of Law and professor of law on July 1, 2018. She is the 15th dean of Duke Law School. Dean Abrams teaches courses in immigration, citizenship, and family law, and is well-known for scholarly writing on family-based migration, the legal regulation of immigrant families, the history of immigration law, and constitutional family rights. Prior to her appointment at Duke Law, Dean Abrams served on the law faculty of the University of Virginia for thirteen years, and, more recently, as vice provost for faculty affairs.
Our Students
Duke Law's setting on Duke University's campus together with an emphasis on high-level intellectual engagement, knowledge in the service of society, and a collaborative, respectful learning environment make for a truly special experience. Students are happy, creative, productive, and collegial. They are valued as individuals and supported by their peers and by the faculty. Students and professors spend their working days together in the building, teaching and learning the tools that make for good lawyers, and challenging one another to produce useful and excellent work. Drawn to the most complicated legal problems of our time, students recognize that collaborative efforts often lead to the most successful outcomes. Perhaps it is because of this approach that women — 59 of the 1L class — flourish at Duke Law School, and very frequently assume important leadership positions in student organizations, student government, oral advocacy competitions, journals, and more. It may be why six of the last nine Duke Law clerks on the U.S. Supreme Court have been women, and why countless others have successfully pursued their ambitions to build rewarding professional careers with real-world impact.
Left Side Content
Alex Dayneka-Hayes '18
"As editor-in-chief of Duke's oldest journal, Law & Contemporary Problems, I've grown as a leader, challenged myself intellectually, and, most importantly, built lasting relationships with my professors and peers. Going to Duke makes you part of an incredible community that will motivate, inspire, and support you for life."
Button
Link
Right Side Content
Rory Henry '19
"I've always been engaged in my community, and Duke Law is no different. As president of the Women Law Students Association (WLSA), a member of the Black Law Students Association (BLSA), and staff editor of the Journal of Gender Law & Policy, I've built relationships with a diverse group of brilliant people.  Duke Law makes it easy to establish meaningful connections with students, faculty, and successful alumni—all of whom have helped me grow both personally and professionally."
Button
Link
Image Above Text
Title
Katharine Bartlett, A. Kenneth Pye Professor Emerita of Law
Image Above Text
Title
Neil Siegel, David W. Ichel Professor of Law
Content
Former clerk for Associate Justice Ruth Bader Ginsburg, author of The Pregnant Captain and the Notorious REG: The Story of Struck v. Secretary of Defense, in REPRODUCTIVE RIGHTS AND JUSTICE STORIES (forthcoming 2018), and teacher of Sex Equality's Past and Future.
Image Above Text
Title
Trina Jones, Jerome M. Culp Professor of Law
Our Alumni Network
The relationships fostered among women during their time at Duke Law School continue to grow long after graduation. Duke Law alumnae stay connected to each other through regional programming and signature on-campus events. They serve as mentors to current students by participating in student organization programs, facilitating mock interviews, and providing guidance and support for current women students. They are an integral part of Duke Law's recruitment efforts, joining faculty in sharing their experiences with admitted students and encouraging the next generation of women leaders to attend Duke Law. And alumnae give back to the Duke community through service in leadership roles including the Duke Law School Board of Visitors, Law Alumni Association Board of Directors, Women's Impact Network, and Duke Women's Forum.