Banner
First Generation Professionals (1GP)
Main Content
Heading
1GP is an enhancement program for Duke Law School students who are the first in their families to graduate from college.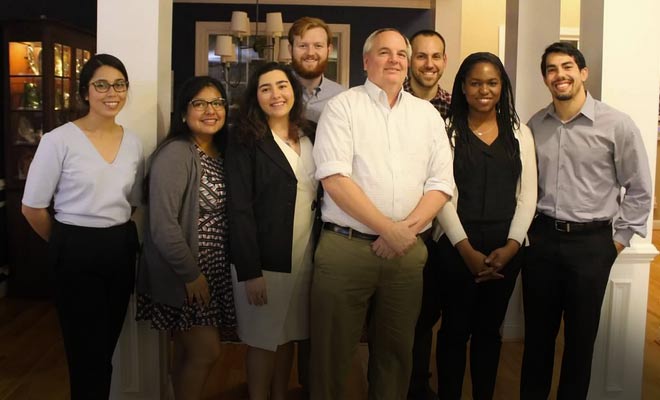 Our goal is to develop a welcoming community for our members and offer academic, professional, and social support to navigate law school and future careers.
Mentoring and Relationships
We connect you in your 1L year with faculty, upper-level students, and alumni mentors to build relationships and develop a network that will continue through law school and beyond.
Professional Development
We offer programming to develop your unique first-generation professional narrative and integrate your experiences into effective networking and interviewing.
Practical Experiences
We provide opportunities for real-life perspectives from the legal industry, including meeting professionals and judges, and on-site employer visits.
Image
Our first-year 1GP students, joined by Diamond Zambrano '20 and Darlena Kern Subashi '15, visited the Alston & Bird Raleigh office. Darlena and fellow attorneys gave students a tour of the office and described a 'day in the life' for their various practice areas.
Button
Link
Programming
Some of the programs and events for 1GP students may include:
Left Side Content
Mentor/Mentee Lunches
Dinner with a Judge
Lunch with the Career Center, Student Affairs, and Academic Advising 
Resume Writing and Interviewing Workshop for the Unique 1GP Narrative
1GP Kickoff Dinner
Button
Link
Right Side Content
Lunch with Professors
Professional Etiquette Event in Preparation for Blueprint
Law Firm Visit
Strategizing Financial Aid and Financial Planning (BLSA-sponsored)
Button
Link