CSPD Publications
Books
Intellectual Property: Law & the Information Society – Cases and Materials (3d Edition 2016)
James Boyle & Jennifer Jenkins
The Center's Open Coursebook offers an overview of U.S. intellectual property law—trademark, copyright and patent; and this revised edition updates an entirely new chapter on trade secrecy and preemption. It is designed for an introductory course in intellectual property law, but the casebook can be adapted for use in a wide variety of courses. The book is free to download or a printed copy can be purchased at cost. The materials are available under a Creative Commons Attribution 3.0 U.S. license: you can share and adapt them as you might need. (Note that the CC license does not apply to the underlying cases which are in the public domain; nor does it apply where your use is permitted by an applicable exception or limitation.) [ buy the book | {C}download a copy | find out more ]
Intellectual Property: Law & the Information Society – Selected Statutes & Treaties (2015 edition)
James Boyle & Jennifer Jenkins

Coming soon! A revised edition, including the Defend Trade Secrets Act, will be released in early August 2016.

This statutory supplement is the companion to the Center's Intellectual Property: Law & the Information Society - Cases and Materials, Second Edition, and offers the full text of the Federal trademark, copyright and patent statutes (including edits detailing the changes made by the America Invents Act), and adds material on economic espionage, trade secrecy and internet domain dispute resolution procedures. It includes a number of important international treaties and a chart comparing the various types of federal intellectual property rights — their constitutional bases, subject matter, length, exceptions, and so on. The book is free to download or a printed copy can be purchased at cost. The materials are available under a Creative Commons Attribution 3.0 U.S. license: you can share and adapt them as you might need. (Note that the CC license does not apply to the underlying statutes and treaties which are in the public domain; nor does it apply where your use is permitted by an applicable exception or limitation.) [ buy the book | {C}download a PDF version ]
The Public Domain: Enclosing the Commons of the Mind
James Boyle
All culture, science, and even commerce depend on the balance between intellectual property rights and the public domain - those ideas outside IP's grip. In this book, Professor James Boyle introduces readers to the idea of the public domain and describes its erosion through the current application of copyright, patent, and trademark laws. Using a series of case studies, Boyle shows how gene sequences, basic business ideas, and pairs of musical notes are now owned, why jazz might be illegal if it were invented today, why most of 20th century culture is legally unavailable to us, and why today's policies would probably have smothered the World Wide Web at its inception. [ buy the book | read the book online or download a copy | find out more ]
No Law: Intellectual Property in the Image of an Absolute First Amendment
David L. Lange & H. Jefferson Powell
The original text of the Constitution grants Congress the power to create a regime of intellectual property protection. The first amendment, however, prohibits Congress from enacting any law that abridges the freedoms of speech and of the press. In this eloquent and passionate book, Lange and Powell argue that the First Amendment imposes absolute limits upon claims of exclusivity in intellectual property and expression, and strips Congress of the power to restrict personal thought and free expression in the name of intellectual property rights. [ buy the book | read more ]
International Public Goods and Transfers of Technology under a Global Intellectual Property Regime
Keith E. Maskus & Jerome H. Reichman, eds.
Distinguished economists, political scientists, and legal experts discuss the implications of the increasingly globalized protection of intellectual property rights for the ability of countries to provide their citizens with such important public goods as basic research, education, public health, and environmental protection. Such items increasingly depend on the exercise of private rights over technical inputs and information goods, which could usher in a brave new world of accelerating technological innovation. [ more | buy the book ]
Collected Papers, Duke Conference on the Public Domain
James Boyle, special editor
The symposium is an edited version of the papers from a unique conference on the public domain at Duke University. Writing in the Financial Times, Patti Waldmeir described the event this way: "Professor Boyle brought together an elite group of intellectuals and scientists (and computer geeks) at Duke, hoping to launch a movement to protect the public domain. He argues that the inexorable advance of intellectual property law in recent years constitutes a 'second enclosure movement' to parallel the 18th-century enclosure of English common lands." In Technology Review magazine, Seth Shulman called the conference "an extraordinary meeting" and added: "In attendance were an eclectic array of actors from distinct intellectual-property battles...It was fascinating to see the sparks of commonality among this diverse group. Warning that greed and shortsightedness threaten to despoil innovation the way a previous frontier-minded generation despoiled the natural environment, a series of speakers urged the group to consider itself as an environmental movement for the new millennium - guarding collectively against the encroachment of proprietary intellectual-property rights." [ more on the conference | read the articles from the symposium online | buy a special edition of the papers ]
Other Books by Center Faculty
Shamans, Software, & Spleens: Law and the Construction of the Information Society, by James Boyle
Who owns your genetic information? Might it be the doctors who, in the course of removing your spleen, decode a few cells and turn them into a patented product? In 1990 the Supreme Court of California said yes, marking another milestone on the information superhighway. [ more | buy the book ]
The Shakespeare Chronicles, by James Boyle
The origins of this book stretch back to a public mock trial in front of three Supreme Court Justices over the question "who wrote Shakespeare?" Boyle was the lawyer arguing that William Shakespeare, the man from Stratford-on-Avon, was indeed the author of the plays and poems we know so well. [ more | buy the book ]
Law and the Mental Health System: Civil and Criminal Aspects, (5th edition) by Christopher Slobogin, Arti K. Rai & Ralph Reisner
This textbook provides a comprehensive treatment of the law governing mental disability and the mental health professions. The fifth edition provides legal, clinical, and empirical materials for courses on mental disability law, the mental health professions, and criminal mental health law. New materials cover the Virginia Tech shooting, the right to refuse treatment, Clark v. Arizona, Panetti v. Quarterman, and Indiana v. Edwards, as well as updates on federal confidentiality rules; expertise/Daubert issues; civil commitment; competency, sexual predator, and capital sentencing; and the Individuals with Disabilities Education Act and Americans with Disabilities Act. [ more | buy the book ]
Intellectual Property: Cases and Materials, (3rd edition), by David Lange, Mary LaFrance & Gary Myers
This edition has been updated to include significant legislative and judicial developments through April 2007, including the recent Supreme Court decisions in KSR Int'l Co. v. Teleflex, Inc. and Microsoft Corp. v. AT&T Corp.. In addition, existing materials have been restructured and new topics have been introduced, enhancing both the depth and breadth of coverage and facilitating short forays into optional topics. [ more | buy the book ]
---
Papers and Articles
Cultural Environmentalism @ 10
Collected articles explore the development and expansion of Professor James Boyle's "cultural environmentalism" metaphor over the past ten years. The papers are a result of a conference at Stanford University, organized by Professor Lawrence Lessig, to mark the tenth anniversary of publication of Professor Boyle's article, "Sold Out," in The New York Times. [ read the collection online | read the original The New York Times article online ]
---
Policy Papers
A Manifesto on WIPO and the Future of Intellectual Property
Article discusses the role of the World Intellectual Property Organization (WIPO) in shaping policy and offers seven Guiding Principles for rational and humane intellectual property policy. [ read the article online ]
Orphan Works: Analysis and Proposal
The costs of an inadequate system of access to orphan works are huge: needlessly disintegrating films, prohibitive costs for libraries, incomplete and spotted histories, thwarted scholarship, digital libraries put on hold, delays to publication. In the cases where the work is truly an orphan work, those costs are tragic because they are completely unnecessary. This report describes the orphan works problem, and offers a proposal to fix it. [ download a PDF of the paper ]
Access to Orphan Films
The difficulty of access to orphan films is a matter of crisis because these works are literally disintegrating. At a time when digital technologies allow for more sophisticated and cheaper restoration and distribution of old films, uncertainty about copyright status has impeded restoration efforts. Worse still, in most cases the films are completely unavailable to the public even for simple viewing. This report describes these problems in detail. [ download a PDF of the paper ]

---
Comics
Tales from the Public Domain: Bound By Law? Expanded edition
Duke University Press offers an expanded edition of the Center's comic book on copyright and fair use, with a new foreword by Oscar-winning filmmaker Davis Guggenheim and new introduction by award-winning novelist Cory Doctorow. [ buy the expanded edition ]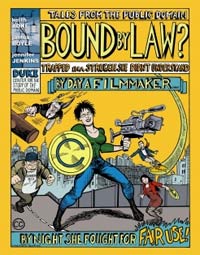 Tales from the Public Domain: Bound By Law? Original edition
A documentary is being filmed. A cell phone rings, playing the "Rocky" theme song. The filmmaker is told she must pay $10,000 to clear the rights to the song. Can this be true? What's going on here? It's the collision of documentary filmmaking and intellectual property law, and it's the inspiration for this comic book. Follow its heroine Akiko as she films her documentary, and navigates the twists and turns of intellectual property. Why do we have copyrights? What's "fair use"? Bound By Law reaches beyond documentary film to provide a commentary on the most pressing issues facing law, art, property and an increasingly digital world of remixed culture. [visit the comic site to read online or download | buy the original edition ]

The comic has also been translated. You can read the Français/French | Italiano/Italian (forthcoming) | Portuguesa/Portuguese versions online.
---
Miscellaneous Publications
The IP Boom at Duke Law School
The Duke Law School Magazine's profile of the Center's activities, with articles about the work of its Director, Jennifer Jenkins, on the Arts Project, and about co-founder James Boyle's work on the information ecology. Read the whole feature here