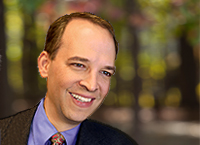 Stuart M. Benjamin
Douglas B. Maggs Professor of Law
Associate Dean for Research
Professor Benjamin specializes in telecommunications law, the First Amendment, and administrative law. He has been the Douglas B. Maggs Professor of Law since 2009, and the Associate Dean for Research since 2005. From 2009 to 2011, he was the first Distinguished Scholar at the Federal Communications Commission. He is a coauthor of Telecommunications Law and Policy (1st ed. 2001, 2nd ed. 2006, 3rd ed. 2012, 4th ed. 2015, 5th ed. forthcoming), has written numerous law review articles, and has testified before House and Senate committees as a legal expert on a range of topics.
Arti K. Rai
Elvin R. Latty Professor of Law
Professor Rai is an internationally recognized expert in intellectual property (IP) law, administrative law, and health policy. Rai has also taught at Harvard, Yale, and the University of Pennsylvania law schools. Rai's research on IP law and policy in biotechnology, pharmaceuticals, and software has been funded by NIH, the Kauffman Foundation, and the Woodrow Wilson Center. She has published over 50 articles, essays, and book chapters on IP law, administrative law, and health policy. Her publications have appeared in both peer-reviewed journals and law reviews, including Science, the New England Journal of Medicine, the Journal of Legal Studies, Nature Biotechnology, and the Columbia, Georgetown, and Northwestern law reviews. She is the editor of Intellectual Property Law and Biotechnology: Critical Concepts (Edward Elgar, 2011) and the co-author of a 2012 Kauffman Foundation monograph on cost-effective health care innovation. From 2009-2010, Rai served as the Administrator of the Office of External Affairs at the U.S. Patent and Trademark Office (USPTO). As External Affairs Administrator, Rai led policy analysis of the patent reform legislation that ultimately became the America Invents Act and worked to establish the USPTO's Office of the Chief Economist.
Stephen Merrill
Executive Director
Stephen Merrill, the longtime head of the National Academies Board on Science, Technology, and Economic Policy (STEP), has joined the Center for Innovation Policy as its first Executive Director. Merrill's extensive work on innovation policy during his 23-year-tenure as STEP Executive Director included a 2004 report on patent system reform that served as a blueprint for the America Invents Act of 2011 and the STEP program under Merrill became an important discussion forum and authoritative voice on innovation, competitiveness, intellectual property, human resources, tax, standards, research and development, and related policies. Prior to that, Merrill served as a fellow in International Business at the Center for Strategic and International Studies (CSIS), where he specialized in technology trade issues. He earlier served on various congressional staffs including that of the U.S. Senate Commerce, Science, and Transportation Committee, where he organized the first congressional hearings on international competition in the semiconductor and biotechnology industries and contributed to the Stevenson-Wydler Technology Innovation Act of 1980 and other legislation. Merrill is also a Senior Fellow at Duke University's Innovation and Entrepreneurship Initiative.
Ashish Arora, Rex D. Adams Professor of Business Administration, The Fuqua School of Business
Edward J. Balleisen, Vice Provost of Interdisciplinary Studies; Associate Professor of History, Trinity College of Arts and Sciences; Associate Professor, The Sanford School of Public Policy; Faculty Network Member of The Energy Initiative
Sharon Belenzon, Associate Professor, The Fuqua School of Business
Aaron (Ronnie) Chatterji, Associate Professor of Strategy, The Fuqua School of Business; Associate Professor of Public Policy, The Sanford School of Public Policy
Wesley M. Cohen, Frederick C. Joerg Professor of Business Administration and Professor of Economics, Management and Law, The Fuqua School of Business
John M. de Figueiredo, Edward and Ellen Marie Schwarzman Professor of Law, Duke Law; Professor of Strategy and Economics,The Fuqua School of Business
Nita A. Farahany, Professor of Law, Duke Law; Professor of Philosophy, Trinity College of Arts and Sciences; Faculty Director, Duke MA in Bioethics & Science Policy; Director, Duke Science and Society Initiative
Jon Fjeld, Interim Director, Duke Innovation & Entrepreneurship Initiative; Professor of the Practice of Strategy, The Fuqua School of Business; Professor of Philosophy, Trinity College of Arts and Sciences; Director, Center for Entrepreneurship and Innovation (Fuqua)
Michael D. Frakes, Professor of Law, Duke Law; Professor, Department of Economics, Trinity College of Arts and Sciences
Geoffrey Steven Ginsburg, Professor of Medicine, Biomedical Engineering, and Pathology, Duke School of Medicine; Professor, Duke School of Nursing; Member, Duke Cancer Institute; Director of Duke Center for Applied Genomics and Precision Medicine; Director of MEDx (Medicine and Engineering at Duke)
Jerome H. Reichman, Bunyan S. Womble Professor of Law, Duke Law
David B. Ridley, Dr. and Mrs. Frank A. Riddick Associate Professor of the Practice, of Business and Economics, and Faculty Director of the Health Sector Management program, The Fuqua School of Business
David T. Robinson, J. Rex Fuqua Distinguished Professor of International Management and Professor of Business Administration, The Fuqua School of Business; Senior Strategist for Research, Duke Innovation and Entrepreneurship Initiative
Jonathan B. Wiener, William R. and Thomas L. Perkins Professor of Law, Duke Law; Professor of Environmental Policy, Nicholas School of the Environment; Professor of Public Policy, The Sanford School of Public Policy; Co-Director, Rethinking Regulation program; University Fellow, Resources for the Future; Faculty Affiliate, Harvard Center for Risk Analysis