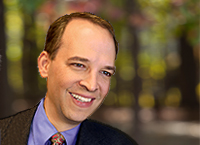 Stuart M. Benjamin
Douglas B. Maggs Professor of Law
Associate Dean for Research
Professor Benjamin specializes in telecommunications law, the First Amendment, and administrative law. He has been the Douglas B. Maggs Professor of Law since 2009, and the Associate Dean for Research since 2005. From 2009 to 2011, he was the first Distinguished Scholar at the Federal Communications Commission. He is a coauthor of Telecommunications Law and Policy (1st ed. 2001, 2nd ed. 2006, 3rd ed. 2012), has written numerous law review articles, and has testified before House and Senate committees as a legal expert on a range of topics.
Arti K. Rai
Elvin R. Latty Professor of Law
Professor Rai is an internationally recognized expert in intellectual property (IP) law, administrative law, and health policy. Rai has also taught at Harvard, Yale, and the University of Pennsylvania law schools. Rai's research on IP law and policy in biotechnology, pharmaceuticals, and software has been funded by NIH, the Kauffman Foundation, and the Woodrow Wilson Center. She has published over 50 articles, essays, and book chapters on IP law, administrative law, and health policy. Her publications have appeared in both peer-reviewed journals and law reviews, including Science, the New England Journal of Medicine, the Journal of Legal Studies, Nature Biotechnology, and the Columbia, Georgetown, and Northwestern law reviews. She is the editor of Intellectual Property Law and Biotechnology: Critical Concepts (Edward Elgar, 2011) and the co-author of a 2012 Kauffman Foundation monograph on cost-effective health care innovation. From 2009-2010, Rai served as the Administrator of the Office of External Affairs at the U.S. Patent and Trademark Office (USPTO). As External Affairs Administrator, Rai led policy analysis of the patent reform legislation that ultimately became the America Invents Act and worked to establish the USPTO's Office of the Chief Economist.
Stephen Merrill
Executive Director
Stephen Merrill, the longtime head of the National Academies Board on Science, Technology, and Economic Policy (STEP), has joined the Center for Innovation Policy as its first Executive Director. Merrill will also be a Senior Fellow at Duke University's Innovation and Entrepreneurship Initiative.
Affiliated Duke Faculty
Ashish Arora, Rex D. Adams Professor, The Fuqua School of Business
Edward J. Balleisen, Associate Professor of History, Trinity College of Arts and Sciences; Senior Fellow, Kenan Institute for Ethics, The Sanford School of Public Policy
Aaron (Ronnie) Chatterji, Associate Professor, The Fuqua School of Business
Wesley M. Cohen, Frederick C. Joerg Professor of Business Administration, Professor of Strategy, Economics, and Law, The Fuqua School of Business
Bob Cook-Deegan, Research Professor, The Sanford School of Public Policy; Research Professor of Biology, Trinity College of Arts and Sciences; Professor, Track V, School of Medicine
John M. de Figueiredo, Edward and Ellen Marie Schwarzman Professor of Law, Duke Law; Professor of Strategy and Economics,The Fuqua School of Business
Nita A. Farahany, Professor of Law, Duke Law; Professor of Genome Sciences & Policy, Institute for Genome Sciences & Policy; Professor of Philosophy, Trinity College of Arts and Sciences
Kip A. Frey, Director of the Program in Law and Entrepreneurship; Professor of the Practice of Law, Duke Law; Professor of the Practice of Public Policy, The Sanford School of Public Policy
Geoffrey Steven Ginsburg, Professor of Medicine, Biomedical Engineering, and Pathology, School of Medicine; Director of Duke Center for Applied Genomics and Precision Medicine
Jerome H. Reichman, Bunyan S. Womble Professor of Law, Duke Law
David B. Ridley, Dr. and Mrs. Frank A. Riddick Associate Professor of the Practice of Business and Economics, and Director, Health Sector Management program, The Fuqua School of Business
David T. Robinson, William and Sue Gross Research Fellow, Professor of Finance, The Fuqua School of Business
Eric J. Toone, Professor of Chemistry, Trinity College of Arts and Sciences
Jonathan B. Wiener, William R. and Thomas L. Perkins Professor of Law, Duke Law; Professor of Environmental Policy, Nicholas School of the Environment; Professor of Public Policy, The Sanford School of Public Policy