Charles Dunlap is a retired Air Force major general who received his undergraduate degree from St. Joseph's University (PA), and his law degree from Villanova University. Prior to retiring from the military in June of 2010, General Dunlap was responsible for assisting in the supervision of more than 2,500 military and civilian attorneys worldwide. His 34-year career included tours in both the United Kingdom and Korea, and he deployed for military operations in Africa and the Middle East. Totaling more than 120 publications, his writings address a wide range of topics including various aspects of national security law, airpower, counterinsurgency, cyberpower, civil-military relations, and leadership. A distinguished graduate of the National War College, General Dunlap speaks frequently at professional conferences and at numerous institutions of higher learning, to include Harvard, Yale, MIT, UVA, and Stanford, as well as National Defense University and the Air, Army, and Navy War Colleges.
Read General Dunlap's faculty profile
Shane T. Stansbury
Robinson Everett Distinguished Fellow
Shane T. Stansbury is the Robinson Everett Distinguished Fellow in the Center for Law, Ethics, and National Security and a Senior Lecturing Fellow in Law. Mr. Stansbury served for more than eight years as Assistant United States Attorney in the Southern District of New York (SDNY), where he led some of the country's most sensitive and noteworthy national security prosecutions. He is the recipient of numerous awards for his government service, including the Attorney General's Distinguished Service Award and the Federal Law Enforcement Foundation's Prosecutor of the Year Award. Previously, Mr. Stansbury was a litigator at WilmerHale where he focused on international litigation and arbitration, foreign anti-corruption investigations, and white-collar criminal matters. He clerked for the Honorable M. Margaret McKeown of the Ninth Circuit Court of Appeals and the Honorable Robert W. Sweet of the United States District Court for the Southern District of New York. He received his J.D. from Columbia Law School, where he was Articles Editor for the Columbia Law Review; his M.P.A. from Princeton's Woodrow Wilson School of Public and International Affairs; and his A.B. from Duke.
Read Shane Stansbury's faculty profile
Jessica Malekos Smith
Reuben Everett Cyber Scholar
Jessica 'Zhanna' Malekos Smith, is the inaugural Reuben Everett Cyber Scholar at Duke University Law School. Previously, she served as a Captain in the U.S. Air Force Judge Advocate General's Corps. Prior to military service, Malekos Smith was a post-doctoral fellow at the Belfer Center's Cyber Security Project at the Harvard Kennedy School. She holds a J.D. from the University of California, Davis; a B.A. from Wellesley College, where she was a Fellow of the Madeleine Korbel Albright Institute for Global Affairs; and is finishing her M.A. with the Department of War Studies at King's College London. Malekos Smith has presented her research at DEF CON, RSA, and NextGen@ICANN, and has been published in the Harvard Kennedy School Review, Defense One, and The Cipher Brief, among others.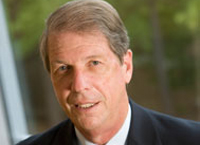 Scott Silliman received his undergraduate and law degrees from the University of North Carolina at Chapel Hill. He served for 25 years as an Air Force judge advocate, retiring in the grade of colonel in 1993 just prior to joining Duke's law school faculty and establishing the Center. As the senior attorney for Tactical Air Command during the first Persian Gulf War of 1990-91, and later as Air Combat Command's senior attorney, he has extensive experience in operational and other areas of military law. He is a frequent commentator on national and international television and radio news programs, and is quoted on a regular basis by print media from around the world. On November 10, 2011, President Obama nominated Professor Silliman to be a federal appellate judge on the United States Court of Military Commission Review, and the Senate confirmed him on June 21, 2012. He was formally appointed to the Court by the President on August 30, 2012, and currently serves as the Court's Deputy Chief Judge.
Read Professor Silliman's faculty profile
Victoria Zellefrow grew up outside of Philadelphia, PA and later in the suburbs of Houston, TX. She earned a Bachelor of Science in Psychology and Sociology from the University of Houston. She has worked at Rice University, North Carolina State University, and Duke University.

Tessa Deardorff
Research Assistant
Tessa Deardorff is a student at Duke University School of Law, where she is pursuing both her J.D. and a LL.M. in Comparative and International Law. She graduated cum laude and with honors from Duke University's Trinity College of Arts and Sciences (B.A. '12, International Comparative Studies, Asian & Middle Eastern Studies). She has undertaken a legal internship in Beirut, Lebanon.
Melissa Dix
Research Assistant
Melissa Dix is a 2L at Duke University School of Law, where she is pursuing her J.D. She graduated from Boston College with a B.A. in Political Science, but is originally from Ohio. As a 1L, Melissa placed first in the Hardt Cup, a moot court competition for first year students. She serves as the Vice President of the Duke Law Public Interest Law Foundation and is a Staff Editor for the Duke Journal of Comparative and International Law. During her 1L summer, Melissa interned with the U.S. Air Force JAG Corps.