PUBLISHED:
February 23, 2021
Black History Month: Honoring the excellence of Duke Law's Black alumni
Heading
This year, Duke Law celebrates Black History Month by honoring the courage, wisdom, and accomplishments of our Black alumni.
Duke Law alumni are a proud group, representing a legacy of leadership and service within the legal profession and beyond. For Black alumni, though, the pursuit of justice and equality can be personal, too.
One such Duke Law graduate broke through decades of barriers to achieve a distinguished legal career at one of the largest and well-known brands in the South, while another has set a Black precedent in the largely white sport of NASCAR. One is practicing openly as a respected LGBTQ lawyer, while two more are paving the way for greater inclusion in "BigLaw" and here at Duke Law.
As vice president and deputy general counsel at The Home Depot, Jocelyn Hunter '87 is a proven leader with more than two decades of experience in Atlanta's legal community. She is also very active in the Atlanta non-profit community having served in a number of capacities. She is the immediate past chair of the board of the Atlanta History Center. She has also recently earned the honor of becoming the first person of color to helm the board of Atlanta's renowned The Alliance Theatre.
In observance of Black History Month, Hunter shared her insights into what makes a great lawyer and leader. "It is impossible to summarize the traits great leaders exhibit in a few short sentences," she said. "Instead, I will highlight a few of the most important from my perspective. Integrity is foundational. Also important is what I call grounded confidence. I describe it as confidence laced with a degree of humility. Great leaders also have vision and passion and are skilled at communicating both.
"Additionally, the willingness to listen to, have compassion for, and make investments in the people you lead is essential. Last, great leaders work to make an outsized positive difference wherever they are. With the generous use of their skill sets, great leaders truly can transform lives and communities."
Erik A. Moses '96, president of Nashville Superspeedway, made headlines just months ago by becoming the first Black man to hold the title of president at any NASCAR track. Previously, he served as president of the XFL's DC Defenders, helping to develop and host two annual college football games in the Military Bowl.
In January, Moses was named one of the "People to Watch in 2021" by the Nashville Business Journal.
"America is in a period of reckoning (and hopefully reconciliation) regarding matters of racial injustice," he said. "I'm pleased that the nation's attention has been drawn to matters like police brutality and disparate treatment of individuals and communities of color with respect to the criminal justice system, employment, access to capital and exercise of the franchise.
"Nevertheless, I believe that it is vitally important for institutions like Duke Law School to celebrate the accomplishment of its own, especially Black students and alumni, if we are to experience any semblance of racial reconciliation in this nation." 
Earlier this month, Moses delivered the keynote address at this year's Duke Law ESQ event, an annual professional networking symposium held by the Business Law Society. In addition to speaking, Moses fielded questions from students about navigating the legal industry as a person of color, seeking out mentors, and pursuing professional fulfillment outside of the law.
DeAnna Evans, a 2013 graduate of Duke Law and 2014 graduate of Duke Divinity School, works as counsel at WilmerHale's D.C. office. Last month, Evans was selected as one the first participants in the Leadership Council on Legal Diversity's Fellow and Pathfinder programs at WilmerHale.
Evans is also gracious with her time outside of the office by bringing her drive and knowledge to the chairperson's position of the Duke Law Alumni Association Board of Directors' Diversity and Inclusion Committee.
"Black History Month is a time to meaningfully reflect on the ways in which Black people in this country have persevered and triumphed in the face of tremendous odds," she said. "And despite these odds, have become leaders in every sphere of American life, including the law.
"As a Black lawyer, I am committed to doing the hard, but necessary work of making the world and our profession a more inclusive and equitable place that cultivates and celebrates the contributions of Black people. I challenge everyone to do the same." 
An outstanding leader in law school, Seth C. Pearson '16 earned a Justin Miller Award for Leadership and Forever Duke Student Leadership Award during his time at Duke Law.
His excellence continued into the legal profession, earning him national recognitions as one of 2018's 'Best LGBT Lawyers Under 40' as ranked by the National LGBT Bar Association and '40 LGBT Leaders Under 40 in American Business' in Business Equality Magazine. Pearson says while he's aware of how far the Black community has come, he knows there's still a ways to go.
"Everyday I get to come to work at Cooley LLP as my entire self, celebrated and not merely tolerated, and I don't take that for granted," he said. "My great-grandmother used to clean the floors of the clients that I now represent on billion-dollar deals, not because that's all she could do, but because it is all she was allowed to do.
"Black History Month is a time to remind us collectively of how far we've come as a nation and how far we have yet to go. A moment to honor the sacrifices of those who have come before us, and to forge a new path to ensure a safe place for those who will come behind us. The fight has only just begun..."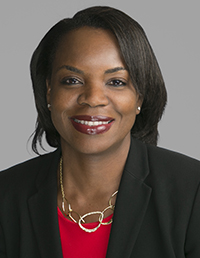 Last October, Sylvia James '96 was named the first chief diversity & inclusion officer at Winston & Strawn LLP, noted for making significant contributions to the firm's diversity and inclusion initiatives since joining the firm in 2017 as the director of diversity & inclusion. She worked with leadership at the firm to develop a comprehensive strategy for recruiting, developing, retaining, and promoting minorities, women, and LGBTQ lawyers and staff.
Noted as an "advocate for sustained, meaningful change," James spoke to what Black History Month means to her at this definitive point in America's history.
"This Black History Month provides an opportunity to not only celebrate Black excellence, but also to continue the important conversation that was ignited last summer about America's history of anti-Black racism and racial injustice," she said.
"As the great poet James Baldwin said, 'Not everything that is faced can be changed, but nothing can be changed until it is faced.'"