PUBLISHED:
November 01, 2019
Blue Globe International Alumni Newsletter, 2019 Edition
Dear International Alumni,
For many years, Judy Horowitz and I produced a newsletter for international alumni. After several years' hiatus, the newsletter is back!
The impetus for reviving the newsletter is you, our international alumni. Every day, we hear from alumni across the globe. You tell us your personal and career news and about reunions with classmates and fortuitous encounters with other Duke Law School alumni. You ask for referrals to Duke Law graduates in other countries and thank us for referring Duke Law lawyers to you. You recommend applicants and help us recruit new students to Duke. We hope this newsletter brings you up-to-date with our news.
Duke Law itself is full of international activity. Our LLM, JD/LLM, and JD programs enroll students from all parts of the world. Faculty members publish research and organize conferences on international and comparative law topics. Courses, speakers, and events at the Law School bring the world to Duke Law.
Duke Law goes out into the world, as well. Faculty members teach at and visit law faculties across the globe. International Studies staff members travel internationally to recruit students and meet alumni. And in 2020, our new dean, Kerry Abrams, will begin her international travel.
We hope learning about these global connections will inspire you to join us at events around the world, share your news, and come back to Duke for visits. We also hope to give you new insights into ways that Duke Law can be helpful to you and you to Duke Law. So please enjoy the Duke Law International Alumni Newsletter, Blue Globe.
Update from International Studies office
Class updates
This May marked the graduation of the 2018-19 LLM class, a highly accomplished group of 88 lawyers from 35 countries. About half of our recent graduates remained in Durham until the end of July to prepare for the New York Bar Exam. Afterwards, graduates will go on to have exciting careers at top international law firms, NGOs, and multinational corporations in the United States and around the world. The demand for Duke-trained attorneys remains strong around the globe.
Ninety-seven students from 40 countries make up the 2019-20 LLM class, which arrived on campus August 19. As always, alumni played an essential role in our admission and recruiting of these students, providing referrals and recommendations and serving as a source of information and support to admitted students. If you would like to help by speaking with an admitted student, organizing an alumni event in your city, or volunteering at a recruitment fair, please get in touch!
Duke's outstanding global reputation, small size, and a tight-knit atmosphere has always been a major draw for international students. What has changed in the recent years, however, is the reputation of Durham, which has undergone an amazing transformation and is among the most-lauded mid-sized cities in the U.S. Forbes Magazine, Entrepreneur.com, and many others consistently rank the Triangle among the very best places for start-up companies and entrepreneurs. Google recently partnered with an entrepreneurial center in downtown Durham as one of the key technology hubs in its network of startup communities. New restaurants, bars, theaters, and concert venues open almost weekly, and re-made warehouse lofts and new full-amenity apartment buildings have been built along bike and bus lines. All the while, Durham enjoys a lower cost of living than most of the locations of our peer programs, a lovely climate, and of course, Duke basketball.
Welcoming new staff
Leslie Allen, Program Coordinator
"I'm originally from Monterrey, Mexico. I did my university studies at Universidad Autónoma de Nuevo León (UANL) and earned a bachelor's degree in International Business. I attended and completed my MBA at the Escuela de Graduados en Administración y Dirección de Empresas (EGADE). I moved to Raleigh about 13 years ago and I have worked in all fields: government, school setting, and most recently in the private sector. I joined the International Studies office as a Program Coordinator in November of 2018 and I have truly enjoyed being part of this great team."
Isik Cotten, Office Coordinator
"I grew up in Istanbul, Turkey, have a degree in Chemical Engineering from Bosphorus (Boğaziçi) University, and so far have lived and worked in Turkey, Israel, China and of course, the U.S. Most of my work experience during the last 15 years has been in the field of university administration. My husband and I returned to Durham in July 2018 after living and working overseas for 12 years, and I joined the International Studies Office in October. I am thrilled to be working at Duke Law alongside a fantastic team of colleagues!"
Jabrina Robinson, Director of LLM Career Development and Outreach
"I graduated from Stanford with a BA in Economics and obtained my JD degree from Harvard Law School. My professional work experience spans a variety of organizations, including a boutique law firm, nonprofit organizations, corporations and institutions of higher education. I previously worked with the Duke Law Career Center team in 2012. I left Duke Law to experience a two-year expatriate opportunity in Dubai, United Arab Emirates, with my family. Upon our return to the United States, I worked in the Dean of Students Office at Siena College in Albany, New York. I also have experience with technology consulting during the dot-com era, fighting subprime predatory lending practices before the financial crisis, strengthening communities through affordable housing, and community economic development law. My passion is travel, which includes visiting six continents. I am delighted to be back in North Carolina living in Chapel Hill with my family. I look forward to working with Bruce Elvin in the Career Center and Oleg Kobelev and Jennifer Maher in the International Studies Office to encourage and support LLM students in their career journey."
Summer Institutes
Summer 2016 saw the last iteration of Duke Law's Asia-America Institute in Transnational Law in Hong Kong. While the University of Hong Kong was an excellent collaborator and Hong Kong a fascinating location, student enrollment no longer supported two international institutes. We therefore consolidated into one institute, continuing for one more year in Geneva and then in 2018 entering into an agreement with the University of Leiden to offer the Duke-Leiden Institute in Global and Transnational Law. Located in Leiden's "Campus The Hague," the Duke-Leiden Institute offers courses in public and private international law, taught from a comparative perspective by Duke and Leiden faculty members. Supplementing the courses are international speakers and visits to international institutions in The Hague, a city known as the "Legal Capital of the World."
Meanwhile, the Summer Institute on Law, Language, and Culture (SILLC) at Duke has grown into a highly successful program enrolling both pre-LLM students and students who want to experience a shorter introduction to U.S. law and legal vocabulary at a premier U.S. law school. Students who attend SILLC before the LLM program tell us that SILLC prepares them for success in their LLM courses and introduces them to Durham and North Carolina. They form close friendships and even hold SILLC reunion parties during the LLM year! Students who attend SILLC as a free-standing program often later apply to the LLM program.
International programs for JD students
Duke offers students in the JD program several avenues to an international career. Our unique JD/LLM program allows students to earn two degrees in law in three years, plus one summer of study at the Duke-Leiden Institute. We also have a dual degree program with the prestigious École des Sciences Politiques in Paris, in which students earn both a JD and a Master's in Global Business Law during two years in Durham and one in Paris.
In addition, this year the Law School nominated 12 students to be part of the Study Abroad program. They will study at partner universities in Spain, Portugal, Australia, Mexico, Germany, China, Denmark, Japan, and Israel. For more information about the Study Abroad program, please visit this link.
What's new at the Law School
Dean Abrams
Dean Kerry Abrams has wrapped up a successful first year leading Duke Law School. In her first year as Dean, she secured funding for a new Immigrant Rights Clinic to launch in spring 2020. She also went "on the road" for receptions in cities around the United States through the course of the year where she was introduced to hundreds of Duke Law alumni. Dean Abrams will continue her travel in 2019-20 with events planned for more U.S. cities. Planning has started for her first international trip as dean, to take place May-June 2020. Read more about Dean Abrams here.
Judicial Institute and judicial master's
The Bolch Judicial Institute at Duke Law School, which studies and advances rule-of-law principles, judicial independence, and law reform through technology and innovation, had a busy first year under Director (and former Duke Law Dean) David F. Levi. In April, the institute presented the inaugural Bolch Prize for the Rule of Law to retired United States Supreme Court Justice Anthony M. Kennedy. Supreme Court Associate Justice Samuel A. Alito and Judge Allyson K. Duncan '75 of the U.S. Court of Appeals for the Fourth Circuit were among the speakers. More here.
Duke added a Master of Judicial Studies program in 2013 and now graduates a class of about 20 state, federal, and international judges every two years. The class of 2020 has finished their second semester, marking the completion of the coursework component of the degree, which students accomplish in two consecutive years of four weeks in residence at Duke from late May to early June. They take advanced courses on the judiciary and judicial institutions taught by members of Duke Law faculty as well as judges and scholars from around the country and complete their studies by writing a master's thesis. More about the program here. The judges enrolled in this degree have included a number from other countries:
Dennis Adjei, Justice of the Court of Appeal Judicial Service, Accra, Ghana, West Africa (2014)
Marsha Erb, Justice, Court of Queen's Bench of Alberta, Calgary, Alberta, Canada (2014)
Stephane Jackson-Haisley, Resident Magistrate, Corporate Area Criminal Resident Magistrate's Court, Kingston, Jamaica (2016)
Julia Prahl, Judge, High Court of Appeals of Hamm, Bolchum, Germany (2016)
Frederic Blockx, Judge, Commercial Court-Belgium, Antwerp, Belgium (2018)
David Collins, Justice, High Court of New Zealand, Wellington, New Zealand (2018)
Emmanuel Ekundayo Roberts, Justice, Supreme Court of Sierra Leone, Wilberforce, Freetown, Sierra Leone (2018)
William Hastings, Judge, District Court of New Zealand, Wellington, New Zealand (2020)
Francois Kunc, Justice, Supreme Court of New South Wales, Sydney, Australia (2020)
New clinics
Duke Law's nationally recognized clinical program continues to provide students the opportunity to develop important professional skills under the supervision of faculty and deepen their knowledge in a variety of legal practice areas. Last fall, the Law School launched a new First Amendment Clinic in which students provide free representation for clients who cannot afford an attorney in cases involving freedom of speech, press, and assembly. Over the summer months the clinic expanded its mission with the launch of a comprehensive database relating to free speech disputes on U.S. college campuses. More here.
Also last fall, the Law School announced that it will launch a new Immigrant Rights Clinic in which student-attorneys will primarily represent individuals in Durham and North Carolina who are seeking asylum or facing deportation. Kate Evans, an accomplished clinician and immigration advocate who helped to launch immigration law clinics at the University of Idaho College of Law and University of Minnesota School of Law, joined the faculty on July 1 as the new clinic's director. Students will be able to enroll in the clinic for the first time in the spring 2020 semester. More here.
Externships and certificates
LLM students may now earn up to three credits in a spring-semester Externship course. The externship must relate to a course the student is taking, and the student must arrange it with a local non-profit, court, or in-house counsel's office.  For example, students have taken Frontier Robotics and externed with a drone company in Raleigh. The Externship course adds another LLM experiential learning opportunity to the Clinic courses and pro bono activities. Also popular with LLM students are the three LLM Certificates in Business Law, Environmental Law, and Intellectual Property Law.
Faculty research and travel
Duke faculty continue to gather global accolades for their scholarship and teaching.
Among the recent highlights are Professor Curtis Bradley's pioneering work in the new field of comparative foreign relations law, Senior Lecturing Fellow Bryan McGann's work with current LLMs as part of the Start-Up Ventures Clinic, and Professor James Coleman's successful exoneration of Charles Ray Finch through the Wrongful Convictions Clinic.
Duke Law faculty travel widely to share their research, connect with alumni, and speak at conferences. Professor Emeritus Don Horowitz and retired Associate Dean Judy Horowitz were invited to Seoul by the Korean alumni in November 2018. Don gave talks at courts and the legislature, while alumni honored Judy for her devotion to international students over more than three decades of running the International Studies office at Duke Law.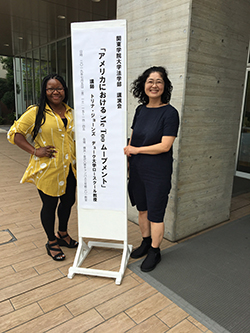 Professor Laurence Helfer, who holds an appointment as Permanent Visiting Professor at the iCourts: Center of Excellence for International Courts at the University of Copenhagen, spoke to potential applicants at the Danish Fulbright Office on enforcement of international treaties. Professor Steven Schwarcz received a Distinguished Honorary Professorship from the University of Durham, United Kingdom, and gave the keynote address at a symposium on "Financial Inclusion and Access to Credit." Professors James Coleman (in 2018) and Trina Jones (in 2019) taught courses on U.S. law at University of Tokyo, invited by alumnus Kichimoto Asaka LLM '87. While in Japan, they also lectured on Death Penalty Litigation (Prof. Coleman) and the #MeToo movement (Prof. Jones, invited by Hitomi Yoshida LLM '95), with support from the Japan Foundation.
Professor Samuel Buell, while on vacation in Tokyo, visited the law firm of Nagashima, Ohno, Tsunematso and discussed international white-collar crime with former student Hen Tomohiro LLM'17 and his colleagues. In March, Professor Jonathan Wiener visited Duke's Kunshan campus near Shanghai, as well as Peking University, and connected with Xin Dai LLM '09. Professor Lee Reiners visited Taiwan in August and Chile in October to speak on FinTech and Directors' Responsibilities, and Jeff Ward visited Taiwan in October to speak on Law and Technology to a judicial conference.
Staff travel
Between them, Associate Dean Jennifer Maher and Assistant Dean Oleg Kobelev visited 20 countries and territories in 2018-19, recruiting applicants and meeting with alumni. Jennifer joined the Fulbright/Education USA LLM Tour through Latin America (Brazil, Argentina, Uruguay, Chile, Peru, and Colombia) and part of the European LLM Tour (Austria, Italy, and Spain). At the invitation of alumni and Fulbright, she also visited Mexico, Denmark, and Germany, and she helped launch the inaugural Duke-Leiden Institute in the Netherlands.
Oleg covered the first half of the European LLM Tour, traveling to Switzerland, France, Luxembourg, Belgium, the Netherlands, and the U.K. In March; he also visited Israel and the West Bank to interview applicants for the Open Society Institute's Palestinian Rule of Law program.
Travel to recruit new students for 2020-21 and meet alumni has begun, with Jennifer visiting Lima, Quito, and Santiago, Oleg visiting London, Dublin, Paris, and Cologne, and our newest staff member, Jabrina Robinson, attending the LLM Fair in Brussels and Amsterdam on November 12th and 13th.  Please let us know if you can join her there!
Alumni receptions for admitted and current students
First, our thanks to all the alumni who contact us to recommend applicants to Duke or help us recommend Duke to applicants. We very much appreciate the insights we receive from your recommendation letters and emails, and we know that your contact with admitted students convinces many of them that Duke is the right choice. We find that applicants appreciate both communicating with current LLM students or very recent graduates and attending events with more senior alumni.
In particular, our thanks to Alfonso de Orbegoso LLM '89 for organizing an alumni lunch with admitted students in Lima, and William Kahn LLM '98, JD '00 for holding a reception for alumni and admitted students at his home in Paris. The annual Japanese alumni reception for new students and JD summer interns was held on May 30. The group included most of the 12 students from Japan who will join the LLM program, along with the five JDs interning in Japan. The Japanese alumni party also marked a transition in alumni leadership, with Hideyuki Sakai LLM '82, who has led the Japanese Law Alumni group since its inception, handing the reins to Hiroko Tanaka LLM '91.
International alumni in the U.S. also hold receptions to connect LLM students with graduates. Paul Hespel LLM '95 has sponsored for several years a reception in New York for international alumni and LLM students during Fall Break week in October. Robin Panovka JD '86 hosts LLMs and international recruiters at a reception at Wachtell Lipton prior to the January LLM job fair in New York. And Hugh Hollman LLM'00, JD'05 and Martin Schaefermeier LLM '90 have held receptions in Washington for international alumni and LLM students during Spring Break in March, which Don and Judy Horowitz attend as well.
Please check the Alumni Events Calendar for events near you, whether at home or when you are traveling, and join us!
Alumni News
Our international alumni community is growing and currently consists of over 2,000 Duke Law graduates in 80 countries! If you would like to see what your classmates have been up to or contribute an update on your life, consider checking the new Duke Alumni Network (and register, if you haven't already). Our social media pages are also active, including Duke Law International Studies Facebook group, along with individual Facebook pages for graduates of classes 2013, 2014, 2015, 2016, 2017, 2018 and 2019. And, of course, please write to us directly – we would love to hear from you!
How Can You Help?
Without fail, students say the primary way they learn about Duke's LLM and other programs is from you, our distinguished alumni and friends. For this reason, we are asking you again to assist us in recruiting talented and ambitious lawyers from your firms, companies, and communities around the world to join the Duke Law LLM program in the fall of 2020. 
A link to our LLM brochure and summer institute postcard is below. Please share these materials with colleagues, associates and students who may be interested in our programs. We will be happy to mail you hard copies of the materials if you prefer. Just let us know, and we will send you materials right away. In addition, we would very much appreciate receiving any suggestions you have for generating media (social or otherwise) coverage for Duke Law in your country or region.
The scholarship that honors Associate Dean Judy Horowitz supports the sixth Horowitz scholar, a young lawyer from Cameroon. I encourage you to consider a donation to the endowment fund in honor of Dean Horowitz, or to the LLM Annual Fund, either of which allows us to bring students from diverse backgrounds to Duke Law School.
Please continue to send us news of your family and career achievements to us by email at international@law.duke.edu. We love to hear from you, and we wish you and your family all the best in the coming year.
Sincerely,
Jennifer D'Arcy Maher
Associate Dean for International Studies