PUBLISHED:
January 30, 2014
Clinic students help U.N. draft principles on redress for human trafficking victims
Isabella Bellera, Emily Spiegel, and Sitara Witanachchi began their final semester of law school in an unusual location, Amman, Jordan, working on the problem of human trafficking in the Middle East and North Africa.
Members of the inaugural class of Duke Law's International Human Rights Clinic, the 3Ls and Clinic Director Jayne Huckerby traveled to Jordan for a meeting of regional governments convened by Joy Ngozi Ezeilo, the United Nations Special Rapporteur on Trafficking in Persons.  As the clinic's first project, students are helping the special rapporteur finalize U.N. principles to guide governments in providing redress for victims of human trafficking. The principles — the first-ever of their kind — will be presented to the U.N. for adoption in late spring.  The Amman meeting, like previous regional consultations, was to solicit input from U.N. member states on the principles.
"Participating in this consultation was a powerful way to engage in an issue we had only read about before," said Spiegel, who served as a Peace Corps volunteer in Jordan and worked in international development prior to attending Duke Law.  "Hearing directly from governments about their anti-trafficking initiatives brought home the challenges of ensuring justice for victims."
Huckerby has been involved as an expert in the U.N. special rapporteur's initiative since its launch in 2010 and has helped facilitate previous regional and global consultations.  In Amman, she provided delegates with an overview of the current international law framework on the rights of trafficking victims.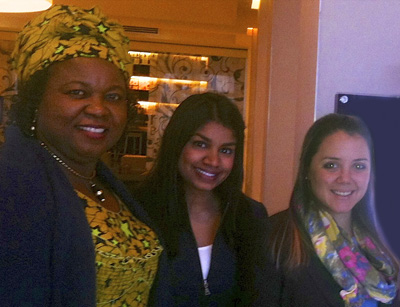 L-R:  U.N. Special Rapporteur Joy Ngozi Ezeilo, Sitara Witanachchi '14, and Isabella Bellera '14
"Trafficked persons are often treated as criminals rather than victims of human rights violations, being deported or detained instead of given assistance," Huckerby said.   "These principles will close the gap between the rights guaranteed in domestic and international law on trafficking and the dire reality of victims' experiences.
"Building on existing international law, these principles provide an overarching framework to guide state responses to trafficking victims and are much anticipated by the U.N. system, governments, and civil society alike," she said.
In Amman, the students also had side meetings with the special rapporteur and U.N. staff, as well as American Bar Association staff working on the promotion of rule of law in Jordan.  They also engaged with University of Jordan clinical students and civil society organizations working on human trafficking. Those discussions were particularly enlightening, said Bellera, who has previously worked with NGOs involved in democracy promotion in Venezuela.
"They spoke openly about the challenges of addressing human trafficking on the ground — how difficult it is to identify victims and get remedies once they are identified," she said. "Interacting with human rights practitioners in the field is a unique and valuable learning opportunity of the clinic." 
Before their trip, the team also worked to secure invitations to the consultation for several civil society organizations they identified as having relevant input.
Huckerby, center, addressed the international law framework on the rights of trafficking victims at the consultation in Amman.
"We used the opportunity of being in Jordan to reach out to all the key stakeholders. It was critical to engage directly with the groups invested in this issue to increase our understanding of the problem and how the clinic can contribute to its solution." said Witanachchi, who traces her interest in human rights to living for a year in Sri Lanka during a time of civil unrest.
All three clinic students agree that working alongside clinic colleagues Chelsea O'Donnell '14 and LLM candidates Prerna Dhoop and Laura Ramirez Barrios to assist the special rapporteur and her Geneva-based team is a highlight of their law school experience.
"Through fieldwork and research, Duke Law students are at the forefront of strengthening the U.N. and member states' response to trafficking and ensuring that international law translates into actual protections on the ground for trafficking victims," Huckerby said.