Duke Law moot court team is finalist in national environmental law competition
Heading
Maia Foster '23, Zoe Gabrielson '23, and Mikaela Johnson '23 bested some 50 other teams in Pace Law's prestigious and long-running moot.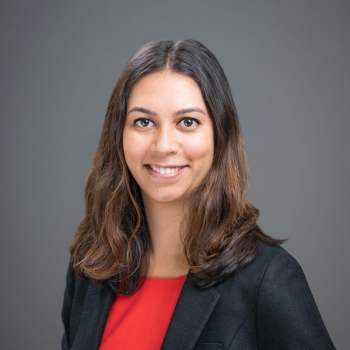 A Duke Law team including Maia Foster '23, Zoe Gabrielson '23, and Mikaela Johnson '23 was a finalist in the 34th annual Jeffrey G. Miller Pace National Environmental Law Moot Court Competition, hosted virtually by Pace University's Elisabeth Haub School of Law.
In the final round on Feb. 26, Johnson and Foster argued an appeal of a case involving complex regulatory actions under the Clean Water Act and the doctrine of cooperative federalism in the U.S. Environmental Protection Agency's implementation of the statute. 
Environmental litigation frequently involves multiple parties, and in the Pace moot three adverse teams argued the issues in the final round. Johnson and Foster argued on behalf of a fictional environmental group, while a team from Lewis & Clark Law School represented a fictional state and a Stetson University College of Law team represented the EPA. The Lewis & Clark team ultimately prevailed.
Johnson and Foster faced a hot bench that drilled the teams with questions of ripeness, administrative law, cooperative federalism, and the intricacies of EPA's regulatory programs, said Clinical Professor Michelle Nowlin, who co-directs the Environmental Law and Policy Clinic. Some questions based on case law and agency practice were far outside the record the students were provided, she noted.
"Mikaela and Maia represented Duke extremely well with their poise, preparation, and respectful presentation," Nowlin said. "The judges singled them out for praise with their narrative framing, solid knowledge of the underlying regulatory program, including guidance documents and other sections of the Clean Water Act that were beyond the record of the case, and ability to handle all the questions for the team – even on issues they were not assigned to present." 
Nowlin coached the team along with Professor of the Practice of Law Stephen E. Roady, who holds a joint appointment in the Nicholas School of the Environment.
The underlying appeals court case, Chesaplain Lake Watch and The State of New Union v. United States Environmental Protection Agency, involved water quality problems caused by runoff from factory-scale livestock operations, seepage from septic tanks, and permitted discharges from municipal and industrial wastewater discharges.
Johnson and Foster each were named "best oralist" in the competition's opening rounds. More than 200 competitors and 150 attorneys took part in what is billed as the largest interschool moot court competition under one roof, though the event was virtual this year. A total of 51 teams competed.
This year is thought to be the first time Duke Law fielded a team in the competition. The team's strong performance was analogous to making an appearance in the NCAA Final Four tournament, Roady noted. Lewis & Clark is known for its top-ranked environmental law program and has won the competition more times than any other school.
"I am so proud of our team. We gave it our best effort and learned from each others' strengths," Foster said.
"Mikaela, with years of mock trial experience, advised Zoe and me on how to improve our presentation. Zoe, in turn, gave us a crash course on administrative law and the Clean Water Act. And of course our coaches [Nowlin and Roady] graciously agreed to moot us prior the competition, which was critical to our success. We hope Duke students interested in environmental law or moot court participate in the future – and win it!"
The final round was judged by a distinguished panel of experts in environmental law: Alexandra Dunn, a partner in the environmental, safety, and incident response group at Baker Botts and a former assistant administrator for the EPA's Office of Chemical Safety and Pollution Prevention; Mary Kay Lynch, a judge on the EPA's Environmental Appeals Board and a former senior official at the EPA; and James R. May, distinguished professor of law, founder of the Global Environmental Rights Institute, and co-founder of the Dignity Rights Project at Widener University Delaware Law School.