Duke Law's LLM class of 2015 came to Durham from every populated continent on the globe, bringing the benefit of a wide variety of professional and personal accomplishments to the Duke Law community.
The 101 foreign-trained lawyers enrolled in this year's international Master of Laws program represent 42 different countries and include the law school's first students from Afghanistan, Belize, Kosovo, and Oman. Their professional backgrounds represent a wide spectrum that includes human rights law, environmental law, commercial and business law, the central bank staffs of Brazil and Turkey, the environmental ministries of Chile and Iceland, academia, and many other career paths.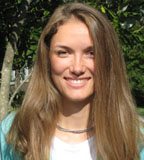 Among the LLM students who began classes last week is Serbian legal scholar Tamara Momirov, who studied law at the University of Belgrade and is working on a master's degree in intellectual property law. Momirov is interested in the juxtaposition of privacy law and freedom of speech, particularly as they apply to emerging technology and the internet.
"I'm mostly interested in IP in the digital age and IT law," she said. "It is interesting to me because it might seem like a narrow category, but there are constantly new developments which lead to new categories of study and policy such as data protection, which I worked on as a legal assistant in the Serbian Office of the Commissioner for Information of Public Relevance and Personal Data."
Duke's strong intellectual property faculty was among the things that drew her to Durham, Momirov said.
Momirov is the inaugural recipient of the Judy Horowitz LLM Scholarship Fund, which provides a funding each year to deserving international scholars. The scholarship was created to honor Judy Horowitz, the architect of Duke Law's International LLM program who retired in 2013 after leading the program for 33 years.
In addition to her work in the commissioner's office, Momirov has taught at the University of Belgrade, worked as an associate in a legal clinic offering pro bono family law services and in a Belgrade litigation firm, and served as a judge, team leader, and competitor in international moot court competitions.
An interest in human rights led her to work as chairperson at the Human Rights Council at the United Nations Association of Serbia, where she composed papers on policy issues surrounding human rights and the Internet and human rights and corruption in Southeast Europe.
"I think that human rights law can be directly applied to intellectual property law and laws concerning privacy and free speech on the internet," Momirov said. "Serbian law on these matters has started to change after ten years, and I'd really like to work on these issues as they are updated and eventually work in an international organization or company that deals with them."

Abdul Sabour Aram, the first person from Afghanistan to enroll at the Law School, studied law in India for five years before returning to Herat, Afghanistan. He then lectured on international law and human rights at a private law school and volunteered in Herat's Independent Human Rights Commission, where he was responsible for human rights training for police officers, army personnel, community elders, university students, women's department staff and insurgents involved in the peace process. He also worked a full-time job as a Municipal Economic Development Adviser at a USAID-funded project.
"Studying in an American university has always been a dream for me and I am very excited that I can live the dream," he said. "It is an excellent opportunity for me to learn more about the values that I have long stood for by studying human rights and international law."
Aram, a poet and author who has published two books in the Dari language, wants to return to Afghanistan to write about human rights with a focus on women's rights.
Yueqian Fan is this year's recipient of the full-tuition Global Leader Scholarship, awarded each year to a Chinese national who demonstrates the highest level of academic achievement, a record of and capacity for leadership, and a commitment to the use of law in addressing the economic, social, and ethical challenges China faces.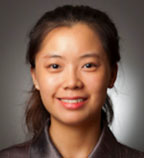 Fan, a graduate of Peking University Law School, has a particular interest in the common law system. While studying law, she spent two years in a group that translated case law from English to Chinese, focusing on U.S. Supreme Court opinions and traveling to Hong Kong to further study common law.
She also sees the Law School as a place where she can learn more about social welfare policy to help her pursue a personal goal of helping families in China affected by Alzheimer's disease.
"I intend to not just earn and donate money, but to create a social welfare mechanism so that people, especially care-taking family members, can be well supported until there is a widely available cure for the dementia," she said. "The public interest programs here at the Law School, its health-law related clinics, and maybe the Sanford School and Duke Hospital could all be valuable resources."