PUBLISHED:
August 25, 2014
Duke Law welcomes the JD class of 2017
After completing two tours in Afghanistan as an intelligence officer, U.S. Army Captain Nicole Amsler is transitioning to civilian life as a student in Duke Law's JD class of 2017.
"As an intelligence officer, your job is to analyze and write briefs, so that should translate well to legal studies," said Amsler, a 2009 graduate of the United States Military Academy who served as the senior battalion expert in charge of military intelligence operations for a deployed battalion of over 500 personnel.
Amsler is one of 222 students in the 1L class, selected from a pool of 5,358 applicants and representing 114 undergraduate institutions. They are starting their JD studies alongside 100 internationally trained lawyers from 42 countries pursuing the LLM degree and 17 graduate attorneys pursuing an LLM in Law and Entrepreneurship.
"The LEAD philosophy fits in well with my military background," said Amsler, referring to the principles for leadership training and development that are encapsulated in the Duke Law Blueprint and shaped orientation programming during LEAD Week, Aug. 19 to 22. "Everything about being an officer has to do with leadership."
Amsler began to consider a career as a lawyer while taking a law course in her senior year at West Point. "I really became fascinated with the way law works and the different facets of it," she said. "I'm particularly excited to look at the clinical opportunities at Duke. There are so many."
Amsler and her husband Ben, another West Point graduate who is a first-year MBA student at Duke's Fuqua School of Business, welcomed a son, Theodore, in August.
"We have a lot to deal with right now, but we are excited for the changes we have made in our lives," she said. "We plan to stay really organized in order to make enough time for both school and family life."
Mark McCurry has had a longstanding interest in law and, in fact, worked for Durham's Center for Death Penalty Litigation after graduating from the University of North Carolina at Chapel Hill with degrees in philosophy and political science in 2005.
He deferred enrolling for several years after he met Mark Kleinschmidt, now the mayor of Chapel Hill, through his work at the center. "Being gay, in a professional context, you gravitate to people who are like-minded and engaged in work you can believe in. Mark Kleinschmidt, as an out official on the Chapel Hill Town Council, was doing work that was important to me," McCurry said. "I knew I could learn a great deal from him."
McCurry became Kleinschmidt's campaign manager and then his chief aide. It's experience he is certain will serve him well in his legal studies.
"No two days working the Mayor's Office are the same," he said. "You learn how to strategize a problem and understand the different angles that can affect an issue, how to appreciate the complexity of something on its face and then to dive into the weeds to produce results."
McCurry said his role in the mayor's office required "constant on-your-feet thinking and critical analysis." 
Marcus Benning also has close Triangle ties, having graduated from Duke in May with a bachelor's degree in History and Linguistics.
"I really enjoy being in the classroom and I still enjoy reading and writing and the student life," he said. "I wasn't willing to give that up yet."
Benning said that spending two summers as an associate at Wells Fargo and Morgan Stanley helped to cement his interest in law.
"I found that while I was interested in finance, the legal aspect of finance really intrigued me more," he said.
A meeting with Dean David F. Levi helped to nudge him off the fence as he was choosing which law school to attend.
"He really outlined Duke Law's priorities and told me about the freshman curriculum," Benning said. "Its purpose isn't to weed out students or make the curriculum excessively difficult but to teach students the foundations of lawyering in a really supportive way. That was very important to me." 
Benning, an Atlanta native, said he is most looking forward to using his classroom experience to benefit the city of Durham.
"As a law student, what I'm doing in class every day will be directly transferable in uplifting the surrounding community, being an activist," he said. "Doing pro bono work for people around the university is what I'm really interested in."
Spending three years teaching fourth grade in New Orleans schools with Teach for America got Meredith Simons interested in matters relating to school discipline.
"It was one of the major issues I found there," said Simons, who holds a degree in international studies and philosophy from the University of Oklahoma and worked as a reporter for Slate Magazine in Washington, D.C., before becoming a teacher.  
"It was a very top-down culture where a bunch of out-of-towners had come in and said, 'This is what kind of school we're going to have, and we're not going to acknowledge the culture New Orleans has or some of the struggles our students have.' I just felt like that in and of itself was problematic."
Disciplinary policies left students and families "feeling that they are at odds with teachers and administrators," Simons wrote in The Atlantic in February following a wave of student protests in New Orleans, before offering proposals for change.
Observing that many of her students were affected by the criminal justice system through the incarceration of relatives or negative encounters with police led Simons to consider a career in law.
"I got interested in various aspects of criminal justice system reform and decided that law is critical in terms of creating a more equitable society," she said.
"I was really excited to come to Duke because of the Children's Law Clinic and the fact that I know people, whether it's students or professors who are affiliated with Duke, have been instrumental in working on school discipline issues in North Carolina."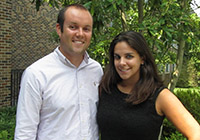 As one of the two married couples in the JD class of 2017, Kathleen and Ridge Blanchard had a different set of priorities than many prospective law students when searching for the right school. Both worked as lobbyists in Washington after graduating from Georgetown University in 2011, Kathleen for Blank Rome Government Relations LLC and Ridge for Holland & Knight LLP, and long intended to pursue careers in law.
"I never thought there was going to be a way we could both go to law school without one person making some kind of major sacrifice for the other," Kathleen admitted. "We were very surprised we ended up getting into all the same schools. We came here and loved the campus and community."
They look forward to experiencing the rigors of Duke Law together, Ridge said.
"It sort of allows us to grow together."
Even so, the couple requested different schedules so that their classes don't overlap.
"We love spending time together, but we're in different first-year small sections," Ridge said.
"We've been trying to figure out how to structure it so we don't get sick of each other," Kathleen joked. "We'll be on campus 9 to 5 and we'll commute together, but other than that we'll have separate days."