PUBLISHED:
September 14, 2017
Duke Law welcomes the JD Class of 2020
For Gustavo Ruiz, undergraduate internships on Capitol Hill and in the Department of Justice (DOJ) confirmed an interest in studying law.
During his junior year at Dartmouth College, Ruiz held consecutive internships in the Office of International Affairs at the DOJ and in the office of Senator Kirsten Gillibrand, D-N.Y.
"I had a view of the executive branch at the Department of Justice and then the legislative side from being on the Hill," Ruiz said. "These experiences complemented my view of the law and gave me a rich understanding of the reasons why I wanted to go to law school."
Ruiz is one of 214 students in Duke Law's JD class of 2020, representing 104 undergraduate institutions.
Ruiz, who grew up in Mexico City, had the opportunity to participate in bilateral meetings at the DOJ, focused on Mexico, Central America, and the Caribbean.
"It was a fantastic internship," Ruiz said. "I had a few attorneys who took interest in me—in my professional development and well-being."
After his graduation from Dartmouth, Ruiz returned to the DOJ as a paralegal in the fraud and money laundering sections of the Criminal Division. During that time, he encountered a number of Duke Law graduates who spoke warmly of the school.
"One thing that really stood out to me about people who'd gone to Duke is how positively these attorneys spoke of their experience at Duke Law," said Ruiz. "That wasn't the case for every school whose graduates I spoke with."
Entering law school with an interest in international investigations and white collar crime, Ruiz said he was also intrigued by the JD/LLM program and other international opportunities at Duke Law.
"I'm very excited to explore other areas of the law while I'm here, and I do want to maintain some link to Latin America," Ruiz said. "Whether it's doing international criminal investigations, mergers and acquisitions, or international arbitration, all of these things will fundamentally draw from not only my skills but also my background."
Molly Bruce said she found Duke Law attractive for its environmental law program.
A North Carolina native, Bruce majored in geography and global studies at UNC. While at UNC, she took an environmental law class and "got really hooked."
After studying abroad in Cape Town, South Africa, and Quito, Ecuador, during her junior year, Bruce became interested in the legislation around cleanup of contaminated and hazardous sites.
"Learning how brownfields can be rehabilitated and developed had a nice overlap with other work I've done on affordable housing, land acquisition, and development," said Bruce, who led volunteer groups for Habitat for Humanity in Durham before starting law school.
Bruce hopes to bring all these interests together in her time at the Law School and is contemplating pursuing a Master in Environmental Management through the Nicholas School of the Environment along with her JD, through the Law School's dual-degree program. "Learning some of the more hard science-based aspects of rehabilitating the environment intrigues me."
She said the "stars aligned" for her with Duke, as she already had an established community in Durham and was seeking a law school with opportunities in environmental law: "All of the puzzle pieces just kind of came together and it's been wonderful so far."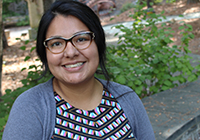 While Natalie Sanchez has had a longstanding interest in the law, it was a year-long position as an AmeriCorps paralegal that helped to solidify her path.
Working on landlord-tenant disputes with Legal Assistance of Western New York gave her a compelling insight into how many low-income individuals experience the legal system.
"It's not always positive," she said. "You see people when they're really vulnerable, whether they're about to lose their housing, or they're going to lose government services that are crucial to them."
When it came time to choose a law school, Sanchez, who grew up north of San Diego and studied public and international affairs at Princeton, said she was attracted to Duke's range of clinics, public interest, and other opportunities, and also wanted to try out a different part of the country.
"I spent two days in Durham and had a lot of fun," she said. "I thought it was certainly different than anywhere I had lived before — in a good way. It just felt like a good place to be a student."
Tim Dill arrived at Duke Law after 10 years in the U.S. Army, where he achieved the rank of captain. With a longstanding interest in national security issues, he was particularly drawn by the Duke Center on Law, Ethics, and National Security, which is led by Professor Charles Dunlap Jr., a retired major general and former deputy judge advocate of the U.S. Air Force.
"That's something I found to be unique among the programs I was considering," Dill said.
Dill entered the ROTC program at the University of Central Florida in 2006, at the height of military conflict in Iraq.
"I already had a picture that someday I wanted to live and work in the Middle East or on Middle Eastern issues, and I had a vision that the Army would be a way that I could accomplish that," said Dill, who was then a junior majoring in international studies with a focus on that region.
He commissioned into the Army as a second lieutenant upon his graduation in 2007 and was assigned to the 82nd Airborne Division in Fort Bragg.
While Dill had hoped to be sent to Iraq and had learned Arabic in college, his brigade was instead sent to Afghanistan, where his focus was on security issues relating to extremist organizations and sectarian issues.
"I found a lot of meaning and value in my service — I found it very fulfilling," Dill said. "I ended up serving 10 years instead of the four I signed up for."
After tours in Afghanistan, Iraq, Jordan, Mauritania, and Nigeria, Dill said he was approaching the end of his service obligation and had to decide if he would continue in the Army or pursue another opportunity.
"One thing that I always knew was that I was passionate about law. I love logic, I've always loved to debate things, and justice really resonates with me," he said.
He took the LSAT last fall before a deployment to Africa, taking just two months to prepare for the exam — and writing it with a hand newly broken in a parachute jump.
"That was my one shot because I had to leave the next week for Africa and was going to be there for all of the year's next test dates," he said. "Thankfully everything worked out."