PUBLISHED:
September 11, 2019
Duke Law welcomes the LLM Class of 2020
Ninety-six accomplished attorneys from 39 countries began their LLM studies at Duke Law School on Aug. 19, choosing the Duke LLM for its small class size as well as for the opportunity to study alongside JD students and be mentored by Law School's exceptional faculty. Many applied to Duke on the recommendation of alumni who view their time in the LLM program as foundational to their professional success.
Joining the LLM candidates for one semester are nine advanced law students from renowned law faculties around the globe as well as three students beginning the SJD program, seeking Duke's doctoral degree in law.
In addition to their geographical diversity, the LLM students possess a diversity of legal experience and insight in such specialties as criminal law, capital markets and corporate law, intellectual property and technology, dispute resolution, and environmental law. The program promises to deepen their expertise with an understanding of the U.S. legal framework that will enable them to better serve their clients and countries and, in many cases, to broaden it with inquiry into new fields.
Criminal law, courts, and dispute resolution
The LLM Class of 2020 includes two experienced women lawyers from Korea, Hyun Hee Jung a veteran judge, and Eun Woo "Helena" Lee, a public prosecutor.
Jung is one of 10 judges selected by the Korean judiciary to study for a year at top U.S. law schools, and chose Duke Law partly on the recommendation of judicial colleagues who are alumni or spent time at Duke as visiting scholars.
Over her decade on the bench, Jung has rotated through a range of specialized courts, overseeing civil, criminal, bankruptcy, family, and juvenile delinquency cases, to name a few. Jung says she finds working on cases of juvenile delinquency particularly rewarding, because she knows she can make a difference in young people's lives. Many of those who come before her are poor and lack family structure and parental discipline and may need counseling or treatment for mental health problems, and she can make sure they get the help they need. "In Korea, the judge has a lot of power," she says with a laugh. "They must obey our orders to receive counseling or see a doctor. So a judge can change their life and behavior."
Jung helped establish a partnership with the Chuncheon National Hospital for the treatment of juveniles, and another program with Kangwon National University's Humanities College through which academics teach and mentor at-risk youth. That includes helping them write "autobiographies" that acknowledge their past challenges and record their hopes for their futures.
Noting that Korea has recently made changes to law and legal education — adopting the American law school system and pretrial and jury systems modeled on those in the U.S. — Jung says she hopes to acquire extensive knowledge of common law through her LLM studies. Given her passion for family law and her occasional role as a mediator, she also hopes to learn how the family and juvenile court systems work, how judicial orders are implemented, and the respective roles of police, prosecutors, and probation officers within the justice system.
Lee was previously at Duke Law in the fall 2015 semester as a visiting scholar, when she researched sentencing, punishment, and corporate crime in the U.S. Also pursuing a master's degree at the University of Seoul, Lee has investigated and prosecuted a wide-range of criminal matters, including election law violations, bribery, and fraud, as well as public safety and environmental cases. She has won awards for trial prosecution and human rights.
Lee studied law after working as a journalist for The Financial News, where she reported on biotechnology and IT businesses and, occasionally, legal irregularities and outright fraud in the market. While reporters like her often exposed systemic problems, she felt that as a prosecutor she could help deter them.
Lee remains interested in questions at the intersection of law and technology as well as intellectual property and hopes to study those areas at Duke Law. She also plans to write a paper on disinformation campaigns, or "fake news," for the Korean government. "We don't have a system to regulate fake news now, but it has become a very big issue because it can affect the election system in negative ways," she says, noting that a decade ago, the Korean Constitutional Court overturned an early law that attempted to regulate it. "We need to find some way to regulate it as a social problem and it could be a criminal issue."
Litigation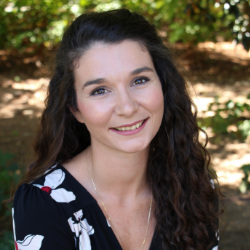 Entering the LLM after completing the prestigious European Commission Blue Book Training Program, Marine Tabory plans to focus on commercial litigation at Duke. Tabory, who cemented her English fluency during a year as a high-school exchange student in Michigan, has a master's degree in international and European law through studies at the University of Lyon and University of Grenoble Alps in her native France. Her goal, she says, is to practice litigation in an international context.
Tabory, who hails from Pau in southwestern France, has spent the past three years immersed in the operations of different institutions of the European Union, most recently serving as a Blue Book trainee attached to the unit on intellectual property and technology transfer at the European Commission's Joint Research Centre in Brussels, which coordinates scientific research conducted in six research facilities across Europe. In addition to helping manage the Commission's intellectual property portfolio, Tabory worked to facilitate improvements in technology transfer and commercialization and helped develop a pilot project for a "competence center" on tech transfer. "Our goal was to connect and encourage more than 3,000 European practitioners to share best practices on tech transfer," she says.
Tabory also contributed legal research and writing different projects relating to artificial intelligence, one focused on setting ethical guidelines for its use within the European Union and the other on intellectual property in AI-enabled vehicles, data mining, and health data. Another formative experience for Tabory was serving as a legal trainee — akin to a judicial clerkship — at the European Court of Human Rights, in Strasbourg, which is part of the Council of Europe. She calls working closely with Liechtenstein's representative on the court, Judge Carlo Ranzoni, and "an absolutely life-changing experience," noting that he engaged her in discussions and negotiations relating to the cases on his docket and more broadly before the court. Between her two public-sector internships, Tabory worked as a legal consultant for a private firm, lobbying within various European Union institutions on behalf of a range of commercial, health, and consumer interests.
Tax and business law
Jose Del Pozo Borda, a tax specialist from Peru, began his career at Ernst & Young and has been an associate at Garrigues in Lima for the past three years. He focuses his practice on general tax counseling, both for individuals and multinational businesses, and has worked closely with the firm's corporate team. He hopes that his studies at Duke Law and international experience will help him craft solutions to a specific challenge his country faces: tax avoidance. 
Del Pozo Borda has written a forthcoming scholarly paper on the importance of implementing a general tax avoidance rule in Peru as one way to combat rampant tax avoidance practices. The problem, he says, is in many ways a cultural issue, stemming from the prevalence of informal work and commercial arrangements.
"Almost 70% of working people are 'informal' workers, which means that they either don't have insurance or don't pay taxes, even some government workers," says Del Pozo Borda, who took a course on taxation of cross-border transactions, among others, at the Duke-Leiden Institute for Global and Transnational Law before coming to Durham. Even taking the fact that the Peruvian government provides relatively few public services, tax avoidance poses a big issue for the country in economic terms. "I hope my experience in the United States and in Europe will help me to understand how Peru can improve the situation," says Del Pozo Borda, who has taught tax law at several law schools. "It may be an educational issue."
Francisco Vial, an associate in the capital markets group at Barros & Errázuriz Abogados in Santiago, Chile, represents both domestic and international clients in matters concerning capital markets, regulatory compliance, and corporate, commercial, and regulatory issues for stock corporations, banks, and public and private funds. Admitted to the Chilean bar in 2012, Vial also has extensive experience in mergers and acquisitions.
Vial plans to focus his LLM studies on U.S. regulation of banks, fintech companies, and financial markets, in order to better help clients navigate changes to the Chilean regulatory scheme. Chile, he explains, has recently consolidated regulatory authority over banks and capital markets. "That is a significant change, as the banking authority was very specific and had a strong relationship with the banks," he says. The organizational structure of the authority has also changed, expanding from one person — a superintendent — to a five-person commission, and introducing a system of public comment on proposed rules for the first time.
"Previously, the market authority set the norm and the market participants had to comply," he says. "Now you can have more interaction with authorities about the norms. So Chile needs lawyers who have studied in other countries in order to see how things can or should work. It's helpful to understand what the rules are in the United States in order to make comments and proposals."
Vial, whose wife, Veronica Barros — a corporate law and M&A specialist — is also an LLM candidate, says he also plans to study the U.S. investment rules. "We advise many Chilean clients with investments in the United States," he says. "Lawyers who work in this area have to know how things are done here."
Kuat Siximbayev, from Kazakhstan, is coming to his courses relating to corporate and business law from a different perspective: that of a veteran criminal investigator. He is a graduate of the Academy of Financial Police, where he studied jurisprudence and criminal investigation, with a special focus on corruption and economic crimes. His investigative focus has included, at various times, drug crimes, homicides, medical negligence, financial crimes, and corruption. 
Investigators in Kazakhstan, are engaged in all aspects of building cases for prosecution, questioning all witnesses, including experts, and deciding whether they should be sent to prosecutors. The work is very challenging, which is what he enjoys about it, and why he is enjoying expanding his perspective at Duke. "You need to develop really deep knowledge of different areas," he says. "And I like working in different aspects of the law."
Siximbayev received his country's most prestigious scholarship, the Bolashak Presidential Scholarship, to study at Duke Law, where he plans to take courses in corporate and business law and also hopes to enroll in the new Immigrant Rights Clinic. Having studied English in New York City, where he met many Kazakh immigrants, he has seen a need for knowledge of U.S. immigration law, yet is unaware of any Kazakh attorney with that expertise or practice.
Environmental law
Ines Ndonko Nnoko of Cameroon and Zebang Wu from Beijing, China, both want to focus their LLM studies on environmental law and policy to help solve challenges in their home nations.
Ndonko Nnoko's interest took root in her hometown of Njombe, which is dominated by a single agribusiness that grows bananas and other fruit for export. "The groundwater is now polluted and sometimes planes spray pesticides over the town, making people sick," she says, adding that her father, a longtime employee of the company, often warned his family away from eating the pesticide-contaminated fruit. Believing strongly that she has "an obligation to help preserve and advocate for our common environment," Ndonko Nnoko has been intent on making it the focus of her practice since completing her bachelor's degree in law and political science from the University of Dschang. 
She has taken an interdisciplinary and notably intercontinental path towards achieving her goal. Following her undergraduate studies, she completed her coursework and thesis towards her master's degree in tax and public finances at a university in Yaoundé, Cameroon's capital. But the bar exam in Cameroon is only administered at seven-year intervals, and she faced a wait of several years to qualify. Going abroad offered a faster route. "Once you are a foreign attorney, you can go back to Cameroon and just register to practice," she explains. "It's simple."
Ndonko Nnoko is starting her LLM studies after earning a degree in international business law from the University of Paris 2 through an exchange program in Vietnam, where she also worked as a legal and paralegal intern for two years at YKVN LLC in Ho Chi Minh City. Now proficient in Vietnamese as well as bilingual in French and English, she gained broad experience working with the health care and pharmaceuticals and private equity practices and on energy and environmental projects at YKVN, and found her interest in environmental matters deepened, both through her cases and her concern over the poor air quality in Ho Chi Minh City.
Ndonko Nnoko credits her principal at YKVN, partner Eli Mazur '02, with encouraging her to come to Duke, where she is now the Law School's first LLM student from Cameroon and the recipient of the Judy Horowitz Scholarship, named for the architect of the Law School's international programs. She plans to take the New York bar exam before returning to Cameroon to fulfill her long-held goal of becoming an environmental advocate.
Wu, a graduate of the School of Law at Tsinghua University in Beijing, traces his interest in environmental sustainability to childhood, when he witnessed the degradation of resources caused by the coal industry in his mother's hometown in Shanxi province. "When I was a kid, I lived there for a couple of months and it was beautiful — the sky was blue and the river was clear," he says. "But when I came back in 2010, the scene was miserable, dead fish in the one vivid river and the sky was gray. I realized how environmental problems could actually affect every one of us." 
Studying at Tsinghua shortly after particulate pollution turned Beijing's air gray and forced residents to wear protective masks for much of the year, Wu organized a team of students to analyze the relationship between the PM 2.5 pollution and meteorological elements — sunshine, precipitation, and wind speed — at Beijing's Shangdianzi Station. Their recommendations based on environmental technology, economic data, and law were published in a leading scholarly journal. Beijing's air quality improved considerably after the government-ordered closure of factories in the area, a transformation that highlights the way law, economics, science, and policy considerations must be balanced in crafting solutions to environmental problems, he says.
Wu, who as a teenager was inspired by the 2011 Fukushima nuclear disaster to design a prize-winning unmanned aerial vehicle platform for continuously feeding water to extinguish fires that he later patented, has published several research papers and held a diverse array of internships. He has been a news assistant for the China Central News Center, a paralegal for King & Woods Mallesons in Beijing, and worked with the Economic Law Office of the Financial and Economic Affairs Committee of the National People's Congress during a period of revision to China's civil code. 
After receiving his LLB in 2017, Wu joined the China Institute on Development Planning at Tsinghua's School of Public Policy as a research assistant, helping assess aspects of China's past five-year plans—the country is currently in the 13th — and contributing research for the future. He hopes that undertaking focused studies in environmental law coupled with his background in public policy research will allow him to make significant contributions going forward.
"China is kind of a really high efficient machine — the government has rules and the whole country executes them," says Wu. "If I can have even a little bit of influence in making the rules better, it could have a big influence on the Chinese environment."