PUBLISHED:
February 03, 2021
Group co-founded by Coleman addresses transgender athletes in girls' and women's sport
Heading
The Women's Sports Policy Working Group launched on the eve of National Girls & Women in Sports Day with a set of recommendations addressing the inclusion of trans girls and trans women in sport.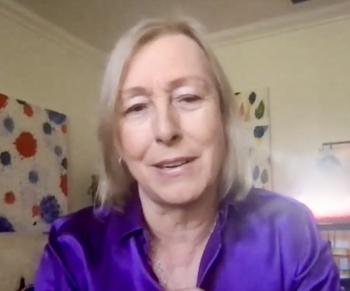 A nonpartisan initiative co-founded by Professor Doriane Coleman launched Tuesday with the release of a set of recommendations, based on physical sex-linked traits, for preserving separate categories of sport for girls and women while also accommodating transgender women and girls.
The Women's Sports Policy Working Group, which includes tennis legend Martina Navratilova, Olympic gold medal swimmers Donna de Varona and Nancy Hogshead-Makar T'86, and other world-class athletes and influential sports leaders, launched on the eve of National Girls & Women in Sports Day.
Its goal is to promote an ethical, science-based approach amidst an otherwise "vitriolic" public debate in which two sides take uncompromising, "either/or" positions over whether transgender girls and women should be banned altogether from or allowed to participate without condition in girls' and women's sports, the members said at a press conference Tuesday afternoon.
"One side insists that transgender girls are 'boys' and seeks to ban them without regard to their physical sex-linked traits," the group said. "The other side insists that transgender girls are 'girls, period' and seeks their full and unconditional inclusion, again without regard to their physical sex-linked traits. Both extremes ignore the reasons we have sex-segregated sports, and both are unnecessarily discriminatory."
That debate has reached the highest levels of government: numerous states have passed or are considering laws addressing the issue, three federal bills seek a ban, and an executive order signed by President Joe Biden affirms that last year's Supreme Court decision in Bostock v. Clayton County prohibiting discrimination on the basis of gender identity and sexual orientation applies to Title IX and, by extension, to school sports teams.
Coleman, co-director of the Center for Sports Law & Policy whose scholarship on sex in sport has been cited in everything from state legislation to the U.S. women's national soccer team's fight for equal pay, emphasized that the group is committed to fostering the participation of trans girls and women. But she noted that commitments to inclusion and equality always depend on the goals of the project or category, and on whether individuals seeking inclusion meet the criteria for satisfying those goals. Given the goals of girl's and women's sport, the eligibility criteria for the category are by necessity based in sex, or at least the sex-linked traits that drive the performance gap between male and female athletes, she said at the press conference.
"We're committed to making room for trans girls and trans women in women's sport," said Coleman, a U.S. collegiate national track champion and two-time Swiss national champion in the 800 meters.
"Because their unconditional inclusion would be category-defeating, however, making room requires taking into account their sex-linked traits."
Said Navratilova: "Alongside my career in sport I have a long history of advocating for women's and LGBTQ rights. In sport, however, advocating for women's rights means talking sex and sex-linked biology. The performance gap between male athletes and female athletes emerges from the onset of male puberty, and from that point forward even second-tier males can beat the very best females."
That gap is due largely to the effects of testosterone, she said.
Inclusion policy based on athletes' experience of male puberty
The group suggests a sports inclusion policy based on whether the athlete has or hasn't experienced male puberty, and whether those who have experienced male puberty have also mitigated the sex-linked advantages that it affords. In "participation sport," where the goal is recreation and health, the group advocates fully including all trans girls and trans women, regardless of their hormone status, while abiding by rules for co-ed play.
In competitive sport settings, the group offers options for inclusion that are conditioned on the athlete's physical status: full and unconditional inclusion for trans girls and women who never experienced male puberty; full inclusion without further conditions for trans girls and women who have adequately mitigated their sex-linked advantages; and a recommendation for accommodations that don't involve head-to-head competition for trans girls and trans women who haven't mitigated their sex-linked advantages.
The working group is calling on Congress and the Biden Administration to "affirm Title IX's long-standing commitment to providing biological females with equal experiences and opportunities in competitive sport, and to protecting their safety in contact sports, by permitting recipients of federal funds to continue to operate or sponsor separate athletic teams and events for males and females." It also requests appropriate accommodations for allowing transgender girls and women to participate in competitive athletic programs based on their experience of male puberty.
The group's recommendations are the culmination of nearly two years of work, de Varona noted. 
In addition to Coleman, de Varona, Hogshead-Makar, and Navratilova, the Women's Sports Policy Working Group's other founding members are Donna Lopiano, a sports executive, former CEO of the Women's Sports Foundation, and member of the National Softball Hall of Fame, and Tracy Sundlun, founding board member of the National Scholastic Athletics Foundation and co-founder of the Rock 'n' Roll Marathon series.
It is also backed by a list of prominent supporters that include sports leaders, women's sport advocacy organizations, and elite athletes including Olympic gold medalists Edwin Moses (hurdling), Greg Louganis (diving), and Sanya Richards-Ross (track and field), record-setting distance swimmer Diana Nyad, International Tennis Hall of Famer Pam Shriver, and Renee Richards, one of the first professional athletes to identify as transgender who later coached Navratilova to two Wimbledon championships.
More: Read the April 2019 Washington Post op-ed, "Pass the Equality Act, but don't abandon Title IX" authored by Professor Doriane Coleman, Martina Navratilova, and Sanya Richards-Ross.