PUBLISHED:
September 14, 2017
Meet the LLM Class of 2018
Ninety-nine lawyers from 37 countries, including Duke Law's first students from Bulgaria and Madagascar, began their LLM studies in August, and are now immersed in courses relating to the U.S. legal system and specialized areas of law.
Sheila Korir, a Kenyan lawyer, is pursuing a business law certificate with her LLM with a view to broadening her expertise relating to business and development, a focus of her earlier graduate studies in international relations. Korir, who worked in private practice before joining the agriculture nonprofit Alliance for a Green Revolution, hopes to advise young African businesses.
"With time I realized that, based on the direction the continent is moving, that is how my work would have a greater impact," she said. "The opportunity to come here was excellent because the business certificate allows me to take classes at the Fuqua School of Business and benefit from the Law School's amazing business law faculty."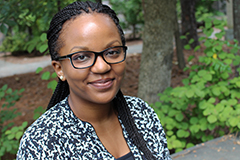 Korir, who was born in Eldoret in Kenya's Rift Valley but was largely raised in Nairobi, where she studied law, said that she first became aware of Duke through a famous alumna, Melinda Gates, whose foundation is one of the primary financial supporters of the Alliance for a Green Revolution.
"As a young woman, I look up to other women who have excelled and gone out of their way to leave a mark and have an impact on peoples' lives and Melinda Gates is someone like that," Korir said. Nelly Wambui '17, a Kenyan alumna of the LLM program who she met through the Office of International Studies, cemented her decision to enroll at Duke.
 "She even attended to same high school as me!" Korir said. "She was able to speak in a language I understood about things that are important to me, and that made me very comfortable."
Korir hopes to eventually help lead the development of Kenyan and African business and law.
"It is an exciting time to be African, to live and work in Africa, because of all the opportunities and the progress that is being made," she said. "At the same time, there is a huge responsibility for people like me who have the privilege of doing things like attending Duke. It's only right to make the best of the opportunity then go back and serve the continent I love so much."
Korir's classmate Sherzod Yunusov hails from Samarkand, Uzbekistan, one of the world's oldest inhabited cities. One of the major cities along the Silk Road trade route that connected China to the Mediterranean, Samarkand has been a multicultural hub for thousands of years.
"When you live in Samarkand, you feel like you are enriched by many cultures and you are raised with the notion that in order to succeed you have to cooperate with other cultures, learn from them and share your knowledge and vision" Yunusov said. "I think to some extent this has impacted my desire to go to other parts of the world to learn something new."
Like Korir, Yunusov aims to gain expertise at Duke Law that can help his country benefit from its current state of burgeoning development. After working as head of a dispute resolution team at LUKOIL Uzbekistan Operating Company, the largest foreign investment project in Uzbekistan, Yunusov decided to bolster his expertise and gain more knowledge in common law.
"Uzbekistan is currently experiencing a lot of positive changes in how business in the country is organized, starting from additional measures to protect and foster foreign investments and entrepreneurship and ending with administrative reforms, so we'll witness big changes in the immediate future," he said. "I want to be part of that and make my own contribution from a business law perspective. Being a Fulbright Scholar at Duke Law is an honor for me, and it is an opportunity to bring new knowledge back and make a positive impact."
Yunusov is particularly interested in international arbitration, corporate finance, transactions and law and entrepreneurship, subjects he feels he can gainfully pursue during his LLM studies.
"You've managed to create the best startup ecosystems in the world, and the Research Triangle is a good example of that," he said. "I think that if I could see how it works in the U.S. and apply this knowledge back home from a private law perspective, it would be fruitful for my community. This experience is precious to me because, in my opinion, no other country has attained this balance of regulation that made it possible for startups to develop so rapidly."
Yunusov added that Uzbekistani scholars and policymakers are working now on how to enhance international arbitration institutions in the country in order to give more guarantees to foreign investors. "If there is no well-organized system for arbitration, big business won't come."
As a Fulbright Scholar, Yunusov knows he is an "unofficial ambassador" for his country and is enjoying opportunities for cultural exchange at Duke.
"In my experience so far, I am often the only citizen of Uzbekistan who people have ever met," he said. "I try to be a good representative for my country in professional and cultural ways. I'm looking forward to International Week — I brought traditional clothes and some recipes!"
Ecuadorean lawyer Gustavo Pareja arrived at Duke Law with specific interests in legal theory, legal philosophy, and constitutional law. While specializing in criminal law, civil procedure, and constitutional law during seven years of private practice in his hometown of Guayaquil, he became part of a political movement advocating for a constitutional convention in Ecuador.
"In Ecuador, we don't have a constitutional republic in the American way with true separation of powers and representation," he said. "I'm hoping one day, perhaps, to work on drafting a constitution. For me, part of the reason for getting this LLM degree is preparing myself for that moment."
Although he estimates that his country is 10 to 15 years from such a moment due to "the level of instability and corruption and the lack of rule of law," Pareja said American constitutional theory translates well into Ecuadorean legal tradition. "Ecuadorean legal scholars look to the U.S. Supreme Court and constitutional law from the U.S. because they see how it works and how effective it is," he said. "One reason I'm excited to be at Duke is that the quality of the constitutional law professors is so high."
Pareja's interest in American legal theories regarding law and economics is evidenced by his study of such leading scholars and jurists as Richard Posner and Guido Calabresi. He is taking Law and Economics with Professor Ehud Guttel, a unique opportunity for an Ecuadorean lawyer, he said. "As a lawyer you're never trained in economics — it's very uncommon in South America. So I wanted to learn more about those kinds of legal regulatory issues and bring that knowledge back to Ecuador."
Five LLM candidates are the first beneficiaries of a recent scholarship endowment that supports top Chinese law students in their JD and LLM studies at Duke Law. The goal of the anonymous foundation is to promote rule of law, the protection of human rights, and the development of a modern and sophisticated legal system in China.  The foundation also supports a partnership with Tsinghua University to enroll students from Tsinghua as non-degree, visiting students for a semester.  The first student from this partnership is enrolled this fall semester.  She will return to Tsinghua in the spring to complete her law studies there.  The two law schools hope she will be one of many special, top performing Tsinghua students who will be admitted to an accelerated JD program at Duke upon receiving their Tsinghua LLB.