One day, two arguments: Appellate Litigation Clinic students argue cases in the Fourth and District of Columbia Circuit Courts of Appeal
Two Appellate Litigation Clinic students made oral arguments in federal appellate courts on March 19.  Andrew Barr '13 argued for the appellant in United States v. McNeill in the U.S. Court of Appeals for the Fourth Circuit in Richmond, Va., while Emily May '13 argued as an amicus curiae on behalf of the appellant in Lesesne v. Doe in the U.S. Court of Appeals for the D.C. Circuit.
Each court appearance reflected the contributions of other students enrolled in the yearlong clinic — all 3Ls — who worked in teams to research and brief the cases and prepare Barr and May for oral argument.  Barr worked with Evan Coren, Emily Spencer Munson, and Seth Reich on behalf of clinic client Marcus Antonio McNeill, with supervision from James Coleman Jr., the John S. Bradway Professor of Law and clinic co-director.  May and teammates John Cosgriff, Jonny Havens, and Matthew Mooney, worked under the supervision of Clinic Co-director and Senior Lecturing Fellow Sean Andrussier '92.
"How often does a student get a chance to argue a real case with real judges, in a real court, much less a federal court?" observed Barr following his argument.  "As Professor Coleman says, it's one of those things that sets Duke apart from a lot of other law schools. 
"The whole thing was great — briefing the case, working with a group of people, learning how to write with a team, as well as the arguing," added Barr, who hopes to enter appellate practice when he joins Winston & Strawn in Chicago following his graduation.  "I might not have this level of responsibility and independence for a while after I enter practice."
The Fourth Circuit team, L-R:  Seth Reich, Evan Coren, Andrew Barr, and Emily Spencer Munson
"An incredible opportunity," was May's take on her experience.  "I've been living with this case now since the early fall, and to have the chance to argue it in the D.C. Circuit, in front of such a distinguished panel of judges — it was an incredible opportunity. 
"My teammates really worked hard and we put the brief together as a team," said May, who will clerk for Judge Albert Diaz on the Fourth Circuit before joining Arnold & Porter in Washington, D.C. "Over the past month, and even before that, they really invested time in questioning me and doing additional research.  This whole year has been really remarkable — being able to see a federal appeal from beginning to end, from the beginning of the research, going through the record, the briefing process, through today is really a unique opportunity."  Andrussier, she added, continually "pushed us to think about how to distill big themes we'd been studying into a 15-minute argument." 
"They did a great job and worked very hard on this case," said Andrussier of the team effort.  "We all got a lot out of the experience.  To travel to Washington to see the culmination of the process was a wonderful experience for them."
Coleman was similarly pleased with his students' work on their Fourth Circuit appeal, in which they were opposed by the Office of the U.S. Attorney for the Eastern District of North Carolina.  "From the bench, Judge Roger Gregory noted that we accepted the case by appointment of the court and thanked Duke for being willing to help in this way," he said.  "The judges then came down to shake hands with counsel, as they always do, and told Andrew he had done well.  I couldn't agree more and compliment this whole team on a job well done." 
Both May and Barr had practiced their arguments multiple times before they had their respective days in court, including in moots before student and faculty panels. Both thanked their teammates for their thorough and rigorous preparation.
"They were the people who gave me really substantive feedback, because they understood the issues as well as I did," said Barr.   "We encountered these issues together for the first time and we bounced ideas off one another when we were writing the brief, when we were responding to the government, and trying to decide the cleanest way to present our case. I had three people who were equally excited — for me, but also for themselves, because they were just as much a part of the argument as I was."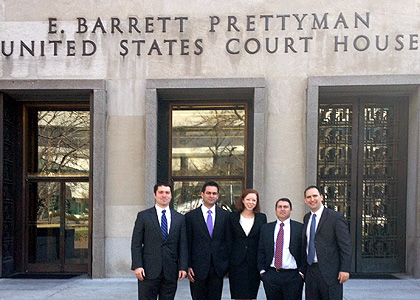 The D.C. Circuit team, L-R: John Cosgriff, Matthew Mooney, Emily May, Clinic Co-Director Sean Andrussier, and Jonny Havens
A central issue on appeal in Lesesne v. Doe, a case alleging constitutional claims for deliberate indifference to the severe medical needs of a pretrial detainee, is one statutory interpretation concerning the scope of the federal Prison Litigation Reform Act.  May and her clinic colleagues argued that the law designed to reduce the incidence of prisoner litigation in the federal courts did not apply to the case.  The appeal was heard by Judges Judith W. Rogers, Karen LeCraft Henderson, and David S. Tatel of the D.C. Circuit Court of Appeals.
United States v. McNeill is a habeas case involving a petitioner who mailed his habeas petition to the wrong court; the District Court later found that his petition was barred by the Statute of Limitations.  Barr and his teammates addressed two issues in the Fourth Circuit appeal that was heard by Judges Roger L. Gregory, James A. Wynn Jr., and Albert Diaz. Barr explained:  "Whether the 'prison mailbox rule,' which is a widely accepted doctrine that applies to every pro se prisoner's case, applies to our client's case, because he used the wrong address and it didn't get to the right court, and whether he was entitled to the discretionary doctrine of 'equitable tolling,' which gives the court the ability to forgive a litigant for missing the statute of limitations because some extraordinary circumstance prevented him from applying within the allotted time." Both doctrines represent "independent and adequate ways for Mr. McNeill to win," said Barr.   
Listen to Barr's Fourth Circuit argument.