David F. Levi's transformative leadership of Duke Law School
Classes were in full swing at Duke Law on Jan. 3, even though the spring semester didn't officially start for another five days.
More than 500 students — over two-thirds of the student body — opted to cut short their winter vacations in order to pick up professional skills through one of the 28 courses on the Wintersession curriculum. One hundred twenty-three first-year students got an overview of the role of attorneys in commercial business transactions from Professor James Cox, a renowned scholar of corporate and securities law, Clinical Professor Erika Buell, who specializes in advising emerging companies, and Hogan Lovells partner William Curtin III T'92. Another 388 upper-level JD students, LLM candidates, and 1Ls pursuing dual degrees learned from leading attorneys — including many alumni — about such discrete and practical matters as responding to data breaches, obtaining and disclosing electronic evidence in criminal investigations, representing refugees in asylum claims, advising distressed enterprises, and taking depositions.
When Dean David F. Levi pitched the idea of offering an array of short, hands-on courses in 2009, it was a novel way of helping Duke Law students get ready for summer and post-graduate employment and stand out in a legal job market reeling from the global financial collapse. Somewhat to his surprise, more than 300 enrolled in its first year. Since then, even as economic pressures have eased, its popularity with students and instructors has steadily increased, reflecting Levi's vision of an excellent legal education as one that integrates intellectually rigorous study of law with preparation for the multi-faceted, ever-changing demands of the legal profession.
"It's the purest, most joyful learning experience — because it's entirely voluntary," Levi says of Wintersession. "Students are there because they feel they'll gain knowledge they wouldn't get elsewhere. It offers them windows into different types of practice from top practitioners who wouldn't otherwise be able to fit teaching into their busy schedules, and our faculty who teach are there because they want to be. It's really exciting."
Levi, who will step down on June 30 after 11 years as dean, has been a huge success in leading Duke Law by every traditional measure. He has overseen major expansions of faculty, research, and academic programs, even while navigating the recession's disruption of the legal economy and legal education. He led the recently concluded Duke Forward fundraising campaign that raised a record $132.4 million over seven years and achieved a threefold increase in student aid. He oversaw an increase in student quality and diversity, developing new initiatives to attract a wide range of talented students to Duke Law. He placed great emphasis on enhancing faculty excellence, reach, and diversity; during his time as dean, for example, the number of women appointed to tenure or tenure-track positions doubled. He found funding for new endowed distinguished chairs, doubling that number, and he supported faculty research interests by funding new centers and supporting academic conferences, research, and publications. And he worked tirelessly to build bridges between the legal academy, the practicing bar, and the judiciary, marshaling the resources of all to better understand and improve the legal profession and the courts, and carving out a singular specialty for Duke Law in the study of judges and the judicial system. Levi even found the time to do some of his own writing and teaching. In an acknowledgement of his successful leadership over the prior decade,Times Higher Education in October ranked Duke University number one in the world for obtaining a law degree.
As Wintersession demonstrates, one of his primary objectives has been to prepare students to assume leadership roles in their careers and communities. He has further supplemented an expanded doctrinal curriculum with increased opportunities for students to engage in teamwork, problem-solving, client service, and skill development through new clinics, externships, simulation-based courses, a comprehensive array of advanced writing classes, and interdisciplinary specializations in entrepreneurship, technology, and bioethics. He has expanded resources for career and professional development, ensuring that every student receives one-on-one career counseling throughout law school to identify the right jobs for their skills and aspirations in private practice, business, federal and state court clerkships, or in government and public interest law, which require unique investments of both time and financial assistance. And throughout his tenure, Levi has cemented ties to the far-flung community of Duke Law alumni and friends, enlisting graduates as teachers, advisors, and mentors to students and engaging them deeply with the academic mission of the Law School. The outcome: He has helped countless numbers of students find employment at firms and in the public interest sector, achieving stellar employment outcomes for Duke Law even in difficult economic circumstances.
"He had a vision of how to make an excellent law school even better, and he has focused on building and nurturing a collective commitment to that vision," says Lanty Smith '67, former chair of the Law School's Board of Visitors (BOV).
Levi's predecessor as dean, A. Kenneth Pye Professor of Law Katharine T. Bartlett, says any assessment of his tenure must take into account accomplishments that are not easily quantified.
"His success goes beyond that which can be measured through graphs and tables," says Bartlett. "To David's credit must also be listed the high morale of the school and a level of trust among and between faculty, students, staff, and alumni that is virtually unparalleled among other top law schools. These qualities don't emerge in a vacuum. It takes finesse, attention to relationships, emotional intelligence, wisdom, balance, and all of the other qualities of leadership that attracted us to David in the first place."
A natural
Levi was an unusual, even risky, choice when he was hired as dean in 2007, observes Bartlett. He had not been a law school professor or administrator, but spent the previous 17 years on the federal bench, rising to chief U.S. district judge for the Eastern District of California, and earlier served as a U.S. attorney. Even though he held "enormous stature" within the legal profession, she notes, no other top law school, certainly in recent decades, has chosen its dean from outside academia.
But Levi, who clerked for U.S. Supreme Court Justice Louis F. Powell Jr. before joining the Department of Justice, brought close connections to the spheres of law practice and law reform through his work as a prosecutor and jurist and through such leadership positions as chair of the Federal Rules Committee, a council member of the American Law Institute, and an elected fellow of the American Academy of Arts and Sciences. He also had a vast personal and professional network that included eminent figures from the bar and the bench, as well as the legal academy.
"We've had very good deans — Kate Bartlett was excellent — but this was an opportunity to do something different," says Peter Kahn '76, a BOV member and Duke University trustee who served on the dean search committee that recruited Levi for the post. "He was very close to the legal profession, which gave us an opportunity to showcase our students and help them secure excellent placements, including clerkships."
In time, Levi would prove to have superb financial and personnel management skills honed through his oversight of one of the biggest and busiest federal court districts in the country, Kahn adds. And then there was his upbringing in a community of scholars in Chicago's Hyde Park-Kenwood neighborhood, near the University of Chicago. Levi's father, the late Edward H. Levi, served as dean of the law school and then as the university's provost and president before being appointed U.S. attorney general by President Gerald Ford in 1975. Former Duke University President Richard H. Brodhead, who hired the younger Levi, says it quickly became apparent that he was "born to be the dean" of the Law School.
"He was a total natural, by which I mean that he brought all the judgment, all the principles and the experience of the world you knew he would have from the bench, but then he also brought an extraordinary enthusiasm and connectivity for his new world."

— Former Duke University President Richard H. Brodhead
Adds Cox, the Brainerd Currie Professor of Law and the head of the dean search committee: "I think the one trait that was so obvious from my very first telephone conversation with David was wisdom. It's not just that he had vast experience — it's in his DNA. He's a very thoughtful, wise person, and it put him in good stead."
From the outset of his tenure, Levi emphasized the need to bring doctrine together with professional skills to prepare students to be leaders in society, effective practitioners, and thoughtful about the ways law can be improved to the benefit of all. He had what he calls the "quaint" idea that the law was still a learned profession, and that lawyers and judges should be as interested in the ideas and debates of law faculties as those faculties should be interested in the changing world of law practice. His commitment to this integrative approach was evident with his early formation of a planning committee of faculty and alumni to conceptualize ways to make the third year of law school, in particular, a bridge year to practice. The committee's work led to innovation in the classroom as well as new clinics, experiential programs, and legal writing resources.
Says Cox, "David was able to lead the faculty in a direction where a significant portion of the curriculum should involve things that were more oriented towards what you see in the real world — working as teams, problem-solving, developing leadership skills, and developing poise and self-confidence — but in a way that strengthens the academic mission of the Law School without detracting from it." In response, Cox designed an advanced "course plus" simulation-based seminar, which he co-teaches with a practitioner, that requires students to strategize the legal, business, ethical, and stakeholder considerations in corporate mergers and other transactions they studied in the core Business Associations course. "I think the approach is truly transformative," he says.
In the fall 2011 semester, Levi co-taught a seminar titled Faces of the Law, an exploration of important American cases and law-related writings within the context of their times with Professor Jedediah Purdy and then-Duke University President Richard Brodhead.
Levi also emphasized the importance of career counseling and maximizing employment opportunities for students across all sectors of legal practice, policymaking, and business. In his first year, he initiated the Bridge to Practice fellowship program to give financial support to new graduates in temporary positions with public interest organizations that generally require bar passage before extending permanent job offers. And at the height of the recession, when law firms were implementing hiring freezes and laying off associates, Levi extended the Bridge to Practice program to also help fund temporary private-sector positions.
"He knew graduates needed to gain skills, build relationships, meet people, and feel productive while they were looking for a full-time position," says Bruce Elvin '93, associate dean for career and professional development. "It was the broadest program of its kind of any law school during the downturn."
Indeed, when the financial crisis set in just a year after he arrived and shook every aspect of the legal sector, Levi's pragmatic focus on positioning students for success served Duke Law exceptionally well. But he didn't shelve his plans to grow the faculty and to strengthen and add academic programs, and he eschewed the staff layoffs or cutbacks in research or scholarship that other law schools were instituting during that challenging time. "He recognized that Duke's strength and promise of even greater stature after the economic storm would depend on its people, and he built the finest faculty and staff the school has ever enjoyed," says the BOV's Smith.
"No better place" for scholars and teachers
Levi also recognized that the faculty were an important partner in the mission of helping students weather the crisis in the legal economy. In a 2008 speech to the Albuquerque Bar Association, he described one role for a law faculty as helping the institution thrive by continually anticipating changes in the "dynamic world" of law practice and legal scholarship. He described his own role as facilitating faculty engagement with "the life of the law outside of our walls" so that it could maintain that essential tradition of leadership.
Above all else, Levi recognized that as one of the very few top research law schools, the excellence and range of the research faculty is the foundation on which the Law School stands. His focus on enabling the faculty to pursue research, scholarship, and teaching at the highest level is evident in the Law School's world-renowned faculty and collegial faculty culture, reflecting both a remarkable rate of retention among the scholars and teachers already at Duke and exceptional success adding to their ranks with both established and emerging figures across a range of disciplines. Levi's commitment to faculty support helped realize the longstanding goal of a research cohort of 50 and facilitated the establishment of 15 distinguished professorships over his tenure, doubling the number that existed when he arrived at Duke Law.
"Through his enthusiastic support of their research, conferences, and other activities, David has persuaded faculty that there is simply no better place for them to do their work."

— Curtis Bradley, the William Van Alstyne Professor of Law and Professor of Public Policy Studies and co-director of the Center for International and Comparative Law, who joined the faculty in 2005
Levi has overseen the establishment of seven new research centers that host workshops, conferences, and other activities designed to advance research and inquiry in their areas of focus, many of which have resulted in the publication of scholarship and policy papers. He has also sponsored a range of initiatives that broadly promote scholarly intellectual engagement, such as regular retreats where faculty present and receive feedback on works in progress, "beer and pizza" gatherings where scholars (often junior faculty) present new ideas to a small group at home in order to hone research questions, and a new series of lunchtime talks to celebrate faculty books. With his support, faculty have also undertaken yearlong in-depth interdisciplinary examinations of how law intersects with other academic and societal disciplines, such as the Duke Project on Custom and Law and the Duke Project on Law and Markets, which resulted in a 2017 symposium issue of Law & Contemporary Problems.
As well as bolstering existing areas of academic strength at Duke Law with the addition of scholars in such fields as public and constitutional law, corporate law, criminal law, international law, and health care law, Levi has deliberately recruited faculty engaged in interdisciplinary research and championed cross-disciplinary inquiry and teaching as a way to capitalize on the strengths of a great research university. Two of Duke's 10 campus-wide initiatives — Innovation & Entrepreneurship and Science & Society — are now led by Law School faculty, as are a wide array of interdisciplinary projects within the university's Bass Connections program. In addition, he has systematically established new strengths in law and economics and empirical legal studies.
Levi's Legacy:
Expanding the Governing Faculty
The Duke Law research faculty now numbers 50, representing the achievement of a longtime strategic goal.
"He has built Duke Law into a serious player in these fields," says Russell M. Robinson II Professor of Law, Strategy, and Economics John de Figueiredo, who moved to Duke in 2010 from UCLA. de Figueiredo, who studies competitive strategy, political and legal strategy, law and economics, and the management of innovation and holds a joint appointment at the Fuqua School of Business, points out that more than a dozen Duke Law scholars are now engaged in these areas, bringing both disciplines into their research and teaching in such areas as health care, patent, and corporate law, and the study of the judiciary.
"It's been an amazing transformation," says de Figueiredo, noting new course offerings, like his class on business strategy and another on analytical methods that introduce law students to such quantitative techniques as game theory. "Many of our students are going to serve corporate clients and they need to know how their clients work and what their objectives are — not just their legal objectives, but the corporations' business objectives — and how lawyers can help them meet those goals."
Levi has also focused resources on helping junior faculty develop as scholars and teachers. Associate Professor Marin Levy, who began teaching at Duke Law in 2009 and joined the governing faculty in 2013, cites his funding for all young scholars to host research roundtables with leading academics in their fields as one example. "If we think of something that will help us, he will find a way to make it happen, and that has been a huge gift to us all," says Levy. Another example she offers: the faculty's ongoing Teaching Initiative, which began in 2014. "Several 'juniors' were teaching large classes for the first or second time, and it became clear that we shared many of the same questions about structuring a course. Should one cold-call or take volunteers? How should one decide what kind of exam to administer? David immediately gave us funding to create a lunch series for all of us juniors to discuss these issues with senior members of the faculty at each meeting, and it was incredibly helpful." Levy received the Duke Bar Association's Distinguished Teaching Award in 2017, making her one of several recent recipients among the junior faculty.
Levi's Legacy:
Creating New Research Centers
The establishment of new research centers and expansion of others reflects the currency, ambition, and reach of Duke Law faculty scholarship, as well as the addition of leading scholars to the faculty. Each has hosted conferences, symposia, and projects that help incubate ideas that advance legal scholarship and facilitate improvements in law and policy in their areas of focus. Centers established during Levi's tenure are:
Teaching excellence has been a high priority for Levi. Guy-Uriel Charles, the Edward and Ellen Schwarzman Professor of Law and senior associate dean for faculty and research, calls it a defining aspect of the Law School's culture: "There is a sense that we take teaching very seriously at Duke, and that comes from the top." Levi also supports faculty members' ability to have their teaching complement their scholarship, which means finding a balance between the two and, when possible, accommodating a scholar's immersion in a research project with a reduced teaching load.
Levi's commitment to teaching can also be seen in his addition of exceptional practitioners to the governing faculty as professors of the practice and to the extended faculty as senior lecturing fellows who teach courses in their areas of specialty. Their ranks include U.S. Supreme Court Associate Justice Samuel Alito Jr., who has taught a weeklong seminar titled Current Issues in Constitutional Interpretation for nine consecutive years. And having made experiential education and writing curricular priorities, Levi elevated 15 members of the full-time clinical, legal writing, and professional-skills faculty to the new rank of clinical professor of law (teaching) in 2016 and prioritized the establishment of Duke Law's first endowed distinguished clinical professorships.
Faculty across the board say they appreciate Levi's calm demeanor, his ability to defuse tense situations, and his consistent — and vocal — support for their research and activities. "In a crowd," says Cox, "David always seems to be talking with passion about what people in the Law School are doing. Shining a light on the institution is one of his great gifts." 
Brodhead recalls one meeting he held with the assembled law faculty in Levi's absence, where he received an outpouring of affection and appreciation for the dean's leadership. "This is not the kind of thing one is used to hearing about deans, even wonderful and highly admired deans," he says.
Adds Sara Sun Beale, the Charles L. B. Lowndes Professor of Law: "David Levi is an exceptional person and has been an exceptional dean. He has earned the respect and admiration of everyone he has dealt with."
"No better place" to learn to be a lawyer
Professor H. Jefferson Powell, a constitutional scholar and longtime faculty member who returned to Duke in 2012 after serving as deputy assistant attorney general in the Office of Legal Counsel at the U.S. Department of Justice, says Levi has done an exceptional job in preserving and enhancing both the intellectual rigor and practical application of a Duke Law education. Duke is strongly committed to integrating these two aspects of legal training, he says, in no small part due to Levi's leadership.
"David has been crucial and incredibly successful in all respects in making this a law school that is clearly devoted to training people to be lawyers, and he has succeeded at that while also doing the things necessary to ensuring that we remain a first-rank graduate school," says Powell, who will soon oversee a new First Amendment clinic at Duke. "I have no hesitation in saying to students we're trying to recruit, 'If you want to get training in an intellectually high-powered place and at the same time get everything you can in law school to become a lawyer, there's no better place.'"
In his LEAD Week welcoming remarks to incoming first-year students, Levi routinely stresses the importance of writing to all forms of professional practice, and during his tenure, legal writing and analysis have developed as areas of particular curricular strength. In 2009, a New York Law Journal report on writing as the skill that law firms want new recruits to possess, yet often find lacking, singled out Duke Law for "going beyond the typical first-year writing class." 
"David has an 'in-the-bones' commitment to good writing, exactly the sort of appreciation that you would expect a judge to have," says Clinical Professor Jeremy Mullem, who directs the Legal Writing program. "He valued writing as important in helping him do justice as a judge, and he has a clear understanding that there's a really big difference between 'great,' 'competent,' and 'just not good enough.' I can't tell you how many times he's said to me, 'I want all of our students to be able to write.'"
Under Levi, part-time writing instructors became full-time faculty members, gaining significant pay raises and long-term contracts. And more significantly, says Mullem, he grew their ranks, from five to eight, resulting in a reduction in sections of the mandatory first-year Legal Analysis, Research and Writing (LARW) course from more than 40 students to a current cohort of 27. "That makes for a very different kind of teaching," says Mullem. Five years ago, LARW also became a four-credit course (up from three), reflecting a commitment to securing the class time needed to use best practices in writing instruction, and even before the recession led many law schools to place a new emphasis on experiential courses, Levi sparked the development of a slate of upper-level, writing-intensive courses, many of them simulation-based.
Other experiential programs have also surged with Levi's support. Building on the strong clinical program that took root during Bartlett's tenure, Levi oversaw the launch of several new clinics and the expansion of others with the addition of new faculty and a clinical teaching fellows program, as well as dedicated funding and fundraising efforts that have led to several significant endowments.
Under the supervision of clinical faculty, Duke Law students now regularly brief and argue appellate matters in the U.S. Courts of Appeal for the Third and Fourth Circuits through the Appellate Litigation Clinic; apply a human rights framework to find solutions to such problems as domestic and international human trafficking and the unforeseen consequences on women and children of U.S. laws against terrorism financing through the International Human Rights Clinic; advise and assist low-wealth entrepreneurs on such matters as company formation and intellectual property protection in the Start-Up Ventures Clinic; engage in high-level policy research and advocacy to improve health outcomes for people living with HIV and AIDS through the HIV/AIDS Policy Clinic; and work to protect the rights of low-income clients on a wide range of civil matters, including housing and employment disputes, through the Civil Justice Clinic.
Clinical Professor Ryke Longest, who directs the Environmental Law and Policy Clinic, says that Levi has been critical to keeping it on a path of sustainable growth since it opened in 2007. "He asks us good questions," says Longest. "'How do we keep this going long term? Where does growth make sense? And how do we move to the next initiative?' David always has great ideas about how we get the resources to make that happen."
Levi's Legacy:
Establishing New Clinics and Experiential Programs
Civil Justice Clinic (a partnership with Legal Aid of North Carolina)
Multiple individual externships, faculty-mentored externships, and integrated externships in the Triangle and beyond
Coming soon: The First Amendment Clinic
Duke Law's clinical program gained its first endowed distinguished chair with the Colin W. Brown Clinical Professorship, held by Carolyn McAllaster, director of the HIV/AIDS Policy Clinic and the founder and former director of the Health Justice Clinic. A second clinical professorship was endowed in 2017 to honor John H. Adams '62, co-founder of the Natural Resources Defense Council. The Duke Legal Clinics also now have a roster of endowed teaching fellows with the Environmental Law and Policy Clinic's Stanback Fellowships for recent graduates, the James Scott Farrin Lecturing Fellowship in the Civil Justice Clinic, and the human rights clinical fellow and supervising attorney in the International Human Rights Clinic, supported by a grant from the Donald and Alice Noble Foundation. These two-year endowed fellowships have enabled expansion of each clinic's enrollment and reach.
As director of the externship program, Senior Lecturing Fellow
Anne Gordon
oversees student placement and progress in government and nonprofit placements and teaches seminars relating to professionalism and social justice lawyering.
Levi also has significantly strengthened the externship program. The Duke in D.C. program, launched in 2009, offers students in-depth work experience through semester-long, full-time positions on Capitol Hill, in federal agencies, or nonprofits in the nation's capital, supplemented by an intensive course on regulatory law and policy. For example, of eight students who enrolled in Duke in D.C. in the fall 2017 semester, three held positions in the U.S. Department of Justice, others were placed with the Securities and Exchange Commission, the Consumer Finance Protection Bureau, the World Bank, and the Federal Trade Commission, and two worked in nonprofit organizations. The integrated externship approach has also flourished closer to campus, currently through a range of placements and a new seminar taught by Externship Director and Senior Lecturing Fellow Anne Gordon focused on such topics as reflective lawyering, ethics, well-being, professional goal-setting, cultural competence and bias in the workplace, and learning from supervision and feedback. In the fall semester, 27 students held placements with federal prosecutors and public defenders, with North Carolina state agencies, and in various private and public interest law firms and start-ups.
A key curricular innovation has focused on the specialized knowledge and professional skills needed to counsel and lead entrepreneurial ventures. Levi spearheaded the establishment of a one-year LLM program in law and entrepreneurship (the LLMLE) in 2010 and the Law School introduced a dual-degree program allowing students to earn both a JD and LLMLE in three years in 2013. Both programs capitalize on faculty and university-wide strengths in business, finance, intellectual property, and entrepreneurship; the presence of innovators, entrepreneurs, and policymakers in the Duke Law community; and the innovation-rich climate in North Carolina's Research Triangle. The programs have spurred the design of multiple new courses, such as Advising the Entrepreneurial Client, Law and Entrepreneurship, and Venture Capital Financing, that supplement the Law School's comprehensive curriculum in business, finance, and intellectual property, and ensure that students gain hands-on experience with their incorporation of integrated externships, enrollment in the Start-Up Ventures Clinic, and an entrepreneurial "boot camp."
Meanwhile, a new focus on technology and engineering, including the establishment of the Center on Law and Technology, is helping prepare students to engage professionally with artificial intelligence, blockchain, robotics, and other emerging tools, both in the context of serving clients and in the delivery of legal services themselves.
"Our students are and will be involved in the tech world in multiple ways," says Levi. "As transactional lawyers or litigators, they need to have at least a basic understanding of it. You wouldn't want to be a civil rights lawyer without any understanding of the people you're representing, and you wouldn't want to be a lawyer in the IP space or working with start-ups without any understanding of the technology." Legal practice itself is becoming a "disruption space," bringing both promise and uncertainty, he adds. "It's starting to happen in law firms and offers promise for the delivery of service to underserved populations. But change can also be frightening, and some things that were profitable in the past will no longer be profitable.
"Technological change is interesting from an academic point of view and also important for our graduates to understand so they can ride the wave, rather than being overwhelmed by it," he says. "We're preparing students not just for a legal career that starts at graduation, but also for a practice spanning decades."
For Clinical Professor Andrew Foster, who directs experiential education and clinical programs as well as the Community Enterprise Clinic, that long-term view has been foundational to Levi's successful stewardship of the Law School through the financial crisis and its aftermath.
"David has made us think hard about how to make sure that this institution truly serves students and positions them for success," says Foster. "He came in at a time when the Law School and legal education faced huge challenges, and his leadership was essential to Duke maintaining a high level of quality and morale among faculty, staff, and students. Not only has he done a lot to help students through a very difficult time, but out of that tough time we created things that help further the distinctiveness of Duke Law. He has raised the bar for what constitutes excellence here."
Levi's Legacy:
Developing New Academic Programs
Several academic programs address growth areas of law and practice, such as technology, start-ups and emerging companies, as well as ongoing trends towards globalization that will allow students to navigate the changing legal landscape with confidence. The novel Master of Judicial Studies (MJS) program for sitting federal, state, and foreign judges, allows jurists to learn the analytical skills and research approaches necessary for studying judicial institutions and apply those skills to studies of domestic and international judicial institutions, common and emerging legal issues, general judicial practices, and judicial reform efforts.
Serving students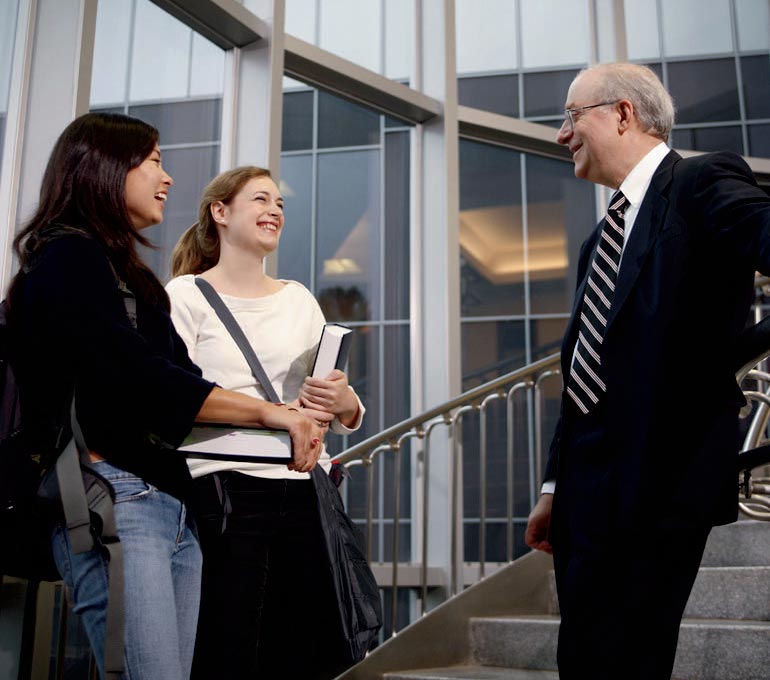 Duke Law's delivery of top-tier academics combined with distinctive opportunities for students to cultivate the skills and judgment needed to stand out to employers and excel on the job has consistently resonated with law school recruits over a critical period for legal education, says William Hoye, associate dean for admissions and student affairs. While applications to law schools surged early in Levi's tenure as college graduates sought refuge from the recession, they declined precipitously when the legal job market remained contracted even as the overall economy improved. In the midst of fierce competition among top schools, Levi worked closely with Hoye to ensure that Duke Law continued to attract the strongest students, maintaining and, in some cases, improving the school's standing based on metrics such as median LSAT and GPA, without reducing the size of incoming classes.
Hoye says the dean's steadfast focus on financial aid has been critical to ensuring that the Law School can deliver on its promise. Levi speaks frequently to alumni and friends about the way excessive student debt, which averages about $130,000 for U.S. law graduates, can impede post-graduate career choices, and he has consistently made financial aid a cornerstone of his fundraising efforts. The result: 71 new scholarship and fellowship endowments were created during the seven-year Duke Forward campaign, and grants of financial aid have tripled since he became dean, from $5 million in 2007 to $15 million in 2017.
"He has been truly amazing to work with on building the financial aid budget over time," Hoye says, noting that Levi's commitment to need-based assistance has kept the average net cost to enrolled students essentially unchanged, at approximately $35,000, in spite of steadily rising tuition costs. "It took a lot of work to make that happen. He always has been of the mind that students who can pay, should — it's an investment in their future. But he knows that many of our students who will become terrific alums and great leaders just don't have the resources."
Having devoted much of his own career to public service, Levi has also been highly attentive to the particular financial needs of students whose career goals lie in government and public interest law, sectors that often don't pay for summer positions and won't typically hire before bar passage. "From the outset, his question was, 'How can we help and support these graduates so they can 'hold on' until a job comes open and they are able to step in and take it?" says Assistant Dean Stella Boswell, who directs the Office of Public Interest and Pro Bono.
An early answer was the Bridge to Practice program, which has been an unequivocal success: Since 2008, graduates have used short-term placements, supported by the Law School, to gain experience in their preferred areas, with more than 80 percent quickly transitioning to full-time positions, often with their Bridge employers. Levi has also guaranteed summer funding for students working in unpaid positions in the public and nonprofit sectors, beginning with rising 3Ls in 2011 and adding rising 2Ls in 2017. "In each case, he spoke to the students about their needs and then pulled senior staff together to say, 'This is important. How can we make this happen?'" says Boswell. "Without the funding, they might choose something less in keeping with their goals and passions. It was big." She notes that Levi also has increased funding for students to attend public interest job fairs and for 3Ls to travel for interviews, which is generally not covered by prospective employers as it is in the private sector.
Presenting the trophy to 2017 Dean's Cup winners Ethan Wright '18 and Amelia DeGory '17
In addition to financing, Levi has supported the goals of students interested in public sector and public interest careers in less tangible, but important ways, Boswell says. One is the introduction, in the fall semester, of the Public Interest and Public Service Law Certificate, which helps students gain focused academic and career counseling to help them stand out in those highly competitive sectors. Another is the way Levi has made career choices in government and public service "a central part of his mission and his message," she says. "Perhaps it is due to his background as a prosecutor and a judge, but he talks about the importance of the work they are interested in doing and the work that they are going on to do. Students tell me that they find it encouraging and validating."
Career services for all Duke Law students have expanded substantially on Levi's watch. "We all know that the legal market shifted during David's tenure," says Elvin, who oversees the Career Center. "Every year it becomes more and more important for students to present themselves as strong, focused candidates. David understood this, and a number of years ago, we made a decision to ensure that every 1L would have an individual career counselor with whom they would meet at least three times within the first year and regularly over the summer. He recognized that one of the Law School's strengths is the individual support and attention students receive throughout the institution, in classes, academic affairs, and student affairs. Students who find their goals and paths are best positioned for the future, so we've invested in helping them do so."
The Career Center also administers a comprehensive professional development program for international LLM candidates. "This intensive career counseling is necessary for our students to be successful," Elvin says.
And they are: Even with the legal economy slow to recover, more than 95 percent of Duke Law graduates find employment within 10 months of receiving their diploma, and last year, Duke ranked second among all U.S. law schools in employment of graduates in long-term, full-time positions in which bar passage is required, according to the National Law Journal. "That's the proof in the pudding," says Kahn, a partner at Williams & Connolly in Washington, D.C. "Especially with the high cost of law school, you want to make sure graduates leave with a job they are happy with, whether it's a job in a big firm or in public service or in a clerkship — whatever it may be. And David has been laser-focused on that."
In his own words:
Defending the worth of young lawyers unfairly harmed by the downturn
"What is not understandable is the surprising amount of criticism heaped upon younger lawyers, offered as if to justify placing a disproportionate share of the economic downturn on their shoulders.
"The criticism comes from law firm managers, in-house counsel and former lawyers who now comment on the legal profession…
"They most likely represent a minority view, but they are vocal. They say that clients are no longer willing to pay for the work of young associates because their work is 'worthless.' We might expect clients to make any argument that could lead to a lower bill, particularly during an economic downturn. But it is wrong and surprising for experienced lawyers inside and outside of firms to acquiesce in, even reinforce, this line of argument. …
"Whatever room there may be for continued improvement to the law school curriculum, there is little doubt that the young lawyers whom we graduate today are equally well and better prepared for practice than at any other time in our history. Our graduates have had the benefit of superb clinical and experiential educational opportunities. Many of them already will have appeared in court, written appellate briefs and participated in simulated deals and transactions. They have had the discipline of thinking about difficult legal issues and applying that theoretical knowledge in the search for solutions to real-world problems. Many will graduate with joint degrees in business, economics, public policy, international law, and the sciences. All of them have had substantial legal writing experience. Most of them are 'tech savvy' in ways that both amaze and enormously benefit their less proficient elders. …
"It may well be that young associates are paid too much and that their time is billed out at too high a rate. Market forces will determine both in the long run. When young associates in some locations began to make more than the federal judges for whom they had clerked in the preceding one or two years, many of us felt that there was something seriously out of whack on both sides of the comparison. But it breaks faith with our professional values and responsibilities to acquiesce in hyperbolic and misleading statements suggesting that young lawyers are unproductive and of little value."
Source: "In Defense of Young Lawyers," National Law Journal (August 09, 2010)
A targeted approach to judicial clerkships has resulted in approximately 70 placements for new and recent Duke Law grads each year — effectively one-third of a class. Levi has taken a personal interest in the effort, especially at the highest levels. Over the past seven years, nine graduates have clerked for justices on the U.S. Supreme Court.
"Dean Levi was a tremendous help to me at every stage of the clerkship process," says Emily Kennedy '10, who clerked for Justice Alito in the 2012-2013 term. "I don't think I would have had the opportunity to clerk on the Supreme Court without his support. He really goes to bat for Duke students, and I think that he is largely responsible for the fact that Duke Law grads are now regularly hired for Supreme Court clerkships."
Sarah Hawkins Warren '08, the solicitor general of Georgia and a member of the BOV who held consecutive clerkships on federal appellate and trial courts, credits Levi's "eye and guiding hand" with enhancing the student experience in multiple ways, notably through forging ties with employers. "He's made a huge effort to build personal relationships with judges and other employers, so they will understand the value of hiring a Duke student."
Levi has tried to ensure that all students share similar opportunities for success in law school and beyond with such initiatives as the First Generation Professionals (1GP) Enhancement Program, which offers mentoring, professional development, and practical experiences for students who are the first in their families to graduate from college. And he's also been vigilant about broader trends and challenges that face all law schools and, by extension, the legal profession, such as racial and gender diversity and inclusion. "David has always shown real concern for how we can contribute to helping diversify the profession," says Hoye. "He has also been concerned about the shrinking applicant pool and has sought ways to expand it."
The Law School's launch, last June, of the PreLaw Fellowship "pipeline" program that incorporates substantive instruction in legal writing and another area of law for college students, along with advice for applying to and succeeding in law school, represents a concerted effort to help address a lack of diversity within the profession. The full-scholarship residential program, which welcomed an inaugural cohort of 20 college juniors from underrepresented groups, will expand from two to four weeks in 2018, with Duke funding supplemented by a $300,000 grant from the Law School Admission Council. "This is a model that I think will make a big contribution," says Hoye.
Advancing the study of judges and the judicial system
The Master of Judicial Studies Class of 2016, with U.S. Supreme Court Associate Justice Samuel Alito Jr. (front row, fifth from left)
Since 2012, Duke Law has welcomed another non-traditional cohort of students to campus each summer: sitting federal, state, and foreign judges enrolled in the two-year Master of Judicial Studies (MJS) program. One of several initiatives focused on improving the judicial process and the administration of justice operated by the Center for Judicial Studies, the program is a centerpiece of Levi's legacy as dean and one with which he will remain engaged as inaugural director of the Carl and Susan Bolch Judicial Institute.
Judges in the program, all of whom are chosen by Levi, learn analytical skills and research approaches relevant to studying judicial institutions, reform, and emerging legal issues. The instructors are members of the Duke Law faculty and fellow jurists; the late Supreme Court Associate Justice Antonin Scalia taught a masterclass in judicial writing for two summers, and Justice Alito has twice taught a seminar on constitutional interpretation.
"The program gives sitting judges a chance to look at law and judging from a broader perspective, to explore questions they have not previously considered in any depth, and to revisit issues that they touched on years before in law school before they knew much about how legal issues play out in the real world." It also helps bridge the "unfortunate development" of a growing divide between the legal academy and the world of legal practice, including judging, and offers an opportunity for judges to learn from one another.

— U.S. Supreme Court Associate Justice Samuel Alito Jr.
"The classes I have taught have included judges from all parts of the country and abroad and from diverse courts — federal, state, and foreign; appellate and trial; appointed and elected. I have found it fascinating to see how the particular work of each judge provides different insights on the issues we have discussed."
Chief Judge Lee Rosenthal of the U.S. District Court for the Southern District of Texas, who has taught in the master's program since it began, calls it "priceless" for the judges involved. "There are very few opportunities for different kinds of judges across the country to get together — to get in the same room and engage over common issues, common ideas, common work — and to forge relationships that let them, going forward, become incubators for each other and innovators for each other." It also makes them better judges, says Chief Judge Rosenthal, whose class, which she teaches with Professor Francis McGovern, presents topics that judges don't often encounter, such as the economics of law practice, how social media presents special challenges for elected judges, or how artificial intelligence is evolving in relation to the law.
Levi's Legacy:
Connecting the Bench, Bar, and Academy
Having served on the federal District Court bench for 17 years before becoming dean, Levi established the Center for Judicial Studies in 2011 with the goals of enhancing judicial education and improving the judicial system. Supported by a $5 million grant from The Duke Endowment, it has fueled Duke Law School's emergence as a national leader in studying the judiciary through its investments in continuing education, research and scholarship, and best practices for judges, courts, and attorneys, and opened novel opportunities for student engagement. The center currently administers the following distinct programs, all aimed at improving the administration of justice by focusing on the study and exploration of the judicial process:
A
$10 million gift from Carl Bolch Jr. '67 and Susan Bolch
, matched by a gift from Duke University and other donors, will soon establish the Carl and Susan Bolch Judicial Institute focused on studying and preserving the rule of law around the world. The Bolch Judicial Institute, which Levi will direct, will assume many of the center's activities.
For Judge Paul Grimm of the U.S. District Court for the District of Maryland, a 2016 graduate, the program's coursework became directly relevant in his courtroom when he presided over a case of first impression that involved the invocation of the Foreign Sovereign Immunities Act, which he and his classmates had studied in successive courses in international law and foreign relations law. "Here was a case involving a somewhat esoteric area of law that you don't see very often," he says. "I ended up citing from my professor's hornbook in my opinion."
The regular presence of judges on campus and the emphasis on judicial studies has had unique benefits for the broader student body. Glenn Chappell '17 gained exposure to substantive issues in appellate justice and met prominent litigators, academics, and jurists as a member of the first group of JD students to serve as Judicial Studies fellows with the Center for Judicial Studies. Chappell helped a judge on the Georgia Court of Appeals organize a panel for the Appellate Judges Education Institute Summit, which the center operates, edited case notes on new proportionality guidelines for e-discovery that the center devised, and helped a former judge of the New York Court of Appeals edit an article on how courts and prison systems handle mentally ill individuals for Judicature, which the center publishes. The fellowship offered a unique chance to learn about issues of concern to judges, he says: "I don't know anywhere else you could get that." The center also helped connect Chappell, who is now clerking for Judge Gerald Bard Tjoflat '57 on the Eleventh Circuit U.S. Court of Appeals, with his next clerkship, with Judge Anthony Trenga MJS '16 of the U.S. District Court for the Eastern District of Virginia.
An institutional leader
Levi was a panelist at the Law School's February 2015 "teach-in" on policing, civil rights, and race, along with other scholars, students, activists, and lawenforcement officials.
Levi's intense focus on improving the administration of justice has included an ongoing commitment to law reform and access to justice through initiatives at Duke Law and outside engagement with leading law reform organizations. Levi has served as an academic member of the U.S. Judicial Conference Committee on the Rules of Practice and Procedure, which he chaired prior to becoming dean, and as a member of the Judicial Conference Subcommittee on the Online System for Clerkship Application and Review. In 2014, he was appointed chair of the American Bar Association's Standing Committee on the American Judicial System, and he became president of the American Law Institute in May.
Closer to home, Levi also chaired the Civil Justice Committee for the N.C. Commission on the Administration of Law and Justice in 2016, engaging law students in the law-reform endeavor through a research seminar on civil justice topics in North Carolina and other jurisdictions that he co-taught with Darrell Miller, the Melvin G. Shimm Professor of Law, who served as the committee's Reporter. N.C. Supreme Court Chief Justice Mark Martin, who appointed Levi to the post, which ended last year, commended his "innovative leadership" through recommendations to modernize the state's court system through technology, create a state committee that would propose rules of civil procedure based on the federal model and on models from other states, and study single-judge assignments in state trial court cases. "Dean Levi's efforts on the commission show how much he focused on Duke Law's relationship with the state of North Carolina," says Chief Justice Martin. "He has done so much to enhance that relationship, and the relationship between Duke Law and North Carolina's judicial branch."
Committee member George Hausen Jr., executive director of Legal Aid of North Carolina (LANC), says Levi was instrumental in advancing support for such important notions of justice as full legislative funding for legal services and raising the age for juvenile defenders, as well as improving technology for the court system.
"He recognized before many others the pernicious and deleterious inequities inherent in our current system of court fees and fines, which mire people in poverty and debt and impair liberty."

— George Hausen Jr., executive director of Legal Aid of North Carolina (LANC)
Levi's creation of the Civil Justice Clinic in partnership with LANC (and directed by Charles Holton '73, a former LANC board chair) and the Law School's strong presence in the agency's Durham field office offer further evidence of his staunch commitment to equitable access to justice for the poor, Hausen adds. In addition to having students help LANC clients fight unlawful evictions and challenge substandard housing conditions, he points to the innovative Eviction Diversion Program designed by clinic students and faculty that is getting underway in Durham County. "It will help clients avert evictions and the prospect of homelessness and allow clients to avoid an eviction record, which can often prevent the client from securing future housing," Hausen says. "These Duke Law resources have supported and shaped our housing practice in a county that has one of the highest eviction rates in the state."
Judge Allyson Duncan '75 of the U.S. Court of Appeals for the Fourth Circuit, a member of the BOV, says Levi's leadership in addressing critical issues facing the legal profession and his high level of engagement with the judiciary in North Carolina and nationally redound to the overall benefit of the Law School. "I think he's been an enormous boon to the school's reputation both nationally and locally, which inured to the benefit of the school as a whole," she says.
In his own words:
Challenging the bar to give access to justice for those who cannot afford counsel
"… It is a 'grand' challenge because access to justice is so very important in a democracy like ours. …
"But we need to be very precise in this discussion as to what we mean by 'access to justice,' which is a powerful phrase like 'rule of law.' By this phrase, I mean access to lawyers and to courts for cases that present colorable claims and which require a neutral, fair decision-maker. I do not mean access to 'legal services' more broadly. …
"We find ourselves in a period when many young lawyers are looking for work and experience. And there are many older lawyers who are retiring in good health and looking for projects that will serve the community. We need to connect these lawyers, make full use of available technology, and put them to work helping the unrepresented who really need a lawyer and whose claims deserve a hearing or trial before a neutral magistrate.
"In short … my contention is that if we keep the perfect from being the enemy of the good, if we rigorously knock out the 'cases' that are not cases or don't require lawyers and professional judges, and if we provide other types of assistance, the number of persons seeking access to justice, who need and deserve representation and a hearing before a judicial officer, becomes a number we may be able to address with voluntary and government-sponsored legal service organizations."
Source: "The Grand Challenges for the Legal Profession and the Judiciary," the 2014 Lloyd D. George Lecture on the Judicial Process at the UNLV William S. Boyd School of Law, reprinted as "Grand Challenges, Grand Ideas: Surmounting the Biggest Problems Facing Today's Legal System," 99 Judicature 14 (2015).
The Levi Way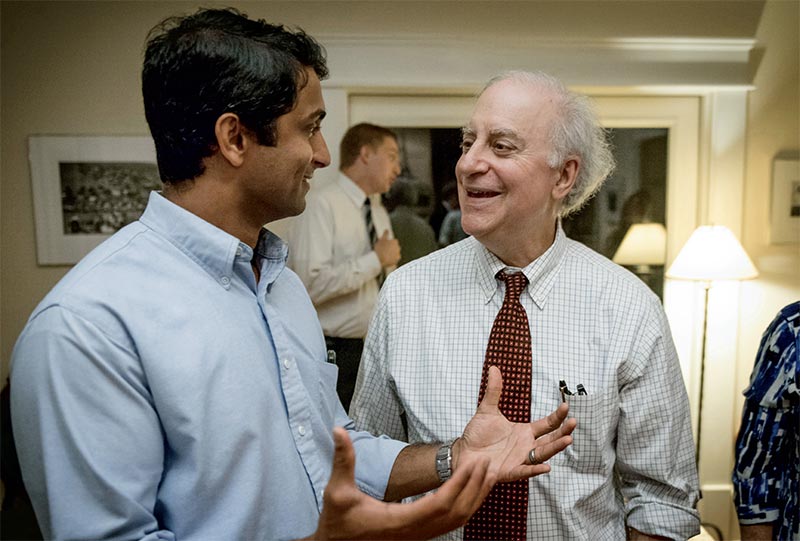 In his "Message from the Dean" featured on the Duke Law website, Levi characterizes the Law School's culture as one that emphasizes service, collegiality, and excellence, calling it "the Duke Way." "We take scholarship, service, professionalism, and teaching seriously; but we try not to take ourselves too seriously," he writes. "In every respect, Duke Law values curiosity, the common good, and the greatest tradition of the legal profession: leadership."
Levi's description could just as easily describe his own style, which friends describe as blending a keen analytical intellect and bias toward problem-solving with personal warmth, curiosity, and a willingness to listen, which he considers one of the key traits of a good lawyer. After becoming dean, he took easily to the softer demands of the job, forging close bonds with faculty, staff, students, alumni, and colleagues across the university. This relational leadership style has proven resonant throughout the Duke Law community and foundational to building broad support for his institutional vision without disrupting the school's culture.
"It has helped that David is an immensely likeable person," says Curtis Bradley. "He is honest, he has a great sense of humor, genuinely cares about other people, and is passionate about the school. Watching such an admirable person work so hard for the school during his deanship makes the rest of us even more committed to the institution."
Adds Jedediah Purdy, the Robinson O. Everett Professor of Law: "One of the absolutely defining features of David is that he's a very humane person, who takes an interest in where people are." During a 2011 seminar the two men taught with Brodhead, Levi "took a lot of pleasure in getting to watch the students think and process information. He'd remind me of some of those students for years afterwards — he'd just light up," Purdy says.
Levi's Legacy:
Raising nearly $200 million during his tenure
75 new scholarship and fellowship endowments created
15 new endowed professorships created, doubling the number of distinguished chairs at Duke Law
Nearly $60 million raised for financial aid
$24 million in cash raised for the Annual Fund
$3 million raised for the Annual Fund in a single year — a record
109 new planned gifts total $31 million
By the time the Duke Forward campaign ended on June 30, the Law School had raised $132.4 million, surpassing its initial fundraising goal by more than 50 percent. Levi called it an inspirational outpouring of support and enthusiasm for the Law School's future in thanking donors for their support, noting inspirational leadership gifts from The Duke Endowment, which created a matching gift fund for the endowment of distinguished professorships, and two from Stanley '61 and Elizabeth Star, who first created a matching fund that helped create five new professorships and then established a matching gift program that spurred the endowment of new scholarship and fellowship funds. Among the distinguished professorships endowed during the campaign were some of the first from international benefactors. And more than 366 international donors contributed over $1,023,000 to establish the Judy Horowitz LL.M. Scholarship Fund for international students in the Duke Law LLM program.
Levi and his wife, Nancy Ranney, regularly host large and small gatherings of faculty, students, and alumni in their downtown home. Every semi-annual meeting of the leadership boards begins with an informal gathering there, the couple greeting their guests with handshakes and hugs on the wide front porch. "It's a very personal welcome," says BOV member Mark Fishman '78, who recalls sharing a casual dinner with the couple, Justice Alito, and several others when he and his son were in Durham for a basketball game. "There was no occasion — David just knew my son and I would enjoy ourselves," Fishman says. Levi has also traveled extensively throughout his time as dean to meet with alumni and host events around the United States, and he and Ranney have made several trips farther afield — to such places as Argentina, Chile, Israel, and Cuba — with members of the Law School's leadership boards, alumni, faculty, and staff to meet with international alumni and forge international institutional partnerships. 
"It started out as oversight for our summer institutes and international operations," says Kahn of early trips to mainland China and Geneva, where Duke Law had a long-established summer program in transnational law. "It developed as outreach to our international graduates, who are an important part of our program yet don't get opportunities to come back often. David saw reaching out to our international alumni and getting to know them as being of value to them and to the Law School. He recognizes the LLM program as being ever more important as the world is getting smaller." A side benefit of their travels together, as well as their frequent work on campus, says Kahn: friendship. "It's been a real joy and something that I treasure."
That capacity for friendship has been critical to Levi's success, Brodhead says. "David treats Duke Law as if it's a large, fun family. He radiates a sense of joy in the job and belief in the school, and I think that has been his greatest asset in bringing alumni closer, making students feel they completely belong to the school and, of course, in fundraising. David loves the fundraising part of his job because he believes it's all about supporting the school."
Indeed, from the start of his tenure, through the seven-year Duke Forward campaign, and beyond — he closed 2017 with the internal announcement of several transformative new gifts to Duke Law — Levi has framed philanthropy towards the Law School as an opportunity for alumni and friends to be leaders and engage in a noble "handshake across generations." Among the achievements during his 11 years: the first professorships endowed by international graduates and significant growth in both the Annual Fund and alumni donor participation numbers. Levi and Ranney themselves endowed a scholarship during the fundraising campaign, because, he said at the 2016 Scholarship Luncheon, "keeping the doors of the Law School open to students from all walks of life strengthens Duke Law, the broader community, and the profession."
BOV Chair Susanne Haas LLM '85, JD '87, says Levi has a "wonderful way" of approaching prospective donors. "He's so natural and direct about it, there's not really any way you could refuse, and you wouldn't want to," says Haas. "You feel that if David asks you to do that, it must be something that is appropriate and necessary. He has a strong personality and is a strong leader, and I think we all would follow him anywhere."
With Stanley Star '61
Add Stanley '61 and Elizabeth Star, whose gift challenges created during the Duke Forward campaign helped create five new professorships and 41 new scholarship and fellowship funds: "With David's insightful vision and leadership, we realized many accomplishments together and achieved milestones with great philanthropic creativity, pride, and gratification. David and Nancy touched many lives and will leave an indelible legacy of kindness, leadership, academic excellence, achievement, and lasting friendship."
In his own words:
Defining philanthropy as an opportunity to lead
"Fundraising is one aspect of a dean's job that has no obvious counterpart in the life of a federal judge, at least on first impression. During the dean search process, I was asked whether, as a judge, I had any experience in fundraising. It was a trick question, and I gave a trick answer. I answered 'yes,' knowing full well that federal judges may not directly or indirectly have anything to do with fundraising. I answered 'yes' because in settlement conferences, and perhaps in some other settings, like fee awards, judges ask parties and lawyers to put in more money or take out less. In this sense, judges raise funds, and they do so on the basis of reasons. Sometimes those reasons are based on applicable law and the facts of the case, on the basis of which the judge makes a calculation or a prediction about the likely outcome of the case. But often the reasons are social — aimed at repairing or restoring a relationship.
"Law school fundraising is not very different; in fact, it is easier because instead of fear of the unknown — the dominant emotion in a settlement conference — the dominant emotions in fundraising are loyalty, idealism, and a desire to be part of something bigger than oneself. And it connects back to leadership because in our society philanthropy is an opportunity for leadership. Alumni and others can shape the future of our profession and of legal education through the funds they give. They can make a critical difference in the lives of aspiring young lawyers who later will make a similar difference for someone else."
Source: "From Judge to Dean: Reflections on the Bench and the Academy," 70 Louisiana Law Review 913-922 (2010) (based on a Law Day talk given to the Albuquerque Bar Association on May 1, 2008)
The right dean at the right time
As a sitting judge, Levi may have been an unusual choice to be Duke Law School's 14th dean, but he had no trouble seeing strong similarities in the two posts. During his first year at Duke, he gave several public speeches in which he mused on how they were alike, as well as how they differed. He also spoke of his excitement at having the opportunity to help train a new generation in the tools of the profession he loves: clarity of thought, the ability to simplify, to articulate, and to persuade; and the courage to take a position and the equal courage to modify and compromise in the face of reasoned opposition. That training, he observed, explains why lawyers routinely serve as leaders in their communities and, indeed, are obligated to do so.
"Whether as dean or as judge or advocate or professor, all of us in this room have the privilege and responsibility of being members of a learned profession," he said in a 2008 New Mexico Law Day speech. "There is no wall between the academy and the profession or between the bar and the judiciary. Because of our training, our experience, and our powerful legal culture, all of us are and should be ready to serve and ready to assume new roles within the profession." 
It is an understatement to say that Levi excelled in the role that was new to him, at a time when the legal profession faced daunting challenges. What is perhaps most striking 11 years later is the universal admiration for his leadership among members of the Duke Law "family" he was chosen to lead, from faculty and staff to students, alumni, and donors. "We have been blown away over the past 11 years by the breadth and depth of what David has been able to accomplish with his unique combination of intelligence, wit, drive, and light personal touch," says David Ichel '78, who chaired the BOV from 2009 to 2014.
Levi's success in mobilizing support from all corners of the Duke Law community, says Lanty Smith, is rooted in strong personal values, a passion for the law, and a remarkable understanding and respect for the nation's institutions. "His commitment to them has always been motivational, both to protect what is right and to correct what is wrong — to nurture and preserve appropriately and to innovate and improve," says Smith. "That approach served our country well during David's long tenure on the bench, and it has been wonderfully beneficial in defining his leadership for Duke Law School." 
Levi's predecessor, Kate Bartlett, puts it succinctly: "David was the right dean at the right time.
"The risk we took in hiring him paid off — big time. We were smart to choose him. He has made us better."
— by Frances Presma