Spring Break: Students provide legal aid, engage in experiential learning
Heading
Students used their break from class to engage in impactful, experiential learning and broaden their perspectives on legal systems.
Although spring break is often associated with revelry or relaxation, two groups of Duke Law students volunteered their time to provide legal aid to people in need in North Carolina and Georgia. A third group traveled to Israel to learn more about the country's practice of law and growing tech sector. 
 
The Pro Bono Program at Duke Law partnered with Campbell Law School and Pisgah Legal Services to hold a criminal record expunction clinic in Asheville, N.C. A total of nine students--one 3L, three 2Ls, one 1L, and four LLMs--participated in the event, along with nine Campbell students. 
 
Pro Bono Director D.J. Dore said, "It's such a privilege to partner with Campbell Law School to provide pro bono legal services to the residents of western North Carolina. And it's really special to see the students from both schools working together and learning from each other. Partnerships like this serve as a reminder of the wider professional world waiting after graduation."
Through the expunction process, a person can petition the court to remove a charge or conviction from their criminal background, thereby eliminating a potential obstacle to the person securing employment or housing. Students working alongside licensed attorneys met with clients to help them review their criminal record and determine which charges could be expunged, and completed a petition on the client's behalf.
 
Campbell Law Clinical Professor Emily Mistr said, "It's a really important process because, unfortunately, in the state of North Carolina, your record includes everything you've ever been charged with in your lifetime and those dismissed charges are often held against you." A person with a criminal record can find it difficult to get employment, secure housing, or continue their education.
All told, the clinic provided full representation for 27 clients that resulted in 104 petitions to expunge 774 offenses. Eight of the clients were eligible for full clean slate relief, Dore said. The clinic assisted the Buncombe County District Attorney's Office with the DA-initiated "Raise the Age" relief for certain youthful convictions that occurred when the defendant was 16 or 17 years old. Duke Law and Campbell Law students prepared 252 petitions to expunge 255 offenses. 

Emily Fung LLM '25 said, "My client got a clean slate, so she can expunge a total of 23 charges." 
 
To hear more from students at the clinic, take a look at the Duke Law Instagram takeover done by 3L Amanda Joos.
Image Above Text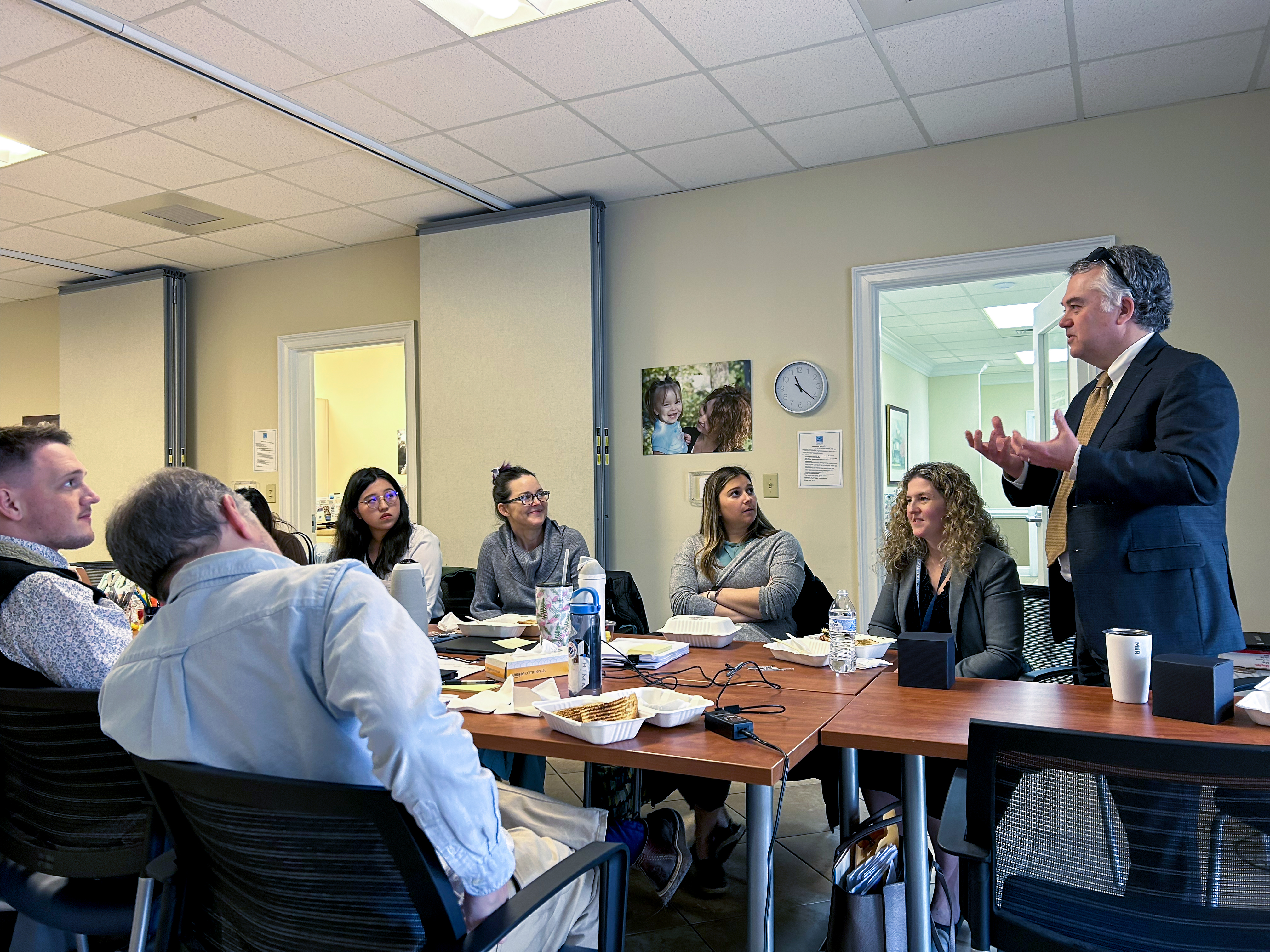 Content
Lunch-time briefing on expunctions with District Attorney Todd Williams
Image Above Text
Content
Brendan Reichart '24 submitting petition to judge
Image Above Text
Content
Taking time to enjoy the view in Asheville
Proving legal aid to detained immigrants in Georgia 
The Pro Bono Program also assisted the student-led Duke Immigrant and Refugee Project (DIRP) with its efforts to send a group of students to help detained immigrants to Columbus, Ga., located along the Georgia-Alabama border. 
 
DIRP members Taylor Dempsey '25, Hannah IsraelMarie '24, Grace Li JD/LLM '24, and Jessica Shub '24, along with Kate Evans, clinical professor of law and director of the Duke Immigrant Rights Clinic, volunteered with staff from the Southern Poverty Law Center's (SPLC) Southeastern Immigrant Freedom Initiative (SIFI). Together, they assisted detained immigrants in seeking release from immigration jail and protection from deportation. 
Being the child of immigrant parents, Li said her work hit close to home. "I'm particularly grateful to the staff at SPLC's SIFI, who not only taught us so much about the substantive work involved with assisting immigrants in detention, but modeled the unrelenting, compassionate leadership that I hope to emulate one day in my practice," Li said.
IsraelMarie said, "I coordinated the DIRP spring break trip with the aspiration of bringing students with a passion for immigration, like myself, to the Stewart Detention Center (SDC) to learn more about our complex immigration system and to work directly with detained immigrants on motions to release them from detention."
 
The executive director of DIRP, IsraelMarie noted the stark difference of sitting with a law book in class to sitting with detained immigrants at the SDC and seeing their difficulties in accessing legal counsel and encounters with due process issues in court proceedings.
 
"It is incredibly difficult to meet men and women in detention who are trying desperately to stay in the United States for the safety and unity of their families," said Evans, who supervised the students during the trip. "I could not be prouder of the work of Duke Law students this week. They jumped right in with compassion and determination."
 
The students helped conduct extensive screening interviews for potential representation, provided documents to support release and protection requests, drafted requests to ICE to release immigrants who had established eligibility to file refugee protection applications, and drafted a declaration in support of protection for a victim of labor trafficking. 
 
Dempsey said interviewing immigrants to determine their eligibility for forms of immigration relief resonated with her. "These interviews gave me the opportunity to hear peoples' stories, their experiences with detention, and help them understand their court documents and communication from ICE," she said.
 
"For detained immigrants, the difference between leaving jail and being able to stay in the U.S. or being detained and deported is often whether the person has the help of a lawyer. Duke Law volunteers made that critical and immediate difference for more than 20 people in just four days," Evans said. 
 
Within days of the trip, SIFI attorneys filed three parole requests and an appellate brief drafted by Duke volunteers and will likely offer representation to seven additional men and women who students screened in detention. The student members of DIRP and Evans served 21 people, participated in 15 legal visits, and were in court to observe judges presiding over two bond hearings. 
"A highlight of this trip was the opportunity to observe Immigration Court proceedings," Shub said. "As difficult as it was to watch a judge order a deportation or deny bond, it was a necessary part of the experience. It motivated me to continue working to become the best advocate possible."
 
IsraelMarie added: "We had the privilege of meeting many wonderful clients and working alongside SPLC attorneys in the broader fight for immigrants' rights." Dempsey said she'll continue to do direct services work with people in need, motivated by clients' stories of resilience, resistance, and community.
Image Above Text
Content
Stewart Detention Center in Lumpkin, Ga.
Image Above Text
Content
Jessica Shub '24 at the Stewart Detention Center
Image Above Text
Content
Southern Poverty Law Center's SE Immigrant Freedom Initiative
An introduction to business, law, and policy in Israel 
This month, the Duke Law Israel Experience (DLIE) student organization resumed its annual trip to Israel for the first time since 2020. Fifteen students, 11 JDs and four LLMs, traveled to Jerusalem and Tel Aviv for a week-long excursion that included meeting with local legal and entrepreneurial professionals and visiting the Supreme Court of Israel. 
 
DLIE trip learder Agustin Baler '23 said, "Being able to speak with prominent lawyers practicing law in a different country and learning about Israel's legal system exposed me to different approaches to legal practice and perspectives on the roles and importance of lawyers. It prompted further reflection on how I wish to engage in the practice of law, the legal system in which I will be practicing, and the importance of being flexible and able to adapt in the face of an evolving legal landscape." 
While in Jerusalem, the students toured the Supreme Court building with a representative from the Department of Public Affairs and International Relations. The tour included details about the history of the building, the court, and the country's legal system.
 
In Tel Aviv, the Duke Law group met with Barry Levenfeld, senior partner at Arnon, Tadmor-Levy with expertise in corporate law, M&A, and technology and transactional IP. Speaking to the students, Levenfeld drew upon his 25 years working with tech companies in Israel and pointed to the increasing size, sophistication, and specialization of local legal professions. 
 
Also, students had the chance to speak with Yaniv Rivlin, previously CEO and founding general manager of Bird Rides, Inc., in Tel Aviv. Rivlin remains active with Bird as a consultant and "is credited for bringing shared e-scooters to Israel," according to Calcalist, an Israeli daily business newspaper and website. 
 
Sammy Sawyer '25 said, "Even considering all the amazing experiences that we had, the best part of the trip was the people that we met in Israel and learning more about their beautiful culture through them. It's the little moments that stand out the most to me."
 
Toward the end of the trip, the students attended a live recording of the Storymark podcast with Tzipi Livni, who has held eight cabinet positions in the Israeli government, including foreign minister of Israel, vice prime minister, and minister of justice. Livni is regarded as the most powerful woman in Israel since Golda Meir, who served as the fourth prime minister of Israel, and noted for her efforts to resolve the Israeli-Palestinian conflict.  
Yixuan Wei LLM '23 said, "The richness and complexity of Israel's culture and history left a deep impression on me, as did the complex emotions that Israel people have towards their country."
Jacob Kornhauser '24 added: "I came into the trip knowing very little about Israel and left feeling interested and invested in Israeli politics and its geopolitical situation, more generally. The trip opened my eyes to a unique region of the world, leading me to want to explore it even further in the future."
Image Above Text
Content
Meeting with Barry Levenfeld, senior partner at Arnon, Tadmor-Levy (Photo: @yaron_geller)
Image Above Text
Content
Visiting the Old City of Jerusalem
Image Above Text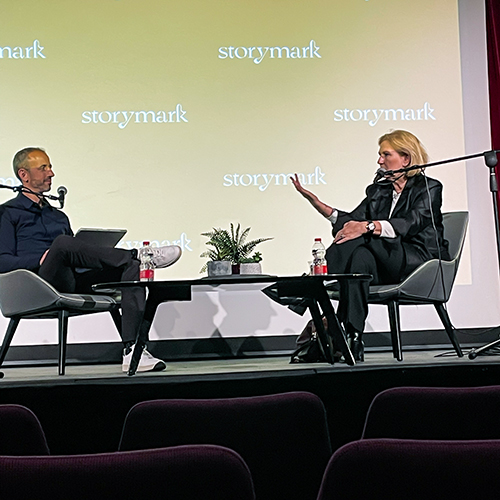 Content
Attending a live podcast recording with Tsipi Livni, a former foreign minister of Israel