Start-Up Ventures Clinic helps Duke entrepreneurs launch athletic gear company Protect3d
Heading
Three Duke engineers invented a device to help athletes recover faster from injuries. With the help of the Start-Up Ventures Clinic, they're taking it to the field.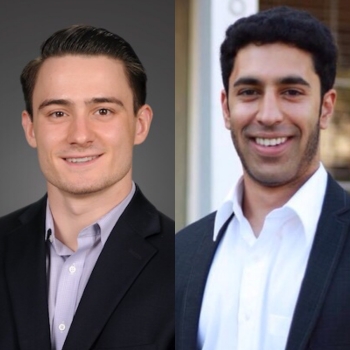 Patrick O'Connell JD/LLM '20 and Neil Datar '20 knew they had a winner during their first meeting at the Start-Up Ventures Clinic with new client Protect3d.
Protect3d had already won grants and garnered considerable buzz in the sports world for its product — custom-fit, 3D printed protective pads for athletes based on a 3D scan — and the three Duke engineering students who founded it were ready to start raising money, adding personnel, manufacturing, and selling. So when they brought their legal needs to the clinic last August and clicked with O'Connell and Datar, it kicked off an exciting year of learning and skill-building that the two recent graduates call the best experience of their Duke Law careers.
"The founders are about our age, and we picked them up at such a cool time, when they had moved from idea to building out the business side, into the real world," said O'Connell, who received an LLM in law and entrepreneurship along with his JD.
"I remember our first client meeting where they were so excited to show us their pitch deck and really sell the idea. I was sold immediately and I saw the promise. I could see this going big and I wanted to make it happen."
The Start-Up Ventures Clinic, led by Clinical Professor Bryan McGann LLM '14, the clinic's director, and Senior Lecturing Fellow Thomas Williams, its supervising attorney, provides legal advice and assistance to entrepreneurs and early stage ventures from the Duke and greater Durham communities who could not otherwise afford private sector legal fees.
During their first semester in the Start-Up Ventures Clinic, O'Connell and Datar drafted customer contracts and employee agreements, navigated securities regulations to help organize a first fundraising round, learned how to register a medical device with the Food and Drug Administration, and more. It was so rewarding that both returned to the clinic for a second semester to continue working with Protect3d.
"No matter who we are representing we are going to do our utmost and give diligent representation, but it just gives you extra drive to represent a client that has great ideas and a hard-working team," Datar said. "You just really want to see them succeed."
Protect3d was founded by Duke graduates Kevin Gehsmann ME '19, Clark Bulleit BME'19, and Tim Skapek ME '20, all engineers and former Duke football players. The business creates protective pads for college and elite-level athletes, including their friend and former teammate Daniel Jones T'18, who was sixth overall pick in the 2019 NFL draft and is now starting quarterback for the New York Giants.
Because the pads are custom-shaped to an athlete's anatomy through 3D scanning of his or her body, they provide a better fit, more protection, and greater flexibility than mass-produced ones. Jones credited the custom brace his teammates designed with helping him get back on the field only three weeks after suffering a broken collarbone.
Jones's testimonial helped the young company gain customers at football programs including Duke and North Carolina State University. It has since won grant competitions including the NFL's First and Future Innovations contest, which included a $50,000 prize and two tickets to the Super Bowl, and has been written up in The Wall Street Journal and Sports Illustrated.
Though Protect3d is initially targeting collegiate and professional football players with injuries such as joint dislocations and separations, bone fractures, contusions, and tears, the process of producing custom protective devices based on a 3D scanned anatomy can be applied to other sports and markets, Gehsmann said.
"Our goal is to expand our product line across sports, which is our passion, but we'd ultimately like to see where the technology can have the biggest impact and where we can help the most people," Gehsmann said. "Every time we talk to a medical professional about the technology, we get more ideas for products."
A company founded and grounded in the Duke community
Protect3d has fully utilized Duke resources from the beginning. Its first devices were manufactured on a 3D printer at the Pratt School of Engineering, and last summer the founders participated in the Duke Innovation & Entrepreneurship Initiative's Accelerator program. The company works out of a space at the BRiDGE Startup Incubator, a Duke Engineering-sponsored program in the Chesterfield Building in downtown Durham that supports young Duke-affiliated companies, and regularly collaborates with Duke students and graduates for its business, software, and engineering needs. So it was only natural that the company would approach the Start-Up Ventures Clinic for legal assistance.
"Being part of Duke Athletics, we've always felt a level of trust with everyone in the Duke community. This was definitely the case working with Pat, Neil, and their supervisors at the Start-Up Ventures Clinic," Gehsmann said. "They are great people first, and brilliant law students second. They were genuinely interested in helping us and doing everything they could to see the business succeed."
Gehsmann said Protect3d hopes to continue working with the clinic as it prepares for a seed funding round early next year. The founders were eyeing a nationwide launch this spring and summer before the COVID-19 pandemic effectively paused all college and professional sports. Along with using the lull to refine Protect3d's core technology, business model, and design and manufacturing processes, Protect3d is supporting the health care community by 3D printing personal protective equipment for Duke Health workers and offering its manufacturing services to other hospitals and healthcare centers in need of 3D printing.
"We've seen this as directly in line with our mission to use our engineering know-how and resources to have a positive impact on others," Gehsmann said. "We hope to come out of this time as a stronger team and company."
O'Connell and Datar said the experience not only gave them exposure to a wide range of legal needs, from financing and employment to corporate organization and regulatory compliance, but provided insights into the entrepreneurial mindset that they will take to their new jobs – Datar at Kirkland and Ellis in Palo Alto and O'Connell at Cooley in New York.
"With the Start-Up Ventures Clinic in particular, you basically are general counsel for these companies. So you get a little bit of everything," said O'Connell.
"Whenever Protect3d wanted to move forward with a new stage of their business, we had to figure out the legal implications and what we needed to do to make it happen faster and with more certainty. We were all figuring it out at the same time."
Both O'Connell and Datar credited McGann and Williams with not only providing a meaningful learning experience, but also providing an exceptional level of personal accessibility.
"It's always been beneficial for me to go to office hours and be able to talk through academic problems with professors. That's how I learn best," O'Connell said. "Duke really has provided that forum, and the Start-Up Ventures Clinic is one of the most direct expressions of that. Bryan and Thomas are so open to making time for you."
Added Datar: "Bryan and Thomas have been wonderful mentors, wonderful advisors, and great supervisors. I knew that the clinic was in line with what I wanted to do, and that it would teach me useful skills but I had no idea the degree to which it would give me practical experience in contract drafting, in working with entrepreneurs, and in working with supervisors and getting and implementing feedback in transactional law. The Start-Up Ventures Clinic has been my greatest avenue for learning and for growth, and for adding value as a future lawyer."