About the Certificate
Overview
The Certificate in Public Interest and Public Service Law ("PIPS" Certificate) is a JD Certificate program for students committed to a legal career in public service. Enrolled students complete curricular requirements and are assigned peer and faculty mentors in order to assist them in selecting academic, clinical and experiential courses that will help them develop competencies necessary toward achieving their professional aspirations. Students in the program benefit from a community of peers, faculty, administrators and Duke Law alumni committed to supporting them as they pursue careers in public interest and public service.
Requirements
Students interested in the PIPS Certificate must submit an application. Enrolled students can access the application in the "Enrolled Students" section to the right. Students who successfully complete the requirements of the program are awarded a Certificate at graduation. Certificate requirements overlap with and are not in addition to the general degree requirements for the JD program.
Curricular Requirements
1 upper-level course that directly supports a student's individual substantive area of interest

(e.g. Environmental Law, Poverty Law, Advanced Criminal Law, etc.)



1 upper-level course in the student's anticipated "advocacy site," i.e., a course that will promote a student's understanding of the specific adjudicatory, regulatory or other decision-making institutions where her future advocacy likely is to occur

(e.g. a student interested in criminal defense might select Criminal Procedure or Criminal Trial Practice; a student interested in Civil Rights might select Civil Rights Litigation or Federal Courts)



6 experiential credits (through clinics; clinics & externships; Duke in DC; or, with approval, exclusively through externship programming)




8 general public interest elective credits




Students must fulfill their substantial research and writing project on an approved public interest topic.
In addition, it is suggested (but not required) that students take Social Justice Lawyering (Law 242) and either Ethics of Social Justice Lawyering (Law 237) or Criminal Justice Ethics (Law 317) to fulfill their ethics requirement.
Public Service Requirements
Students must perform at least 75 hours of public service and work full-time for at least 8 weeks over a summer in public interest or public service employment.
Advisory Board Members
Recent Public Interest Graduates
Eleni Bakst '17
2017-19 Equal Justice Works Fellow
Human Rights First (New York City)
Eleni grew up in New York City and graduated from American University with a B.A. in International Relations. Drawing on the challenges her parents faced as immigrants who fled Tunisia and Poland because of threats posed to Jews, she came to law school to pursue a career in International Human Rights. Eleni further developed her passion for human rights through her experiences at Duke Law, including representing clients in the International Human Rights Clinic, providing legal services through the law school's Pro Bono Project to families detained while seeking asylum at the South Texas Family Residential Center in Dilley, Texas, a summer internship with the Wake County Public Defender, and an externship with the Office of the United Nations High Commissioner for Human Rights in Geneva. Eleni proposed and was awarded an Equal Justice Works Fellowship with Human Rights First to establish a medical-legal partnership on Long Island to benefit immigrant families and unaccompanied children and to improve medical and mental-health services available to immigrant families and unaccompanied minors. Read more about Eleni's fellowship, and hear about her experience at the South Texas Family Residential Center.
Olivia Cole '17
2017-19 Skadden Fellow
Swords to Plowshares (San Francisco)
Olivia earned a B.A. in Sociology and Psychology from Indiana University and came to Duke Law with a broad goal of learning how she could contribute to social justice and advocate for the underrepresented. During her first year, Olivia began volunteering with the Veterans Assistance Project, which provides pro bono legal services to veterans in the Triangle area. Through this, along with her family's history of military service — both of her grandfathers and her uncle are veterans, and her stepbrother is currently serving in the Navy — she found a passion for direct legal services for veterans. Olivia focused her courses and experiential learning on exploring this type of practice. She worked with nonprofit organizations durign her summers and with the Health Justice Clinic, Civil Justice Clinic, and Veterans Assistance Project during the school year. She also found her footing as a leader amongst her peers, serving as president of the Government and Public Service Society her third year and volunteering for numerous student groups and pro bono projects. Through her Skadden Foundation Fellowship at Swords to Plowshares, Olivia will focus on addressing the unqiue challenges that women veterans face in confronting homelessness, accessing VA benefits, and mental health issues. Read more about Olivia.
Ocoszio Jackson '17
Legal Honors Program
U.S. Department of Housing and Urban Development (New Orleans Field Office)
Ocoszio graduated from Morehouse College with a B.A. in Political Science and initially became interested in housing finance during the market crash. His second year at Duke Law, his interest grew when the community surrounding his alma mater — the West End of Atlanta — received a $30 million redevelopment grant from HUD. He then attended a lunch program hosted by the Office of Public Interest & Pro Bono to learn more about HUD career opportunities. During law school, Ocoszio developed his research and writing skills through the Duke Forum for Law and Social Change, volunteered as a pro bono Truancy Court Judge with Durham Public Schools, and was involved in the larger university communtiy as a member of the Business and Finance Committee of the Duke University Board of Trustees. Ocoszio interned his 1L summer with GlaxoSmithKline in Durham, NC, and the Brennan Center for Justice in Washington, D.C., and he spent his 2L summer at K&L Gates in Washington, D.C. His third year, he remained focused on federal government work and successfully applied to the HUD Legal Honors Program. Read more about Ocoszio.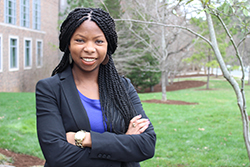 Jasmin Lott '17
Legal Honors Program
U.S. Department of Justice (Washington, D.C.)
Jasmin grew up in Dallas, Texas, and earned her B.A. in History from the University of Texas. She came to Duke Law with an interest in pursuing a civil rights legal career, having grown up watching her mother dedicate her life's work to fair housing and inclusivity issues
. During law school, her passion for civil rights developed into a desire to pursue criminal justice as a way to address recent conflicts between police and communities of color. Jasmin developed her trial skills by enrolling in the Civil Justice and Children's Law Clinics. During her summers, she interned in New York with the NAACP Legal Defense & Educational Fund, where she worked on civil rights impact cases, and
Neufeld Scheck & Brustin, where she assisted with discovery review for wrongful conviction and police misconduct cases. In her third year, her hard work led to a full-time, semester-long externship through the Duke in D.C. Program with the Department of Justice, Civil Rights Division. Jasmin now joins the same office through the USDOJ Legal Honors Program.
Read more about Jasmin.