Targeting Americans: The Constitutionality of the U.S. Drone War
H. Jefferson Powell's new book focuses on the legal debate surrounding drone strikes, from a position of deep practical expertise in constitutional issues. He provides a dispassionate and balanced analysis of the issues posed by U.S. targeted killing policy. A fundamental theme of the book is that the conclusion that an action or policy is constitutional should not be confused with claims about its wisdom, morality, or legality under international norms.
Watch Profs. Blocher and Dunlap discuss the book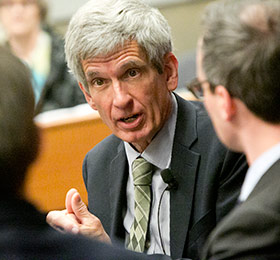 Powell returned to the Duke Law faculty in May 2012 after serving as deputy assistant attorney general in the Office of Legal Counsel at the U.S. Department of Justice. His research focuses on the role of the U.S. Constitution in the activities of the legislative and executive branches of the federal government.