The Duke Law Blueprint encourages students to develop a broad range of skills that will enhance their careers as lawyers, urging them to engage intellectually, build relationships, and lead effectively. Incoming students who exemplify these ideals to the highest degree are named Mordecai Scholars and receive Duke Law's prestigious full-tuition scholarship.
Initiated in 1997, the Mordecai Scholars program is named for Samuel Fox Mordecai, the founding dean of the Law School who was a noted practitioner, scholar, and leader in legal education. Mordecai Scholars are individuals who possess a record of extraordinary leadership and scholarly achievement prior to law school, along with the personal qualities that are likely to result in community involvement and leadership at Duke, and in the years after graduation.
All admitted students are considered for the Mordecai scholarship. Those who possess particularly notable records of leadership and academic accomplishment will be invited to visit campus at their convenience and participate in interviews which will select the next Mordecai Scholars. Students who are named Mordecai Scholars will receive merit scholarships that cover the full cost of tuition. In most years, 4-8 students enroll with the Mordecai Scholarship.
Duke Law School is an ambitious, forward-thinking, and innovative institution whose mission is to prepare students for responsible and productive lives in the legal profession. As a community of scholars, the Law School also provides leadership at the national and international levels in efforts to improve the law and legal institutions through teaching, research, and other forms of public service.
At Duke Law School, students and faculty experience academic rigor in an interdisciplinary environment where creativity and innovation rule. Bold, strategic expansions in faculty, clinics, interdisciplinary centers, law journals, public interest opportunities, and high-tech facilities ensure that the Law School stays on the cutting edge of legal scholarship. The Duke Blueprint to LEAD is a powerful set of principles for leadership growth that informs the development of committed, ethical lawyers who are well-equipped for the 21st century.
Recent Mordecais
Supreme Scholars
Three Mordecai Scholars have received Supreme Court clerkships in recent years: Sarah Campbell JD/MPP'09 (pictured left) will clerk with Justice Samuel Alito in 2011-12; Amy Mason Saharia '05 is clerking with Associate Justice Sonia Sotomayor in 2010-11; and Allison Jones '07 is clerking with Associate Justice Clarence Thomas in 2010-11.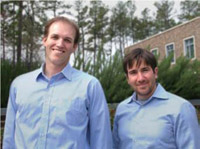 Veterans helping veterans
Mordecai Scholars Jade Totman '08 and Chris Dodrill '08 -- veterans themselves -- established the Veteran's Assistance Project at Duke to provide assistance to veterans in obtaining benefits. "A significant population of disadvantaged veterans exists, and it's fantastic that students have expressed an interest in assisting them," said Totman, a West Point graduate and former Army captain who was deployed to Iraq during five years of active service.