Banner
Main Content
Image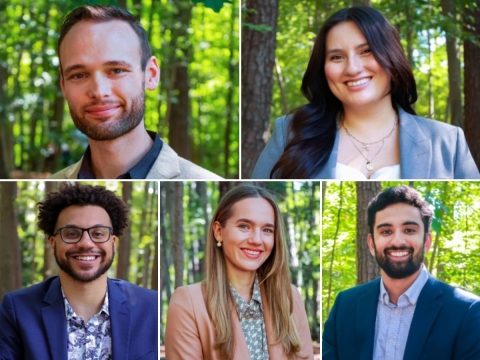 Meet the Class of 2026
The 224 students in Duke Law School's JD class of 2025 come from 35 different U.S. states and territories and eight foreign countries. Five members tell why they chose Duke Law and how they hope to use their law degree to make an impact.
Button
Link
JDs and LLMs build cross-cultural friendships through a program that enhances the law school experience.

The multi-school competition challenged teams to develop tech-based tools to provide more North Carolinians with access to justice resources.

Members of the Duke Immigrant and Refugee Project volunteered their time for two projects delivering pro bono legal services in the local community.

The clinic student-attorneys represented a prominent LGBTQ+ activist from Central America who had suffered brutal persecution in her country in Charlotte's immigration court.

Five members of the JD Class of 2026 tell us why they chose Duke Law and how they hope to make an impact

The recent graduate will join the Business and Human Rights Unit of the Office of the High Commissioner for Human Rights at the United Nations in Geneva.

Students in the Community Enterprise Clinic took on projects focused on the preservation of equitable housing, comprehensive reorganization, and racial justice for three nonprofits that directly benefit the Durham community.

Lily Talerman '23 and Ellen Goodrich '23 were both student-attorneys in the First Amendment Clinic during their third year.

Durham-based Harper's Home plans to build cottages and duplexes that can serve as temporary housing for out-of-town families while their kids are in treatment.