The Career & Professional Development Center has outstanding resources for international students. Duke also has a dedicated staff member with significant professional law experience who devotes time to LLM students in their job search. In addition to individualized counseling, we have developed a series of programs explicitly for LLM students.
Duke LLM students participate in a New York City job fair, where legal employers from around the world conduct interviews for positions both in the U.S. and overseas. In addition to the strong support from the Career & Professional Development Center, students at Duke benefit substantially from the willingness of alumni, both in the U.S. and abroad, and from Law School faculty to offer advice and assistance.
Legal positions available to LLM graduates who wish to work in the U.S. vary from year to year and tend to reflect external conditions, such as the extent of trade with the student's home country or the state of the global economy. LLM students are more likely to find jobs when they have had a few years of professional experience before studying in the United States.
Representative Employers of LLM Graduates (2012-2019)
A significant group of LLM graduates remain at Duke for a period of time after graduation in order to prepare to take the New York or California State Bar Examination. Students who elect to return to their home countries after graduation frequently identify positions in overseas offices of American law firms or at firms and organizations serving American clients involved in international work.
Graduating LLM Class of 2019
LLM 2019 graduates are headed to 20 countries and 4 states to work or continue their education.
The chart below shows employment data by sector for the LLM Class of 2019: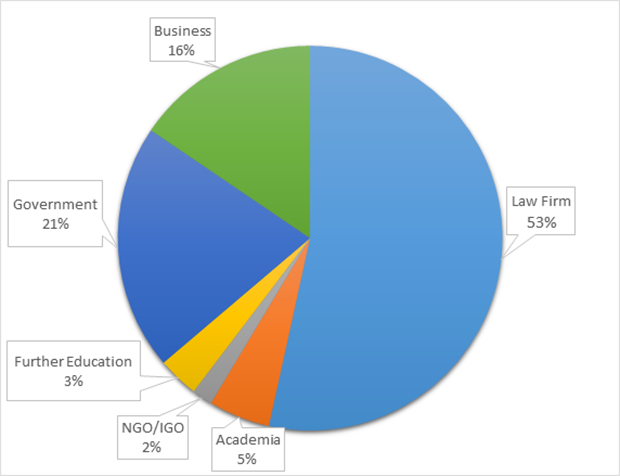 Career Services for International Students
Oleg Kobelev
Assistant Dean for International Studies
Oleg joined Duke Law from the National Association of Attorneys General, where he served as tobacco counsel, supporting 52 attorneys general in enforcement and implementation of the 1998 Tobacco Master Settlement Agreement, which ended states' Medicaid litigation against tobacco companies and governs payments from tobacco companies to cover states' costs in caring for people with smoking-related illnesses. Kobelev also has served as a staff attorney for the U.S. Court of Appeals for the D.C. Circuit and as an associate with Sidley Austin in New York. He is a graduate of the University of North Carolina School of Law, where he was editor in chief of the Journal of Law and Technology.
Office of International Studies
Box 90365
Durham, North Carolina
27708-0365
(919) 613-7033 phone
(919) 681-6550 fax
international@law.duke.edu