Duke Law welcomes the LLM Class of 2018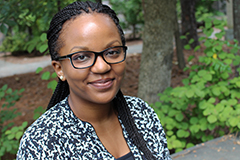 The class is comprised of 99 LLM students from 37 countries.
The International LLM Class of 2018 includes 99 students from 37 countries and territories. The majority of students have professional experiences in legal settings; many have worked as in-house counsel, judges, prosecutors, government ministers, academics, or public servants. Duke Law also welcomed 18 visiting scholars from 10 countries in fall 2017; among them are professors, judges, prosecutors, and PhD students. While 15 Duke Law JD students study abroad during the fall 2017 semester, eight international students will study at Duke for the semester through international exchange programs. Twenty-one members of the entering JD Class of 2020 came from countries around the world, including Canada, China, Greece, India, South Korea, Taiwan, Turkey and the UK. Altogether, Duke Law welcomed 147 international law students and scholars in Fall 2017!
Learn about the Duke Law LLM experience
Home Countries: LLM Class of 2018

Brazil
Bulgaria
Canada
Chile
China
Colombia
Ecuador
Egypt
France
Germany
Iceland
India
Indonesia
Israel
Italy
Japan
Kazakhstan
Kenya
Lebanon
Madagascar
Mexico
Netherlands
Nigeria
Pakistan
Palestine
Panama
Poland
Russian Federation
Slovenia
South Korea
Switzerland
Taiwan
Thailand
Tunisia
Turkey
United Kingdom
Uzbekistan

Home Countries: SJD Program

Brazil
China
Ireland
Israel

Overseas Exchange Countries 2017-18

Belgium
China
Denmark
France
Israel
Portugal
Spain