Logan Page '19 is the recipient of the Thomas Jordan Memorial Scholarship endowed by alumni speaker Nora Jordan '83 and her husband, Allen Reiser '83.
Megan Ault '18 credits her Rust Belt roots for her belief in the value of hard work and appreciating all opportunities that come her way. At Duke Law, she said, her classmates share those values.
An R. C. Kelly Mordecai Law Scholar, Ault spoke on behalf of Duke Law student recipients of financial aid when they gathered with donors at the Law School's 2016 Scholarship and Fellowship Luncheon at the Washington Duke Inn on Oct. 29.
Having attended a high school that did not offer advanced placement courses and knowing fewer than half her classmates would graduate from college, Ault said she savored the opportunity to attend the University of Pittsburgh on scholarship. She threw herself into classes, research, teaching, and student organizations and graduated summa cum laude with majors in environmental studies, political science, and urban studies. After graduation, with an eye toward eventually attending law school, she juggled a retail job with bartending in her hometown of Youngstown, Ohio, to save for tuition.
"It wasn't that long ago that I was mopping the floor of a bar after a long shift making cocktails for $3.98 an hour plus tips," said Ault, now a LEAD fellow, co-president of the Environmental Law Society, and case manager of an investigation team with the Innocence Project. She expressed her gratitude for those who inspired her and helped her gain entrance and opportunity at Duke Law: her parents; her sister, who bravely endured multiple limb-lengthening operations; the Ohio community "that taught me to work hard;" and the scholarship donors whose generosity in funding her scholarship has made her legal education and summer positions with public interest environmental law organizations possible.
"No matter how late I'm up working, no matter how heavy my backpack, I am constantly remembering how fortunate I am to have the opportunity to be this exhausted from working my brain all day," Ault said. Calling her fellow students "some of the most humble and hardworking people I know," she said they share her appreciation for opportunities made possible by generous alumni and friends of Duke Law School.
"I look around this room and see so many of you who helped put law school within reach for us," she said. "That tells me that you haven't taken your privileges and opportunities for granted either. You've leveraged the opportunities that came your way and you've shared the benefits of your hard work with me and other scholarship and fellowship recipients at Duke. On behalf of these classmates and myself, I'm up here to thank you today."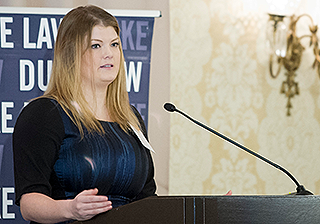 Megan Ault '18
Observing that "you can tell how much a person values your gift by what they do with it," Assistant Dean for Student Affairs Lewis Hutchison thanked donors for making it possible for Duke to continue the legacy of admitting students, like Ault, "with minds full of ability and with hearts that care."
In her welcoming remarks, Associate Dean for Alumni and Development Kate Buchanan reported that donors had established 51 new scholarship and fellowship endowments to that point during the Duke Forward fundraising campaign, and an additional 15 in their estate plans. More than 30 of those endowments utilized matching funds from the financial aid challenge fund established by Elizabeth and Stanley Star '61.
Addressing the Stars, who attended the luncheon, Buchanan said: "Your initial gift has already been multiplied by 30 times and, in future years, as generations of students are awarded scholarships from these new endowments, the multiplier will continue to grow." Buchanan also offered her personal thanks to the couple on behalf of her family for helping them establish the Daniel F. and Dale S. Bernard Scholarship in memory of her father, a 1967 Duke Law graduate and longtime member of the Law Alumni Association board who died in 2011.
Buchanan urged the assembled students and donors to forge relationships and rapport with one another. "Your tuition bill did not magically disappear or get reduced," she told the students. "Real people … chose to invest in you." Alumni and other donors, she added, can see their gifts to "financial aid" are not just deposited into a generic bank account: "You have made a choice to invest your hard-earned dollars to lend a helping hand to students … who are likely to become future leaders and problem-solvers in the legal profession and in the world."
Alumni speaker Nora Jordan '83 said she and her husband, Allen Reiser '83, found "investing" in future students by endowing the Thomas Jordan Memorial Scholarship in 2013 was a fitting tribute to her late father. Jordan, a partner and head of the Investment Management Group at Davis Polk in New York, credited her father, an immigrant from Ireland who had to leave school at the age of 14, with inspiring all of his seven children to excel in their studies and in their professional lives. "You didn't miss school unless you were dead," she joked, recalling how her father, who read constantly, walked his children to the library on his one day off from multiple jobs and gave them riddles to solve in the evenings.
"He stressed education for the sake of education, not just for getting ahead," said Jordan, a member of the Law School's Board of Visitors. Having received scholarships to attend the University of Notre Dame and Duke Law, she expressed the hope that all of the scholarship and fellowship recipients in attendance would someday return as donors: "Paying it forward is very rewarding, especially because I was able to use the opportunity to honor my father."
Dean David F. Levi, who also endowed a scholarship with his wife, Nancy Ranney, said that "keeping the doors of the Law School open" to promising students from all walks of life strengthens Duke Law, the broader community, and the profession.
"All of our institutions are aggregations of people who care about one another — we are so much stronger together," he said. "That's how it is at Duke Law: We are philanthropic in a setting where we have the same goal and same intent, and together we make a difference."