AAPI Heritage Month: APALSA, SALSA celebrate solidarity and inclusivity across communities
Heading
Students honor the trailblazers and tragedy that built bridges across America's diverse AAPI communities and inspire unity and excellence within them.
For 45 years, America has designated May as a time to celebrate the historical and cultural contributions made by people of Asian American Pacific Islander, or AAPI, descent to the United States. The national observance began in 1978 when Congress passed a joint resolution setting Asian Pacific American Heritage Week during the first week of May. The observance was expanded to the entire month in 1992.
May was chosen to honor the first Japanese people who immigrated to the United States, on May 7, 1843, and in recognition of the completion of the transcontinental railroad on May 10, 1869, on which the largest group of workers had been Chinese immigrants.
AAPI communities consist of about 50 distinct ethnic groups speaking more than 100 languages, with connections to Chinese, Indian, Japanese, Filipino, Vietnamese, Korean, Hawaiian, and other Asian and Pacific Islander ancestries. Today, more than 20 million people in the U.S., or just over 6% of the population, identify as Asian, Native Hawaiian, or Other Pacific Islander, according to the Census. Bureau.
Asians account for about 2% of lawyers in America, according to the American Bar Association's 2020 Profile of the Legal Profession, a slight increase from 1.6% in 2010. The 2022 A Portrait of Asian Americans in the Law 2.0 report showed 45 AAPI general counsel employed at Fortune 1000 companies, up from 19 in 2009. The report also showed an increase in Asian American federal judges over the past five years, from 3.4% in 2016 percent to 6%.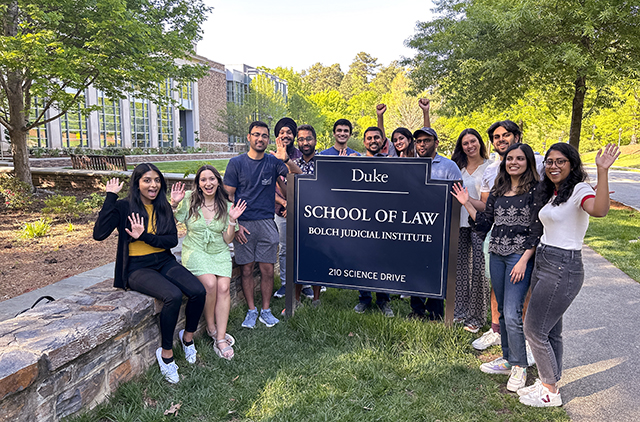 Here at Duke Law School, students of AAPI descent connect over shared cultural backgrounds and personal experiences. The Asian Pacific American Law Students Association (APALSA) and South Asian Law Students Association (SALSA) provide students with a welcoming and supportive community while navigating law school. Each semester, both groups hold social and cultural events, alumni networking opportunities, and offer 1L mentorship.
APALSA started in 1995 and is well-known for its 'Big Law in a Bite' series of lunchtime events featuring AAPI alumni from U.S. and international legal markets. This year the group received the D.O.N.E. Award for Greatest Role in Building Relationships from the Duke Bar Association. A more recent addition to the student organizations at Duke Law, SALSA provides members with social mixers, resources for academic and career planning, and mentorship.
Below, APALSA and SALSA members share their thoughts on AAPI Heritage month, the AAPI figures who inspire them, and what it means to be an aspiring AAPI lawyer.
Content
In recognizing AAPI Heritage Month, Alice Wu points to the resilient coalitions and bonds built through struggle and sacrifice across the varied and diverse AAPI groups. She said she draws strength from Grace Lee Boggs, a noted Civil Rights-era intersectional author, activist, and feminist, who understood the power to facilitate change through solidarity.
"Her passion in seeking progress and finding heart in our society inspires me," Wu said. "She said it best: 'We urgently need to bring to our communities the limitless capacity to love, serve, and create for and with each other.'"
Wu noted that sometimes this progress comes through tragedy. "The racially motivated murder of Vincent Chin in 1982 galvanized the AAPI community and created multiethnic alliances that continue today," she said.
Through her work with APALSA – she is outgoing co-president – Wu is doing her part to sustain the group's supportive community and help provide fellow AAPI students with the tools they need to be successful. "Having a strong foundation of support and mentorship is critical in law school, and one of APALSA's goals is to help create that baseline," Wu said.
Content
Moksh Gudala found SALSA during his first week at Duke Law, when he met Maia Foster''23 and Dev Madeka '23, then the group's co-presidents. Little did he know he would one day be serving as co-president, too.
"They did an outstanding job at revitalizing the organization and creating a friendly and supportive community. They were also amazing mentors throughout my time at Duke, for classes, extracurriculars, and everything in between," Gudala said.
Gudala said he's inspired by Sri Srinivasan, the chief judge of the U.S Court of Appeals for the D.C. Circuit, and his commitment to social justice. Srinivasan previously served as assistant to the solicitor general and principal deputy solicitor general of the U.S., arguing 25 cases before the Supreme Court.
"He broke many barriers for South Asian lawyers, even making President Obama's shortlist of Supreme Court nominees," Gudala said. "We're super excited to have him meet SALSA this October during his trip to the Triangle."
Looking ahead to practicing law, Gudala said his identities as a South Asian and Asian American will help shape his understanding of the challenges faced by communities of color, driving his passion for promoting DEI and access to justice.
Content
For Sarah Tinaphong, getting to know APALSA was a little different but still a supportive and an inclusive experience. She started law school at the onset of the pandemic, when classes moved to online and students were unable to meet at the Law School.
"Even when we were apart during my first year of law school, APALSA members went to great lengths to maintain our tight-knit community and to welcome incoming students to the APALSA family," said Tinaphong, who considers her year as co-president to be a highlight of her time at Duke Law.
As a Thai-American woman entering the legal industry, Tinaphong is keenly aware of the importance of role models, representation, and mentorship. One of those role models is North Carolina Solicitor General Ryan Park, who Tinaphong lauds for his accomplishments, as well as being "humble, genuine, and kind-hearted."
She added: "My background and experiences have made me so grateful for the AAPI lawyers who have paved the way before me and make me even more determined to continue paving the way for those who come after me."
Content
Foster takes pride in seeing South Asians being celebrated as part of AAPI Heritage Month, saying too often South Asia is forgotten when people refer to the AAPI or Asian American community. She met her fellow SALSA members in-person during her 2L year, when students returned to  classes at the Law School. They're now not only some of her best friends, but also a source of inspiration, she said.
"Academic excellence is a given for Duke students, but so many of my peers in this community are also kind, fun, and endlessly supportive. That balance is so important — in law school and the real world," Foster said.
Being a person of mixed heritage, Foster has enjoyed being able to connect with one part of her culture while at law school. Serving as a member and later co-president of SALSA, Foster had a hand in creating these opportunities and forging friendships with fellow South Asian students. "From Diwali celebrations to watching Pathaan at the movie theater, I love the time I have spent with SALSA," she said.
As a lawyer, Foster hopes to support and mentor fellow women of color. Asian women are underrepresented in the legal field and in the field of environmental law, Foster's area of professional interest.