PUBLISHED:
December 13, 2012
Ben Fountain was named a 2012 National Book Award finalist for his first novel, Billy Lynn's Long Halftime Walk, which is now being adapted for the screen. His debut collection of short stories, Brief Encounters with Che Guevera, won the 2007 Pen/Hemingway Award.  Writing in the New Yorker, Malcolm Gladwell even called Fountain's writing "genius."  But Fountain still picks up the phone at his Dallas home on the first ring. 
"Writing keeps your ego in check," Fountain says in his mild drawl. "You can win a National Book Award, or a Faulkner Prize, but there's not a single prize out there that's going to help you sit down at your desk and get the words on the page."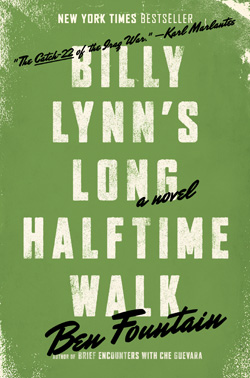 From Billy Lynn, the 19-year-old war hero on leave from Iraq and bewildered to be stuck in the halftime show of an overhyped Dallas Cowboys football game, to John Blair, the bird-loving graduate student kidnapped by South American rebels in the short story "Near-Extinct Birds of the Central Cordillera," Fountain writes about real people you care about and want to know. It was Fountain's desire to get to know real people and have real experiences before creating fiction that led him to Duke Law School.
As a 15-year-old in Cary, North Carolina, Fountain read an Ernest Hemingway short story, and then everything else Hemingway wrote.  That the human condition could be presented in clean, simple language in a short story or novel stunned him. He knew then that he would be a writer, though he did not realize it would take 30 years to fully achieve this dream.
He wrote throughout high school and his undergraduate studies at the University of North Carolina – Chapel Hill, receiving encouragement from his instructors. But the idea of launching himself as a writer directly after graduating scared him; he could not just start writing without any life experience of his own. Duke Law School struck him as a good place to "get ready for the world," he says.  
Along with meeting his future wife, Sharon Monahan Fountain ('82), during his first week, Fountain's favorite memories of law school were of other students and the professors. "There were very few jerks," he says, with a laugh. "And the professors were all good people. They truly cared that we learned what they were teaching." 
 "There was a lot to love about Duke," he adds,  "it was intellectually revelatory and gave me time to grow up."  The effect of law school on his fiction writing, however, was fairly devastating, at least in the short term, as he found himself too busy to write fiction and creatively stymied by the precise rules of legal writing.  "During law school, and those first years out, I was stuck in a sequential, logical mode of viewing the world." After graduating, Fountain followed Sharon to Dallas where she worked at Thompson & Knight (she now heads the firm's tax practice).  Working in the real estate group at Akin Gump, he tried to write in the evenings, with limited success.  After the birth of their first child, he and Sharon decided he would leave his growing practice to stay home with the baby and write fulltime.
Fountain admits that everything he wrote in those early years was "terrible . . . I cringe to think of it now." But he kept writing. He credits his legal education with his focus and self-discipline. "Every morning, I would drop the baby off at morning daycare and I'd go home and sit down and I would write."  Within the first year, he published a couple of short stories in literary magazines, success which made him feel that he'd made the right decision. 
For subject matter, he is drawn to what he calls the "vital" issues: politics, power, and race.  He developed an interest in Haiti and explored the country extensively.   "In Haiti, the veneer is stripped away.  What's left is raw, blatant life." The stories inspired by his visits to Haiti and South America won numerous awards, including two Texas Institute of Letters Short Story Awards, a Pushcart Prize, and an O. Henry Award before collected in Brief Encounters.
By contrast, Fountain got the inspiration for Billy Lynn's Long Halftime Walk while sitting on his couch watching a Dallas Cowboys' halftime show.  The show featured Beyoncé and a group of scantily-clad dancers gyrating around a group of young, seemingly stunned U.S. soldiers. Fountain calls this American scene "as visceral" as that in any Haitian village he'd visited.  The novel is now being adapted for the screen by Simon Beaufoy, the Oscar-winning screenwriter of "Slumdog Millionaire."
Is there any hint of the lawyer in Fountain's writing? His legal career did inspire a legal thriller of sorts, but he confesses the experience nearly undid him.  The novel was getting close to publication in October 2008 when Gladwell featured Fountain in his New Yorker article, "Late Bloomers: Why do we equate Genius with Precocity" comparing his late-blooming achievements as a writer to Cezanne's as a painter.  In the wake of the Gladwell article, Fountain's editor decided the legal thriller was not good enough for the writer Fountain had become.
"The decision to scrap that novel was devastating, but it was the right decision," Fountain says. "It was a novel that I'd worked on over a long period of time, and my writing had evolved beyond it." 
While Fountain probably won't be writing another legal thriller, he has not given up his lawyerly discipline.  He still writes every morning and is currently working on a novel that takes place in Dallas.
— Caitlin Wheeler '97