PUBLISHED:
September 17, 2020
Heading
The 239 JD candidates were selected from a pool of almost 5,000 applicants; women comprise 57% of the class and 33% identify as persons of color.
In three years as a forensic social worker with the King County Department of Public Defense in Seattle, Amin Montgomery worked his way up from helping clients charged with misdemeanors to those accused of felonies. He came to admire the rigor the public defenders he worked with applied to their cases, sometimes even envying the power they had in court. "I decided I could see my next chapter," says Montgomery, of his decision to become a lawyer.
Montgomery is one of 239 JD candidates in Duke Law School's Class of 2023, selected from a pool of almost 5,000 applicants. They come from 33 different U.S. states and territories and four other countries and represent 116 different undergraduate institutions, with many holding advanced degrees. Thirty-three percent of students in the class identify as persons of color, including the largest number of Latinx students in school history. Women comprise 57% of the class, the third year in a row that more than half of the incoming students have been female.
"The Class of 2023 is truly remarkable," says Associate Dean for Admissions and Student Affairs William Hoye. "Our new first-year students were drawn to Duke, in part, due to our longstanding reputation as a school that values community and collaboration and that aims to provide a student experience that is transformative of the whole person through the Blueprint to LEAD. In this challenging time, the principles of the Duke Law Blueprint may be more important than ever."
Montgomery first became interested in criminal law through a course he took as an undergraduate at the University of Washington. "The types of issues that were being presented as to what's deserving of punishment and why should someone be locked up were things that really resonated with me," he says. After working on food insecurity as a post-graduate AmeriCorps VISTA volunteer with the New York City Coalition Against Hunger, he got "a high-level view" of criminal justice and corrections policy issues at the Council of State Governments Justice Center in Seattle. But his desire for "a sense of what day-to-day life is like for folks who were vulnerable" sent him to Columbia University's School of Social Work.
In the public defender's office, Montgomery was able to take account of the collateral consequences of a criminal arrest that weren't being addressed. "I had a number of clients who would be arrested and jailed for a certain period of time during which they couldn't pay their rent, so they would lose their apartments," he says. "And when they were released on bond, they would be released without a home to go to." He hopes pro bono projects and clinic work will give him opportunities to address problems like those and other access-to-justice issues.
Montgomery left the public defender's office in 2019 to prepare for his career transition. As the pandemic unfolded, followed by a summer of protests, he worked as a clinical case manager helping first responders in Seattle address the emergency needs of vulnerable and often homeless people experiencing mental health crises. Long mindful of the emotional toll exacted by his social work experience, he says he is intentional about relaxation and wellness through running and playing his tenor saxophone, practices he knows will serve him well in law school.
For Alyssa Reyes, becoming a lawyer and working for criminal justice reform has been a dream long deferred. The Los Angeles native, a first-generation American (and Dodger fan) whose family settled in South Bay after emigrating from Mexico, says a lack of representation prevented her from seeing law as a realistic career path.
"I've always wanted to be a lawyer, but I didn't see many Latinx lawyers, let alone Latinx women in the legal field," she says.
She changed her view while teaching primarily Latinx and Black students alongside a similarly diverse group of colleagues in Harlem. Together, they developed a social justice curriculum on such topics as identity, race, and gender for kindergarten through fourth grade.
"You could just see a world of difference in these students' understanding of their own identities and their cultures and how those fit into the school they were in, the community and city and state they lived in," she says. "Teaching them and being a form of representation for them helped me realize that despite an absence of representation in the legal field, I could still pursue a career in law. Someone needs to start the representation."
After graduating from the University of California, Berkeley in 2010 with a major in media studies, Reyes went through a two-year leadership development program at Apple, learning every aspect of running an Apple store. It was fascinating training in running a high-volume business, but one that was largely catering to a middle and upper-income clientele, she says. "At the end of the program, I realized that I wasn't necessarily engaging with people who looked like me. And what I really wanted to do was to give back to my community and communities like the one I came from."
She joined Teach for America, earning a master's degree in education from Hunter College while teaching in Canarsie, Brooklyn, then signed on with a charter school in Harlem as a math and special education teacher.
"I found I could inspire these children of color," says Reyes. And seeing her students respond to a curriculum that connected their lessons to their lived experiences inspired her to pursue her dream of using the tools of law and policy to address questions of social justice, primarily through criminal justice reform: "I came to the law to do my part to be part of the conversation."
Reyes will be immersed in conversations on social justice as an inaugural recipient of Duke University's Race and the Professions Fellowship, a year-long program made possible by The Duke Endowment that invites Duke graduate and professional students to explore challenges of racial inequities and the work of anti-racism in the professions.
Reyes, whose study sidekick is her pug, Bowie, has already connected on campus with peer mentors in Duke OUTLaw and Latin American Law Student Organization (LALSA), and looks forward to volunteering with the Innocence Project as a member of its Reintegration Team. A former dancer and novice coed softball player, Reyes says that keeping physically active and mindful is critical to her well-being: "Dancing, softball, yoga, hiking — these things remind me that sometimes it's important to calm your mind."
Ayush Gulati, another Angeleno, commissioned as a signal officer with the rank of second lieutenant in the U.S. Army Reserves in June 2019 after graduating from the University of California, Irvine, where he majored in business economics and completed ROTC training. He has spent most of the past year training at Fort Knox in Kentucky and Fort Gordon in Georgia.
Gulati, who aims to join the Army Judge Advocate General (JAG) Corps after law school, says his commitment to the military stems, in part, from the fact that his parents emigrated to the United States from South India.
"I always felt like I wanted to give back to the U.S., because my family came with nothing and I felt we owe something," he says. "I wanted to contribute in what I felt was a meaningful way." During his time in the Signal Corps — the branch of the Army that facilitates communication networks — he found he particularly enjoyed working with and shadowing several military lawyers. "I love being a signal officer, but I think I can work with soldiers in a more meaningful way in the JAG Corps."
Duke Law stood out to him among top-tier law schools in its emphasis and offerings in national security and military law, an impression confirmed when he spoke with alumni. Faculty including Maj. General Charles Dunlap, Jr., a professor of the practice and executive director of the Center on Law, Ethics and National Security, who came to Duke after serving as Deputy Judge Advocate General of the U.S. Air Force, were a major draw.
"Professor Dunlap really impacted my decision to come here, because he's 'been there and done that,'" says Gulati, who is interested in such student organizations as the National Security Law Society and the Veteran's Assistance Project. He is also broadly interested in transactional law, which he hopes to bring into his military career. "I think there are many opportunities that Duke offers in terms of pursuing careers beyond JAG as well, such as national security law." 
Gulati is an avid reader of fantasy and science fiction, and became a distance runner through his military training. A true California native, he also loves to surf — living in Durham, he notes, is a "step down," in that regard. But on the other hand, he says, "I've cut my rent by half."
Shu Han Liu found the seeds of interest in law were planted during an internship she held after her sophomore year at New York University, where she was an art history major.As the social media and curation intern at an arts space management company in Beijing, she was charged with publishing commentaries and art analyses on various platforms and became fascinated with one that focused on plagiarism and property rights controversies regarding art.
"I never knew how much trouble there was in this field," says Liu. "I came to see that it's a really important part of people's lives and that law is essential. A lot of cases were unaddressed either because people didn't want to go through the hassle of a lawsuit or they didn't know they could. They were distressed by the fact their works were plagiarized or they were taken advantage of, but they felt they couldn't do anything about it."
Liu, who was drawn to art history by her love for historical narrative and her curiosity about the stories behind works, went on to other art-related posts, including an internship in the Department of Asian 20th Century and Contemporary Art at Christie's auction house in Hong Kong. During post-graduate work at a New York gallery, she says she recalled how compelling she found the plagiarism problem, connecting it with the desire to learn how to help and empower people facing similar issues.
Liu aims to "get out of my comfort zone" at Duke Law, in part by working on her public speaking. She is also interested in criminal justice and plans to join the Innocence Project.
Fluent in Cantonese and Mandarin — her native language, with English — she describes herself as "a huge foodie," who loves to cook and has a passion for Japanese anime. She says she chose Duke Law largely for the collegial and welcoming culture she heard about from students: "A supportive culture is something I think is crucial for success in the long term."
Megan Mason Dister was drawn to Duke in large part for its strength in and interdisciplinary approach to environmental law and policy, the focus of both her undergraduate studies and post-graduate work.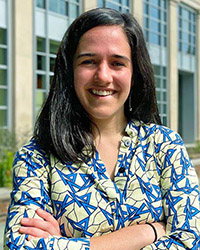 Dister, a native of Norfolk, Va., who now calls Charlottesville home, studied in Tanzania while pursuing the global studies — environment and sustainability major at the University of Virginia. After graduating in 2018 she interned at the environmental advocacy nonprofit Wild Virginia.  She then taught high school English as a Fulbright English teaching assistant in Nairobi, Kenya, where she explored environmental issues with her students both in class and out as a leader of the school's environmental club.
"My students' profound thoughts on injustice and climate change inspired me to think about environmental justice through a different lens and consider whose voices are often missing," says Dister.
At the end of her teaching fellowship Dister secured an AmeriCorps position with the U.S. Forest Service. Stationed in a tiny West Virginia town on the Monongahela National Forest, she worked as a community liaison partnering with stakeholders to help develop the recreation economy in the area. "That was a really neat way to get to know the community and learn about how the Forest Service impacts them and their relationship to the forest in general," she says. She also gained exposure to policy matters during a month-long detail to the agency's headquarters in Washington, D.C., emerging with a strong leaning towards government and public service as a career option. 
"I learned about land management law and how the government makes decisions using the land with the National Environmental Policy Act," she says. "The government owns so much land in the United States, so it's a really big stakeholder in that sense, but then it also has to figure out what community stakeholders think about land management and work with them. It was fascinating to see how land management decisions are made."
Dister is eager to explore the full scope of her environmental interests at Duke Law, including food law and policy, animal welfare, and racial justice. She hopes to enroll in the Environmental Law and Policy Clinic as an upper-year student and plans to get involved with the Food Law Society. 
An avid cook and baker, Dister is exploring Durham largely on foot — on long runs and hikes and walks with her puppy, Maple. She also says the collegiality she heard about from students during various virtual open houses was a major draw to Duke Law. "What really hit home for me was the idea of community at Duke — the idea that there are professors who want to get to know you and really want to work with you, and learn about your interests."