PUBLISHED:
September 09, 2020
Peer-to-peer: Upper-year students offer 1Ls advice for connecting with classmates virtually
Heading
Connecting with fellow students has proven essential to having a positive Law School experience. Students show how that can be done even when in-person contact is limited.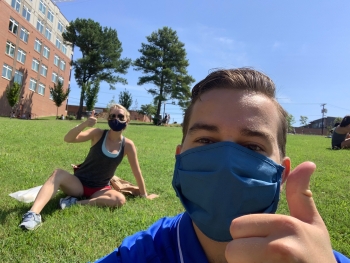 When Tranae Felicien '22 was getting ready to start law school, she heard a lot about how hard the first year was going to be.
While she admits that it was challenging, she says she had a great experience as a first-year student thanks to the friendships she made through her small section, as well as organizations like the Black Law Students Association (BLSA) and the intramural volleyball team.
"It was those friendships that made the difference as the rigor of school increased," says Felicien, who now serves as BLSA president. "Even during the reading and finals period, being able to share in the experience with others was great. I remember nothing about what was on those exams, but I remember the lunches, dinners, and study sessions that solidified the bonds I made."
For Emily Tribulski '21, it was meeting her team on the first night of softball — "seeing the funny and competitive and relaxed side of everyone" — and realizing they all were feeling the same stresses that ultimately put her at ease. "It created a team of allies and friends to tackle 1L year with," says Tribulski, who is now president of the Duke Bar Association (DBA).
The Duke Law community is tight, and students view getting to know their classmates and laying the groundwork for lasting friendships as being just as important as learning how to write a brief.  However, with most classes and all events being held online and no intramural sports this fall, making connections will be different and possibly more challenging for incoming students. But it's far from impossible, say upper-year students like Charles Provine '22, the DBA's social chair.
"Like all connection building, it's a little awkward at first, but the most unique difficulty presented by a virtual environment is that it requires a great deal of intentionality," he says. Provine encourages students to fight those awkward feelings and reach out to others to ask if they want to chat about shared interests, set up virtual study groups, or arrange a happy hour or virtual game night with their small section or LEAD group.
"We're all getting used to the 'new normal,' and everyone wants to form those connections," he says. "People will appreciate the effort and be willing to connect with you."
Nya Gavin '22, president of the Women Law Students Association (WLSA), encourages 1Ls to make the most of their LEAD groups by asking their LEAD fellows to connect them with classmates who may have similar interests.
"Students at Duke are open and always willing to talk," she says. "I learned during my first year that people were always willing to help in any way that they could."
Felicien encourages students to reach out to one another based on interactions or observations in class. Just be sure to do it after class.
"Send messages," she says. "If someone says something funny or smart, reach out and let them know. If there's an interesting background or you love the dog that wandered into that background, share that."
Tribulski suggests that students create their own breakout groups for both socializing and studying, and create some guidelines to get the most out of the conversation.
"Large Zoom meetings can be difficult to navigate and make casual conversation," she says. "Using functions like the chat and 'raise hand' can be extremely helpful to have conversations flow smoothly."
Students should also join and take advantage of activities hosted by affinity groups and organizations, that will be attempting to "bridge the virtual gap," says Provine. "Keep an eye on the DBA digest for virtual happy hours, game nights, and open mic nights in the coming months. We hope to continue to bring the Duke Law community together virtually, no matter how far we are apart physically."
LEAD Fellow Linda Wang '22 adds: "For online social events like happy hours and get togethers, feel free to unmute and laugh and chat freely. Out of politeness, we often all keep ourselves on mute until addressed, but that's not how a social event would happen in real life, and everyone appreciates the first person to break the silence."
Wang also suggests just picking up the phone. "Remember that phone calls are still a thing, too!" she says. "Sitting for extended periods of time can be hard, and a lot of people appreciate the chance to walk and talk on the phone."
These upper-level students agree that it's important to deepen connections after the first contact by following up with ongoing messages.
"Managing emails and messages has been tough for me, personally, over the last couple of months since so much more of my communication takes place there now," Tribulski says. "Things can easily fall through the cracks when a notification or unread status accidentally disappears, so don't be afraid to follow up with your fellow students, professors, or administrators if you don't hear back."
Provine points out that not all connections have to be nurtured virtually. While the university currently requires student group meetings to be held on campus, more casual small gatherings can take place away from Duke as long as health and safety protocols are followed.
"Durham is full of outdoor spaces where you can stay six feet apart and wear masks," he says. "If you're going to see people in person, try doing it outdoors and taking the proper precautions." He suggests having small, socially distant picnics, bike rides, or hikes; Eno River State Park is only 15 minutes from campus.
Above all, students should practice self-care and keep in mind that their peers are also adjusting to pandemic-related challenges, says Felicien.
"If a student reaches a point in the semester where they feel alone, they should reach out — I guarantee that they are not the only one."