PUBLISHED:
November 07, 2022
People on the Move: November 2022
Heading
Duke Law alumni in the news recently for their professional moves, promotions, and honors
Natalie Adams '08 joined Foley & Lardner as a partner in the firm's Tampa office, moving from Bradley Arant Boult Cummings. Adams served as an Assistant U.S. Attorney in the Middle District of Florida for nearly ten years, during which she received the Attorney General's Distinguished Service Award and the Investigation of the Year Award from the Bureau of Alcohol, Tobacco, Firearms, and Explosives.
Noor Al-Fawzan LLM '12 has been elected partner at Latham & Watkins, effective January 1, 2023. Al-Fawzan is a member of the firm's mergers and acquisitions practice and corporate department in Riyadh. She advises companies and government entities on M&A, joint ventures, and other corporate transactions in the Kingdom of Saudi Arabia and internationally.
Mary Chandler Beam '22 is serving as a law clerk for the Supreme Court of Georgia's 2022-2023 term. Beam is clerking for Justice Carla Wong McMillian. While at Duke Law, she served as president of the Government and Public Service Society and co-editor-in-chief of Law and Contemporary Problems. She also completed an externship with North Carolina Court of Appeals Judge Darren Jackson during her third year.
Michael C. Castellon '86 has joined Rivkin Radler as a partner in its construction practice group in Manhattan. With more than 30 years negotiating and drafting construction related agreements and resolving disputes by mediation, arbitration, and jury and bench trial, Castellon has served as general counsel for large-scale projects including the $4.2 billion LaGuardia Central Terminal B Replacement Project. He also holds an MBA from the University of Georgia.
Sarah Eichenberger '12 has joined Katten's securities litigation practice as a partner in New York. Eichenberger most recently oversaw commercial litigation for Amazon. Prior to that, she was a litigation partner at Simpson Thacher & Bartlett, where she represented Fortune 500 companies, major banks and health care corporations in merger litigation and defended clients in SEC investigations and enforcement proceedings.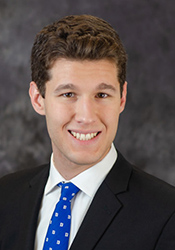 Gerry Hancock '68 was honored with the Peabody Award from UNC Chapel Hill's School of Education for his "sustained and significant commitment" to improving education. Hancock, a partner at Everett Gaskins Hancock in Raleigh, has served since 1991 as legal counsel to the Low Wealth Schools Consortium. Hancock played an instrumental role in the Leandro ruling, which established the right of every child in North Carolina to access to a sound basic education. He was founding board chair of EducationNC and serves on its Strategic Council, and has held numerous other board and leadership positions in the state.
Harrison J. Kratochvil '22 has joined Omaha-based Cline Williams Wright Johnson & Oldfather, where he focuses his practice on commercial and governmental litigation. Kratochvil was a Dean's Scholar at Duke Law.
Kelly Mancini '91 joined the real estate practice group of Arnall Golden Gregory in Atlanta. Mancini focuses her practice on commercial real estate development and retail leasing, representing clients including national retail brands and shopping center owners and their asset managers in the acquisition, disposition, development, asset management, leasing, and financing of commercial property.
Grant E. Michl '21 has joined Delaware law firm Morris, Nichols, Arsht & Tunnell in its corporate and commercial litigation group following a clerkship in the Complex Commercial Litigation Division of the Delaware Superior Court.
Linda Park '03 was named to the board of directors of BioLargo, Inc., a developer of sustainable cleantech technologies and full-service environmental engineering company. Park, a thought leader on ESG issues, has more than 20 years of experience advising issuer and investment banking clients on corporate and securities matters, mergers and acquisitions, bank financings and capital markets, including initial public offerings.
Alex Stout '13 has joined ZwillGen as a legal director in the firm's Washington, D.C., office. He advises clients on cybersecurity, data privacy, and consumer protection matters, especially communications and information technology companies. For the past nine years he was an associate at Latham & Watkins. Prior to that he served as the Special Assistant to the Assistant Secretary for Cybersecurity & Communications at the Department of Homeland Security.
Madelyn Tarr JD/LLM '18 joined the Los Angeles office of Silicon Legal Strategy as a managing associate. Tarr represents emerging companies on entity formation, corporate governance and other day-to-day matters, debt and equity financings, and M&A and other strategic transactions, and also advises venture capital investors on their investments into technology companies. Prior to joining SLS, Madelyn was an associate at Latham & Watkins.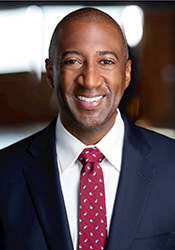 Eric Wineinger-Schattl '08 has joined Wood, Smith, Henning & Berman as a senior associate in its Glendale office representing clients in complex civil litigation. Wineinger-Schattl has extensive experience in the areas of healthcare law, criminal law, and administrative law, most recently serving as supervising attorney of the Health Consumer Center at Neighborhood Legal Services of Los Angeles County.
Squire Servance '08, the founder and managing partner of Syridex Bio, was presented with the "Distinguished Achievement in Industry" award by Rutgers University's School of Engineering in October. Servance graduated from Rutgers in 2004 with a double major in biomedical engineering and cell biology and neuroscience and is a university Board Trustee. He also holds an MBA from Duke's Fuqua School of Business. Prior to founding Syridex Bio in April 2022, Servance served as SVP, general counsel, corporate secretary and chief compliance officer at Repligen and associate general counsel at Baxter International.
Ken Yun JD/LLM '88 will provide strategic direction as senior advisor to Forensic Risk Alliance, a leading forensic accounting, data analytics and eDiscovery consultancy, as it launches a new office in Seoul, its first Asia-Pacific location. In 1990, Yun founded Samjong Corporation, which became a member firm of KPMG in Korea. He is also founder and group chairman of Pavilion Investment Group and is widely recognized in Asia and the U.S. for his business achievements and philanthropy.