PUBLISHED:
September 28, 2018
Putting it into practice: Start-Up Ventures Clinic allows LLMs to work directly with entrepreneurial clients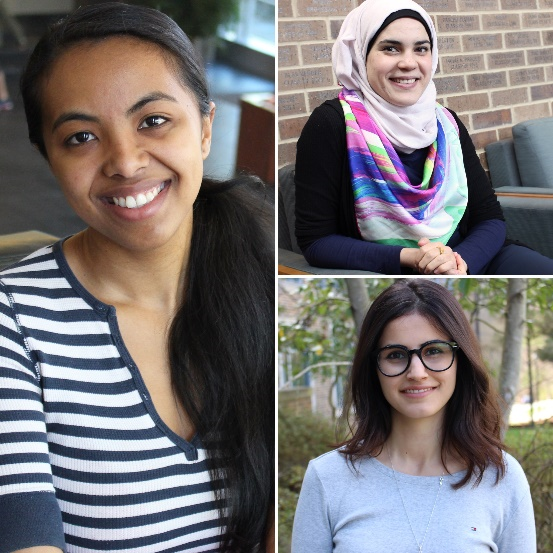 As students in the Start-Up Ventures Clinic last spring, 2018 LLM classmates Fifa Ratodimahavonjy and Sinway Bousselmi teamed up to advise two Duke University employees with a business idea on selecting a corporate structure. Trained as lawyers in their home countries of Madagascar and France, respectively, Ratodimahavonjy and Bousselmi gave their clients a two-hour presentation on the differences between limited liability corporations, or LLCs, and nonprofits, so they could choose the entity that best suited their needs.
Ratodimahavonjy, who directed the business branch of the Junior Chamber International of Madagascar for four years before coming to Duke, said she found the opportunity to put the classroom knowledge she was gaining in entrepreneurship and U.S. business law into practice invaluable.
"I had only one year to learn how to create an LLC in America, but I was able to apply it directly to one of my cases," said Ratodimahavonjy, one of three LLM students who joined upper-year JD candidates in the spring clinic. She added that working directly with clients also strengthened her time-management and communication skills. "Before I took this clinic, I treated my clients like cases I needed to solve. But now I see the human side of the law."
Supervised by Director and Senior Lecturing Fellow Bryan McGann, students in the Start-Up Ventures Clinic help aspiring entrepreneurs with a variety of legal matters, such as creating new entities, drafting employee contracts and nondisclosure agreements, and protecting intellectual property.
"In any substantive area of the law, it certainly does help to put into practice what they're learning in some of the other courses that they're taking," said McGann, of counsel at Smith Anderson in Raleigh and an entrepreneur who holds an LLM in law and entrepreneurship from Duke. "The LLM students had never been exposed to nonprofits before, so they've been forced to research it — what salaries are you able to pay? Is a nonprofit company allowed to make a profit?"
Rawan Fares LLM '18, a Palestinian lawyer, said that learning, through her clinic work, how to start a business is certain to be helpful going forward. "I have a lot of resources that I didn't know existed before." She added that she enjoyed seeing her clients' dedication to their start-ups and watching their ideas "go big."
McGann noted the students' interest in learning how to effectively communicate with their American clients. "They pay a lot of attention to how the clients interact with them," McGann said. "They're really focusing in on what the clients say to them." Like their JD counterparts, LLM students also have the opportunity to practice their analytical and oral communication skills with "case rounds," when each student presents interesting aspects of their cases to their clinic classmates.
"What I really loved about this clinic is that it's technically a law firm," Ratodimahavonjy said. "You have to be diligent in working with real clients, just like a first-year associate at a law firm would be. It really gives you the perfect environment to thrive."