Banner
The Center for Innovation Policy
Main Content
Heading
The Center for Innovation Policy at Duke Law is a forum for independent analysis and balanced discussion of policies for promoting technological innovation that enhances long-term social welfare.
Content
Conversations on Innovation: New Thinking and New Approaches
A Retrospective and Prospective Look at US Innovation with Dr. Kelvin Droegemeier
Wednesday, June 9, 2021
12:30 p.m. (ET)
Check back soon for video of the program
The Center for Innovation Policy at Duke Law was honored to welcome Dr. Kelvin Droegemeier for our second "Conversations on Innovation: New Thinking and New Approaches" on Wednesday, 09 June 2021, at 12:30 p.m. (ET). The program was co-sponsored by the Duke Initiative for Science & Society. Moderated by Dr. Denis Simon, Executive Director of the Center, "A Retrospective and Prospective Look at US Innovation" featured a discussion with Dr. Droegemeier on America's evolving competitive position in science and technology as well as ways the US can enhance its ability to remain a leader in those fields that will shape our economy and society in the future. A question and answer period followed, allowing the audience to raise questions about the White House Office of Science and Technology Policy (OSTP), the various initiatives overseen by OSTP, the potential future role that OSTP might play now that it has been upgraded to a Cabinet-level position under the Biden Administration, and other issues.
As Director of the Office of Science and Technology Policy (OSTP) at the White House from 2017–2021, Dr. Kelvin Droegemeier presided over an intensive effort across the entire US government "to advance America's global leadership in the industries of the future." OSTP provided leadership and guidance in a number of critical science and technology areas, including: establishing American leadership in artificial intelligence; pushing ahead on a national quantum information initiative; launching a national strategic plan on advanced manufacturing; coordinating a national effort on health security and innovation; enhancing American security through a national strategy on critical and emerging technologies; and, a strategy for developing the S&T workforce of the future. During Dr. Droegemeier's time at OSTP, particular focus went towards maintaining the integrity of the American research enterprise, identifying threats to the US R&D system, and developing strategies for minimizing such threats.
The Office of Science and Technology Policy was established by the National Science and Technology Policy, Organization, and Priorities Act of 1976 to provide the President and others within the Executive Office of the President with advice on the scientific, engineering, and technological aspects of the economy, national security, homeland security, health, foreign relations, the environment, and the technological recovery and use of resources, among other topics. OSTP leads interagency science and technology policy coordination efforts, assists the Office of Management and Budget with an annual review and analysis of federal research and development budgets, and serves as a source of scientific and technological analysis and judgment for the President with respect to major policies, plans, and programs of the federal government.
Image Above Text
Title
Dr. Kelvin Droegemeier
Content
Kelvin Droegemeier is Regents' Professor of Meteorology and Teigen Presidential Professor at the University of Oklahoma, where he served for nearly a decade as Vice President for Research. He co-founded and directed one of the National Science Foundation's (NSF) first Science and Technology Centers, and served two 6-year terms on the National Science Board, the last four years as Vice Chairman. Most recently, Kelvin served as Director of the White House Office of Science and Technology Policy (OSTP) and Science Advisor to the President. For two and a half months during this time, he also served as Acting Director of the NSF.
Image Above Text
Content
Denis Simon serves as the Executive Director of the Center for Innovation Policy at Duke's Law School. He is also Senior Adviser to the President for China Affairs at Duke University and a faculty member at Duke's Fuqua School of Business. Formerly, he served as Executive Vice Chancellor at Duke Kunshan University. Prior to joining Duke Kunshan, he held senior appointments at several universities and outside academia in management consulting. He received his PhD and MA from UC Berkeley and his BA from SUNY at New Paltz. His research is focused on the development of innovation policy and high-end talent in China and East Asia.
Conversations on Innovation:
New Thinking and New Approaches
with Robert Atkinson, James Lewis, and Arti Rai
Monday, April 26, 2021
Our 2021 seminar series, "Conversations on Innovation: New Thinking and New Approaches," seeks to shed light on innovation policy issues that are on the horizon. We will host a broad range of speakers with deep experience working within the innovation ecosystem in the U.S.A. and abroad.
To kick off the series, we were thrilled to have two knowledgeable experts sit down with Duke Law School Professor Arti Rai to exchange ideas about the evolving strengths and weaknesses of the American R&D system: Robert Atkinson, President of the Information Technology and Innovation Foundation (ITIF), and James Lewis, Director of the Technology Program at The Center for Strategic and International Studies (CSIS) in Washington, D.C. They discussed whether the U.S. should reconsider its approach to industrial policy and technology strategy in view of the vast number of internal and external challenges facing the country. For example, what innovation strategy in responding to new and newish competitors (e.g., China) would maximize social welfare? What realistic near-term developments might affect that analysis?
SPEAKERS:
Robert Atkinson
James Lewis
MODERATOR:
Left Side Content
What China's S&T Modernization Means for the U.S.: A Strategic Perspective
Monday, April 12, 2021
The Impressive rise in China's capabilities in science, technology and innovation (STI) raises important questions for the United States and other countries. Chinese progress is rightly seen as providing it with material and intellectual resources to challenge US economic and national security interests. But, after more than four decades of close US-China cooperation in science and technology, it also presents the US with a mixed set of opportunities as well as challenges. This talk will attempt to inventory the state of US-China S&T relations and suggest a menu of initiatives for the US to adopt in order to secure its strengths as an STI power.
CO-SPONSORS:
The Center for Innovation Policy at Duke Law
SPEAKER:
Dr. Richard P. Suttmeier, Professor of Political Science (Emeritus), University of Oregon
MODERATOR:
Dr. Denis Simon, Senior Adviser to the President for China Affairs and Executive Director, The Center for Innovation Policy at Duke Law
Button
Link
Right Side Content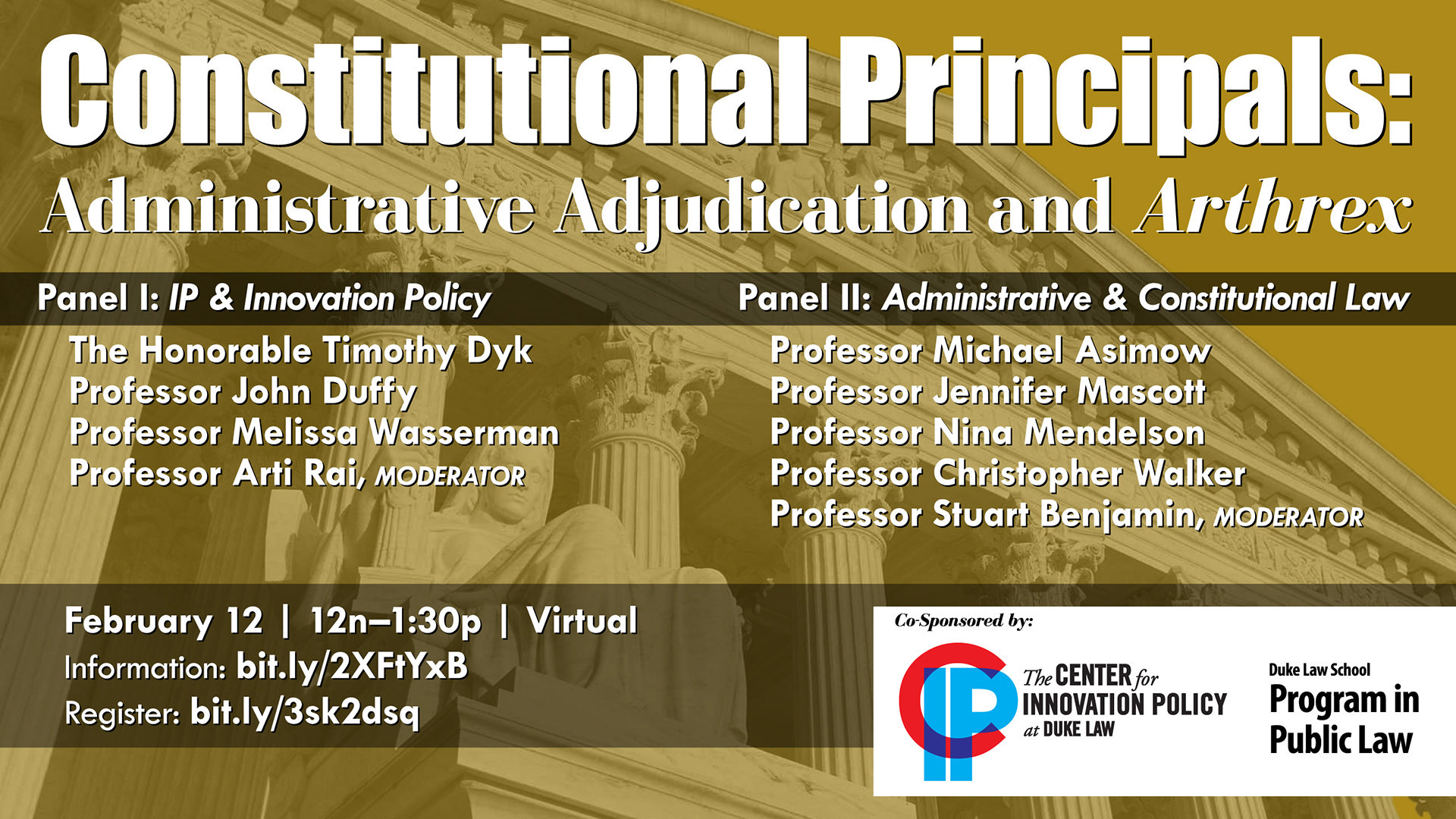 Constitutional Principals: Administrative Adjudication and Arthrex
Friday, February 12, 2021
On March 1, 2021, the Supreme Court heard argument in United States v. Arthrex, Inc. The issue before the Supreme Court is the application of the Appointments Clause to judges of the Patent Trial and Appeals Board (PTAB), a tribunal established by Congress in 2012 within the U.S. Patent and Trademark Office. In the decision, the Court of Appeals for the Federal Circuit held that the administrative patent judges of the PTAB, currently appointed by the Commerce Secretary, were principal officers who had to be appointed by the President and confirmed by the Senate. The Federal Circuit then determined that it could cure the Appointments Clause defect by prospectively severing the application of statutory removal protections to the judges. The Supreme Court will hear argument on both the principal officer question and the issue of proper remedy. Arthrex is the sixth Supreme Court case on the PTAB, and the second constitutional challenge. Persistent controversies surrounding the tribunal raise important questions for patents and innovation policy. And as a matter of administrative and constitutional law, the Arthrex case brings into sharp focus not only the proper construction of the Appointments Clause but more broadly the proper role of administrative adjudication.
To examine the issues involved, The Center for Innovation Policy at Duke Law and the Duke Law Program in Public Law co-sponsored two panel discussions on February 12, from 12 noon to 1:30 p.m. The distinguished commentators on these panels included a Federal Circuit judge and renowned academics whose scholarship has focused on the key patent, administrative, and constitutional issues.
PANEL I: IP and Innovation Policy
The Honorable Timothy Dyk
Prof. John Duffy
Prof. Melissa Wasserman
Prof. Arti K. Rai, Moderator
PANEL II: Administrative and Constitutional Law
Prof. Michael Asimow
Prof. Jennifer Mascott
Prof. Nina Mendelson
Prof. Christopher Walker
Prof. Stuart Benjamin, Moderator
Button
Link