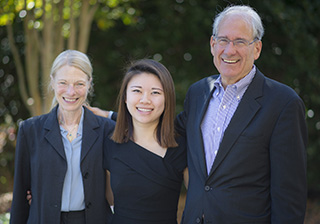 View the photo gallery
Duke Law School donors, board members, faculty, named scholars and fellows gathered on October 29, 2016 at the Scholarship & Fellowship Luncheon held at the Washington Duke Inn. This annual event provides a wonderful opportunity for students to meet and thank the donors whose generous support of financial aid makes their scholarships and fellowships possible. Speakers included Katharine B. Buchanan A.B. 92, J.D., Associate Dean, Alumni & Development; David F. Levi, Dean and Professor of Law; alumni speaker, Nora M. Jordan '83, who established the Thomas Jordan Memorial Scholarship; student speaker, Megan E. Ault '18, who is an R.C. Kelly Mordecai Law Scholar; and Lewis L. Hutchison, Jr. who is Duke Law's new Assistant Dean for Student Affairs.
In the 2016-17 academic year, Duke Law School awarded nearly 70 named summer fellowships, and more than 180 individual scholarships for named scholars, including seven scholarships which were awarded for the first time.
Read remarks from the speakers Read more about the event See the photo gallery