PUBLISHED:
February 02, 2022
Student's fall externship investigates reports of police misconduct by the Minneapolis Police Department
Heading
3L Britta Momanyi's externship with the City of Minneapolis provided experience with critical legal concepts involved in civilian oversight of law enforcement.
Last fall, Britta Momanyi '22 took part in a faculty-mentored externship as a City of Minneapolis police misconduct investigator. Working with the Office of Police Conduct Review (OPCR), she investigated reports of misconduct against a police department facing calls for reform in the wake of the 2020 murder of George Floyd by one of their own.
For Momanyi, the experience was both timely and personally meaningful: Minneapolis is her hometown.
"I cannot understate the importance of the context in which OPCR exists," Momanyi said. "Minneapolis is the center of police reform discussions on a local and national level. Therefore, the opportunity to engage with this work at this moment was surreal."
Momanyi pursued the position as part of the Externship Seminar class she took with Clinical Professor Anne D. Gordon, director of externships at Duke Law School. A field placement course, the seminar provides students with experiential learning opportunities necessary for competent and ethical participation as a member of the legal profession.
At OPCR, Momanyi was supervised by the interim director of the City of Minneapolis Department of Civil Rights, Imani Jaafar. She worked closely with fellow investigators and city staff to enrich her knowledge of legal research concepts, prepare investigative reports, participate in the Police Conduct Oversight Commission, and practice her written and oral communications skills through engagement with local community leaders.
Within the department, Momanyi trained with the Complaint Investigations Division, a group that largely works on employment and housing discrimination cases. 
"Fortunately, I had just taken employment discrimination in the Spring 2021 semester, so I was able to apply the relevant caselaw with ease," she said.
OPCR includes both the Minneapolis Police Department's Internal Affairs unit and a civilian-run office within the Minneapolis Civil Rights Department. It's one of few police oversight jurisdictions in the United States that allows civilians access to police records.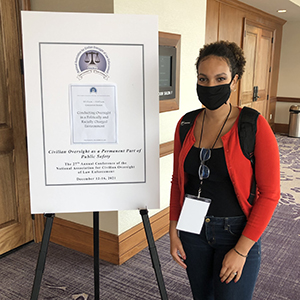 Momanyi says OPCR further distinguishes itself with "both investigative power and audit power. That is to say they can receive public complaints, initiate their own investigations, and conduct large-scale audits of police conduct and policy through quantitative research and analysis."
During her externship, Momanyi was also able to attend the National Association for Civilian Oversight of Law Enforcement Conference held in Tucson, Arizona. In its 26th year, the conference attracts professionals working with civilian oversight groups and law enforcement from across the country.
Momanyi said she was particularly interested in a session on maintaining accountability for unionized police despite the protections from investigation and prosecution contained in many collective bargaining agreements.
 "Labor law has always piqued my interest, and I have seen firsthand how complex union involvements can be, especially in the context of police unions. Therefore, this session spoke to my general legal interests as well as my lived experiences doing this work."
She says the conference provided a chance for her to see how OPCR's work compares to other jurisdictions in the U.S. While the Minneapolis group's level of access to police records is "a huge benefit," Momanyi says, OPCR faces challenges navigating the Minnesota statutes regarding access to personnel records and union specificities, including union contracts, grievances, and arbitration proceedings.
Reflecting on why she chose the externship with the City of Minneapolis, Momanyi points to several reasons. One is her strong connection to her hometown and sense of duty to work with people impacted by forms of systemic oppression.
"I need to have a personal connection to my work to feel fulfilled and to stay motivated in public service," she said. "Fortunately, this externship provided all of that and confirmed that I am able to do difficult and important work when I follow where I feel I am most fulfilled."
Momanyi's personal convictions are also informed by her work prior to Duke Law. From 2014 to 2020, she served with the Minnesota Army National Guard as a paralegal specialist assigned to the 34th Red Bull Infantry Division—earning the rank of U.S. Army sergeant. And in the spring of 2017, Momanyi interned with Minnesota Center for Environmental Advocacy, a group whose mission includes fighting for environmental justice.
At Duke, she earned an Equal Justice America fellowship, clerked at Legal Aid of North Carolina, and acted as co-director of the Veterans Assistance Project at Duke Law.
Momanyi calls Social Justice Lawyering her favorite class at the Law School. Co-taught by Gordon and Clinical Professor Jesse McCoy, supervising attorney of the Civil Justice Clinic, the course shows students how lawyers interested in social justice can work with communities, individual clients, social and political causes, and legal systems for change.
"Due to our society's tendency to hold lawyers up on a pedestal and the lack of attention to the value and benefit that community members can provide to solving issues, many perpetuate harmful hierarchies because they view themselves as the sole providers of value in these exchanges," Momanyi said.
"I realized that my calling to public service was less about the specific work I was doing, and instead it was about the community I was working with."
This spring, Momanyi continues her work with the Minneapolis community as a city employee. She was hired as a police misconduct investigator last May and allowed by her employer and Duke Law School to expand upon that position for her fall externship. As she continues her journey as a student, soldier, and investigator, Momanyi offered some advice for incoming students.
"I would encourage students to think about themselves as a whole person and not simply try to fit an idea of what they think a lawyer should be. For example, if they are going into direct legal services or public-interacting government work like I did, their various identities and values may be useful on the job," she said. 
"Just as much as they should reflect on who they are and utilize those insights in their work, they should also open themselves up to expanding beyond their experiences."