PUBLISHED:
January 19, 2017
Visiting Assistant Professor Program supports aspiring law faculty
Visiting Assistant Professor Benjamin Ewing has spent the fall semester developing the research on culpability and punishment that was central to his PhD thesis in politics into works of legal scholarship and material for the advanced criminal law seminar he will teach in the spring.
In his doctoral dissertation Ewing, who received his PhD from Princeton University in September, examined whether criminals from abusive or socially disadvantaged backgrounds should have a claim to punishment less harsh than their culpability would ordinarily license. For Ewing, who also holds a JD from Yale Law School, a two-year appointment as a visiting assistant professor (VAP) at Duke Law allows him to apply a distinctly legal lens to this issue, to expand his research agenda, and to finesse his teaching skills.
Duke Law's VAP program prepares promising emerging scholars like Ewing for success in the legal academy with two-year faculty appointments, during which they are given research support and feedback and an opportunity to hone their teaching skills. In addition to participating in faculty workshops and conferences, they also are invited to present their work in the Law School's faculty workshop series as they prepare to enter the academic job market in their second year in residence.
Ewing is the 14th scholar that Duke Law has admitted to the VAP program since its launch in 2005. Alumni of the program — including three Law School graduates — have found positions on the law faculties of the University of Virginia, Northwestern University, Fordham University, Tulane University, and Washington University in St. Louis, among others.
Associate Professor Marin Levy, who chairs the Teaching Committee that selects and supports VAPs, said that the faculty's commitment to them is evidenced by their subsequent job-market success.
"It's not a huge program, but word is getting out as our former VAPs go on to do great things," Levy said. "Our faculty recognizes how critical it is to have quality mentorship at the beginning of one's academic career generally, and for going on the teaching  market  specifically."
Margaret Hu '00, now an assistant professor of law at Washington and Lee University, called the Duke faculty's investment of time and energy in each VAP "extraordinary." Hu used her VAP residency from 2011 to 2013 to build a research agenda at the intersection of immigration policy, national security, cyber-surveillance, and civil rights, having entered the program after serving for 10 years in the U.S. Department of Justice Civil Rights Division.
"The faculty is committed to ensuring that each candidate is prepared for the intellectual rigor of the hiring process and is able to present his or her research agenda effectively," she said. "Candidates are integrated into the faculty and encouraged to participate in all aspects of intellectual life at Duke Law."
John Inazu '00, the Sally D. Danforth Distinguished Professor of Law & Religion and Professor of Political Science at Washington University School of Law, also praised the faculty's mentorship of younger scholars. Inazu, a prolific scholar of criminal law, law and religion, and the First Amendment who recently published his second book, Confident Pluralism: Surviving and Thriving Through Deep Difference, became a VAP in 2010 after receiving a PhD in political science from the University of North Carolina and a legal career that included government service, practice, and  clerking.
"[Professor] Guy Charles spent countless hours with me, but many other faculty took the time to read drafts of my work, offer feedback, and provide encouragement," he said. Inazu added that he also "benefitted tremendously" from faculty participating in moot interviews and job  talks.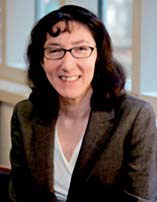 Ann Lipton's two-year VAP tenure allowed her to develop scholarship on corporate functioning and the relationships between corporations and investors — areas in which she has extensive practice experience — and to grow as a teacher.
"The VAP program was an ideal mix of teaching responsibility and scholarship," said Lipton, a former Supreme Court clerk who is now the inaugural Michael Fleishman Professor in Corporate Law & Entrepreneurship at Tulane Law School. "Teaching a new class is difficult and challenging, particularly if, as was true in my case, you've never taught before."
The VAP program is one way Duke Law contributes to the pipeline of emerging legal scholars and teachers and to diversity in the legal academy, said Stuart Benjamin, the Douglas B. Maggs Professor of Law and Associate Dean for Research. "Our VAP program is selective, but we welcome applications from all law schools and practice areas, and we encourage Duke Law graduates to apply."