PUBLISHED:
December 20, 2016
Cole '17 awarded Skadden Fellowship to work with veterans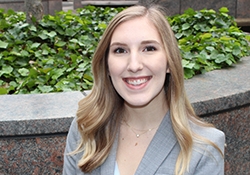 Olivia Cole is one of 30 third-year law students in the U.S. awarded a 2017 Skadden Fellowship, a prestigious program that funds a "legal Peace Corps" by supporting graduating law students who wish to devote their professional lives to providing legal services to the poor, the elderly, the homeless and the disabled, as well as those deprived of their civil or human rights. The fellowship provides funding for two years of work with the nonprofit organization of the fellow's choosing.
Cole will work with Swords to Plowshares, a San Francisco nonprofit that provides aid to veterans in the greater Bay Area. Her focus will be on women veterans, a fast-growing subset of the homeless population with a unique set of barriers to receiving benefits, she said.
"Skadden Fellowships are some of the most prestigious fellowships in the legal industry," said Stella Boswell, Duke Law's assistant dean of Public Interest and Career Development. "Given the small number of them awarded each year and the competitive nature of the whole process, they are the non-profit, public interest version of a Supreme Court clerkship."
Cole credits experience she gleaned working with Duke Law's Veterans Assistance Project (VAP), Health Justice Clinic, and Civil Justice Clinic, for her accomplishment.
Along with those organizations, Cole has worked for a number of other public service groups at the Law School, including serving as president of the Government and Public Service Society and volunteering for Lawyer on the Line, the Cancer Pro Bono Project, the Volunteer Income Tax Assistance project, Middle School Mock Trial, and the Southern Justice Spring Break trip. She also worked with California-based public interest organizations after her first and second years at Duke Law, holding positions at the Law Foundation of Silicon Valley and the Public Interest Law Project.
Cole says that her work with those groups, and the support of numerous faculty and staff at Duke Law and Swords to Plowshares, was vital to her successful application for a Skadden Fellowship.

Cole, who graduated summa cum laude from Indiana University with a BA in Sociology and Psychology, said that her three years of work with VAP, along with her family's history of military service — both of her grandfathers and her uncle are veterans, and her stepbrother is currently serving in the Navy — helped her decide that she would try to work with veterans after graduation.
Kim Burrucker, director of Public Interest and Pro Bono, said that Cole has been a leader in VAP, which pairs students with attorneys to research, file, and appeal disability claims on behalf of American veterans before the Veterans Administration.
"From the moment Olivia entered law school, she has consistently advocated for military veterans," Burrucker said. "During each of her three years at Duke Law, Olivia has assisted military at the annual Bull City Stand Down event. Also, in addition to serving in leadership roles and mentoring other students in the project, Olivia actively worked on individual veterans' claims cases of her own. It is no surprise that she would pursue post-graduate work in the public sector and specifically on veterans' issues."
Much of the work she did assisting veterans in accessing benefits and services dovetails with the work she'll be doing with Swords to Plowshares.
"Something we see fairly frequently in VAP is a veteran who was discharged for some sort of misconduct," Cole said. "Often the misconduct is behavioral, having to do with substance abuse or insubordination. So, we look back through the veteran's records, interview them, perhaps interview people who they served with, and try to determine if the behavioral misconduct was symptomatic of a mental or physical illness arising from service. If we can show that, the discharge will be upgraded and the veteran will become eligible for benefits."
Discharge upgrades will be a significant part of her work at Swords to Plowshares. Cole said it can be a complex process, made more sensitive by the number of women veterans whose discharge resulted from sexual assault.
"For women veterans, 25 percent have been sexually assaulted in service," she said. "A lot of times women develop PTSD or some other mental health issue, some of which, like depression or anxiety, can be difficult to prove. There are two roads veterans go down typically in those situations: Either they don't report the assault and develop some of those behaviors that result in a discharge for misconduct, or they do report it, and oftentimes are then subsequently dishonorably discharged."
Kate Richardson, director of the legal services program at Swords to Plowshares, said that women veterans face a unique set of problems, which may explain why their numbers are growing.
"Today, we are witnessing an explosion in the rate of women veteran homelessness: The number has tripled in the past five years and women veterans are now more likely to be homeless than their male counterparts," Richardson said. "These veterans are difficult to reach: They frequently do not seek services at veteran-facing providers and many do not self-identify as a veteran. These institutional barriers have significant effects on women veterans' ability to avoid or recover from homelessness."
Even when women veterans do self-identify as veterans, they face gender-related difficulties, Cole said.
"A lot of the services for vets are tailored to men because historically they have been the vast majority of veterans," she said. "For instance, women veterans with kids often can't stay in supported housing because it's limited to single individuals or to men. Either they aren't allowed there or don't feel safe there. And for women veterans who are victims of sexual assault, some of the male-dominated spaces don't feel safe."
Cole's public interest work at Duke Law makes her a perfect fit for Swords to Plowshares, Richardson said. "We have been very impressed with [her] demonstrated commitment to poverty law and veteran legal services and we are thrilled to work with her to ensure the Bay Area's homeless women veteran population has access to the VA benefits they have earned."
In an interview, Cole expressed gratitude to Boswell, Burrucker, and Matthew Wilcut, the attorney at Legal Aid of North Carolina who oversees VAP, for helping her win the fellowship, as well as Clinical Professor Allison Rice and Dean David F. Levi. Rice, director of the Health Justice Clinic, wrote a letter of recommendation for Cole, as did Levi. Cole is also the recipient of a Robert N. Davies scholarship, given annually to a student with top academic credentials who also demonstrates financial need.
 "Olivia entered law school clearly focused on a public interest career, and she has embraced every opportunity to prepare herself for this work and also to support, mentor, and encourage her peers," Levi said. "This fellowship is a tribute to Olivia's commitment to public service and to the Skadden Foundation's commitment to supporting the bright young leaders of our profession."