PUBLISHED:
September 04, 2018
Meet Duke Law's JD class of 2021
For Ada Lin, studying law at Duke promises to add a new dimension to the experience on civil rights issues she gained while on the staff of the ACLU National Prison Project in Washington, D.C. 
At the ACLU, Lin, a member of the Law School's class of 2021, worked primarily on Eighth Amendment conditions-of-confinement cases that dealt with excessive use of force against prisoners, or their lack of medical, mental health, or dental care. She said her work illustrated the impact of class action litigation: "It can be really difficult and tedious and sometimes heartbreaking work, especially because we're dealing with prisoners. But then you get an order from the court and it has the potential to alter an entire state prison system, as well as signal to other states the way forward."
Lin is one of 236 first-year JD students who started classes in mid-August. They represent 110 undergraduate institutions and bring a wide range of prior experience to their studies.
Lin, who holds a degree in social studies from Harvard University, looks forward to being able to work directly with clients in the Duke Law clinics. "I feel like I'm a better advocate when I'm doing community-based and client-oriented work," she said, noting her interest in Civil Justice Clinic's housing-related projects. "I'm very interested in issues surrounding the rights of returning citizens and barriers to housing and employment that are faced by people just returning to the community after incarceration."
At the ACLU, Lin discovered that the Law School's Duke in D.C. program places law students in full-time externships. After she reached out to Director of Externships Anne Gordon, Hadrian Luo '18, then in his third-year, joined her project for a semester.
"Hadrian was just fantastic, the most relaxed law student I've ever met," Lin said. "I talked to him a lot about Duke and he relayed his opinion that it's a really collegial place where people are really kind and care about you."
Now, she hopes to participate in that same program.
"One of the most compelling things about Duke Law was I have a chance to go back to D.C. to do student practice," Lin said. "I'm excited about the opportunity to work with some of the incredible civil rights attorneys I've crossed paths with in D.C."
Andrew Lindsay entered law school with an impressive footnote on his resume — a citation in a case eventually decided by the Supreme Court. Lindsay, who studied political science, jurisprudence, and social thought at Amherst College, worked at the Brennan Center for Justice in New York, researching issues of liberty and national security.
"The work that we did ranged from critiquing radicalization theory to thinking through the ways that predictive algorithmic tools may have bias and may affect people coming into the country," he said. "In one blog post, I wrote about immigration statistics and terrorism, and it was cited in an amicus brief written by Muslim advocates in the Hawaii v. Trump case."
At the Brennan Center, Lindsay also organized symposia and workshops on counterterrorism, artificial intelligence, and immigration enforcement.
"Seeing folks, from community organizers to app developers, immigration attorneys, and law professors in the same room talking about these issues, really gave me hope for interdisciplinary discourse and the way we think about law," he said. "That's the type of work I hope to do in the future — to be a bridge between advocates, academics, and folks on the ground."
Lindsay said that pursuing a career in law seemed natural. "My mom was an attorney before transitioning into ministry," he said. "A lot of my childhood was mock legal arguments. My dad was a political theory professor before he passed away — that's where I got the desire to engage in theory."
As he begins his legal studies, his interest lies at the intersection of national security and technology. "I think digital ethics is going to be the next frontier of law, science, and policy," he said. "People think about bioethics, but they don't think about the ways that we're going to need mediation from policymakers and legal thinkers to scale back some of the worst possibilities, some of the worst ways these technologies could be used."
For Maddy Sowar, the opportunity to pursue an LLM in law and entrepreneurship along with her JD made Duke Law a top choice.
"The law and entrepreneurship program is so tailored to what I wanted to do," said Sowar, who studied civil engineering at the University of Notre Dame. Prior to law school, she designed gates to fit into the existing framework of locks and dams along the Mississippi and Illinois Rivers as an Iowa-based member of the U.S. Army Corps of Engineers. She hopes to bring her interests in engineering and technology into her legal career.
"I would really love to work with technological start-up companies, first facilitating their deals and then any sort of intellectual property they have," Sowar said, adding that she looks forward to working with local companies in the Start-Up Ventures Clinic. "Being able work with those clients is a really cool opportunity. It's exciting to be able to work with local people and potentially be able to see what you're doing happen."
As an undergrad, Sowar worked with Engineering2Empower, a group of faculty and students focused on the housing crisis in Haiti following the catastrophic 2010 earthquake.
"It wasn't just about designing or building structures, but about considering all of the different impacts and how we could address those," said Sowar, whose work focused on materials testing and construction practices. While brick and mortar are typically fairly stable in an earthquake, she said, those buildings had not fared well in 2010. "After some research, the group determined that was not a structure we should use because even if we felt comfortable with it, [the residents] wouldn't. It created a lot of really interesting challenges."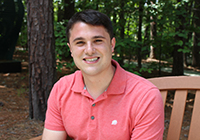 Christian Bale '21 spent the past few years at the White House's Office of Management and Budget (OMB) as a recipient of the Presidential Management Fellowship.
Under President Barack Obama, Bale worked in OMB's legislative review division, where he assisted in preparing the president's annual legislative program, before taking a five-month detail in the Office of the Secretary of Defense as country director for Japan. There, he managed the security relationship between the United States and Japan and assisted in drafting the 2017 joint statement on the U.S.-Japan alliance. He returned to the White House in the OMB's national security division, overseeing policy development and budget formulation for special operations forces.
The change in administrations made it a particularly interesting time to be at the White House, he said.
"OMB is considered the repository of knowledge during a transition, so the other offices relied heavily on the expertise of the civil servants," Bale said. "At least one of my colleagues has served since the Nixon administration."
Bale, a graduate of The College of William and Mary with bachelor's degrees in public policy and French and a master's in public policy, said his work in Washington cemented his decision to go to law school.
"I learned that law is a natural complement to public policy," he said. "It's hard to know whether a particular policy will be successful until you think through implementation. The lawyers were also consistently among the best thinkers and I admired the kind of work that they did, especially when I was on the legislative side."
At Duke, Bale looks forward to exploring a range of topics and fields, including appellate advocacy, criminal law, and national security law.
"I'm pretty open to trying new things," Bale said. "Although I've started my career, it's exciting to have the chance to expose myself to new opportunities."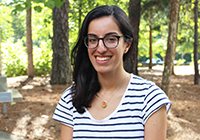 Maryam Kanna, another William and Mary graduate, did public outreach work at the U.S. Department of Labor as a management consultant for Booz Allen Hamilton in Washington, D.C., before joining the Aspen Institute. There, she worked for the Ascend program, which focuses on promoting policies to improve the lives of low-income families.
"I knew I wanted a career with a social policy focus," said Kanna, who double majored in economics and government. "A lawyer who's a friend of the family told me that the practice of law is really centered around relationships with individuals and groups, and that's something that really appeals to me at a base level."
As a dual-degree student who is pursuing the LLM in International and Comparative Law along with her JD, Kanna said she looks forward to participating in the Duke-Leiden Institute in Global and Transnational Law in The Hague in her 1L summer, during which she also hopes to secure a legal internship overseas.
"[Duke Law's] combination of the faculty, student culture, and the strong international programs really drew me in," Kanna said. She would like to get involved with the International Human Rights Clinic, the Duke Journal of Comparative & International Law, or the Duke Immigrant and Refugee project.
Though she has a focus on international work, Kanna said she plans to also retain a connection with domestic policy issues in her time at the Law School.
"Projects like Lawyer on the Line are really interesting to me, getting to work face-to-face with clients and facing the daily issues in their lives," she said. "I look forward to having that tangible relationship with people and making a difference for whoever I end up representing."
Gerardo Parraga is happy be continuing on at Duke as a law student after completing a bachelor's degree in political science and economics at the university earlier this year.
"I feel a lot of loyalty to Duke," Parraga said. "They were there for me the entire way and I want to call this place home for seven years, not just four."
Parraga said he initially chose Duke University for its academic rigor, sports culture, and local outreach.
"I loved what Duke was doing for the Durham community, especially for Latinos," said Parraga, who was born in El Salvador and emigrated to the United States with his family as a child. "Seeing how the university helped out more recently with clinics for DACA really spoke to me."
Parraga began his own community engagement as an undergraduate, doing domestic violence work as an intern at Legal Aid of North Carolina.
"We were representing a lot of Latinos, especially the Mexican and El Salvadorian community here in Durham, which is quite large," he said. "The moment of realization for me was sitting across the table from a 21-year-old from El Salvador. It just hit me when he left — that could be me. He came undocumented, I came on a plane."
Parraga said it made him further appreciate the opportunities he had that were made possible by his mother and grandmother. "All I had to do was study and they allowed me to dream," he said.
He plans to use his career after law school to contribute to the community through immigration and domestic violence work.
"I want to find that line where we can do pro bono projects at big firms, and in that case everybody's benefitting — spiritually, socially, however it may be," he said. "I know the impact I want to have in life. What my mother and grandmother were to me, I want to be to other people."