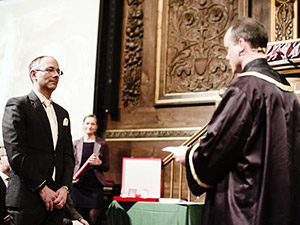 Laurence R. Helfer, the Harry R. Chadwick, Sr. Professor of Law, received an honorary doctorate from the University of Copenhagen on Nov. 21. In connection with the honor, Helfer has been made a permanent visiting professor at iCourts, the Danish National Research Foundation's Center of Excellence for International Courts, and delivered a public lecture at the Faculty of Law entitled "Progress and Contestation in Combatting Discrimination: A Global Perspective on LGBT Rights."
Helfer was nominated for the honorary doctorate, the University of Copenhagen's highest academic honor, by iCourts director, Professor Mikael Rask Madsen. Madsen called his collaborations with Helfer, a leading expert in the fields of human rights and international law, "inspiring."
"Professor Helfer is not only a brilliant researcher and teacher but also an extremely dynamic person who engages himself in innovative projects that inspire the researchers and students around him," Madsen said in a statement.
In his public lecture, Helfer examined the rapid expansion of protections for lesbian, gay, bisexual, and transgendered individuals in domestic and international law, as well as a contrasting backlash against LGBT rights in some countries, most notably in sub-Saharan Africa and Eastern Europe. The lecture drew on Helfer's advocacy work on international LGBT rights, which includes participating on the first expert panel at the U.N. Human Rights Council on violence and discrimination on the basis of sexual orientation and gender identity, and serving as the inaugural Jacob L. Martin Fellow to the Office of the Legal Adviser of the U.S. Department of State to advise government officials and policymakers on strategies for promoting LGBT rights globally.
Sara Sun Beale, the Charles L. B. Lowndes Professor of Law, contributed to the American Bar Association Criminal Justice Section's task force report on the reform of federal sentencing for economic crimes that was released in November. The report included proposed draft federal sentencing guidelines to effectuate the recommended reforms. Beale was appointed to the task force of judges, academics, practitioners, and organization representatives on its formation in April 2013.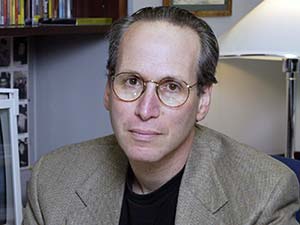 Steven L. Schwarcz, the Stanley A. Star Professor of Law and Business, has joined the Centre for International Governance Innovation (CIGI ) as a senior fellow with the independent think tank's International Law Research Program. Schwarcz is the lead author of CIGI 's "Paper No. 51," a response to the Financial Stability Board's (FSB) policy recommendations about the global financial system and threats posed by troubled and systemically important financial firms. The paper argues that a statutory approach is more effective than a contractual approach to achieve financial stability in a crisis by ensuring efficient resolution of financial firms. It also recommends that the FSB form a working group to "establish a regime of uniform statutes that provide for enforcement provisions in financial contracts."
Neil Vidmar, the Russell M. Robinson II Professor of Law and Professor of Psychology, received the Litigation Counsel of America's 2014 Justice Janie L. Shores Trailblazer Award. Presented during the LCA's 2014 Fall Conference and Celebration of Fellows in October, Vidmar was honored for his work in the areas of medical malpractice, punitive damages, and caps on pain and suffering. Emphasis for selection for the award is placed on efforts and acts within the legal profession that are cutting-edge in the advancement of justice.
John de Figueiredo, the Edward and Ellen Marie Schwarzman Professor of Law and Professor of Strategy and Economics, along with colleagues in Duke University's Departments of Statistical Science and Computer Science, have been awarded a grant of almost $1.5 million from the National Science Foundation for their research project, "An Integrated System for Public/Private Access to Large-scale, Confidential Social Science Data." They propose a three-part system of data delivery for research studies dependent on the collection of large amounts of sensitive information in order to protect the identity of participants and to offer accessible and reliable mock data.
Donald L. Horowitz, the James B. Duke Professor of Law and Political Science Emeritus, delivered the annual Herbert L. Bernstein Memorial Lecture in Comparative Law on Nov. 3. In his lecture, titled "Federalism for Severely Divided Societies: Possibilities and Pathologies," Horowitz discussed the ways "scaling down" federalism can be and has been used to separate formerly united areas so they can stay together despite their differences, which usually take the form of ethnic conflicts. Watch his lecture, co-sponsored by Duke's Center for International & Comparative Law.
Christopher Schroeder, the Charles S. Murphy Professor of Law and Public Policy Studies, testified before the Senate Judiciary Committee on Dec. 10 regarding executive branch action on immigration. Schroeder, a veteran executive branch lawyer, addressed the legality of the policies announced Nov. 20 by Secretary of the Department of Homeland Security (DHS) Jeh Johnson that provide the possibility of deferred action and work authorization for undocumented aliens who meet specific criteria. Calling the policies "wholly constitutional," Schroeder also told the committee that nothing in the so-called deferred-action policies "runs around or tries to avoid" Congress's constitutional right to revise immigration laws or DHS actions.